Forecast: Greater Boston Will See At Least 4-8 Inches Of Snow Saturday
02:04
Play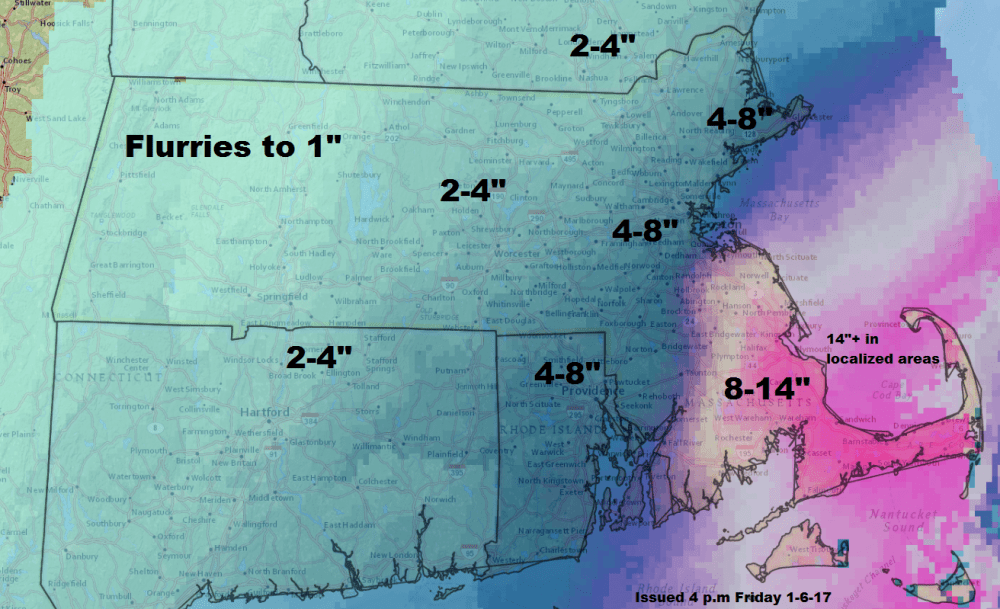 This article is more than 3 years old.
Listen to Dave's weather update on WBUR's All Things Considered by clicking the play button above
Friday morning brought a snowy appetizer to the area, and Saturday brings the main course.
A nor'easter will develop off the coast overnight and move east of New England on Saturday. A combination of cold air and moisture will produce moderate to heavy snowfall across much of eastern and central Massachusetts, Connecticut and Rhode Island. Eastern portions of New Hampshire will see light to moderate snowfall.
The snow will start during the middle of the morning and become heavier and steadier as the day continues.
The first few hours of the storm may just produce a dusting to an inch, but by evening look for 3-5 inches of snow in the city (expect a little more south, and a little less north).
The storm is a quick one. By midnight it will be over and it wouldn't surprise me if it ended by even a few hours earlier west of the city.
Logan Airport will experience the most delays and cancellations from mid-morning Saturday through Sunday morning. Since it will be dry and partly sunny Sunday, there will be plenty of time to clean up.
I am not expecting issues with coastal flooding from this storm. As nor'easters go it will relatively well behaved. That said, winds will be strong enough Saturday evening to whip the snow into drifts along the coastline. Visibility may be near zero for a few hours Saturday evening — travel is not recommended.
The snow will be light and fluffy. This is actually one of the variables under consideration for why snow amounts will pile up so much. Like those storms we had a couple of years ago, there won't be a lot of water content in this snow, therefore it will be relatively easy to move and clear.
After a few cold days early next week, the week turns very mild and the snow will melt. If you are a winter sport enthusiast, I recommend taking Sunday to enjoy all the snow because a week from now a lot of it could be gone.
---
Friday night: Clouding up. Low in the mid teens.
Saturday: Winter Storm Warning for Boston as snow develops. Continuing through the first part of the overnight. Look for several inches on the ground by sunset. Lesser amounts west of Route 128 and Routes 495.
Saturday night: Snow ending by midnight. Lows 10-18.
Sunday: Partly cloudy and cold. Highs in the mid-20s.
Monday: Sunny and cold. 19-24 in the afternoon.
Tuesday: More sunshine, not so cold. Highs 34-38.