Christian Puppet Ministry Makes For A Flat-Out Hilarious 'Hand To God' At SpeakEasy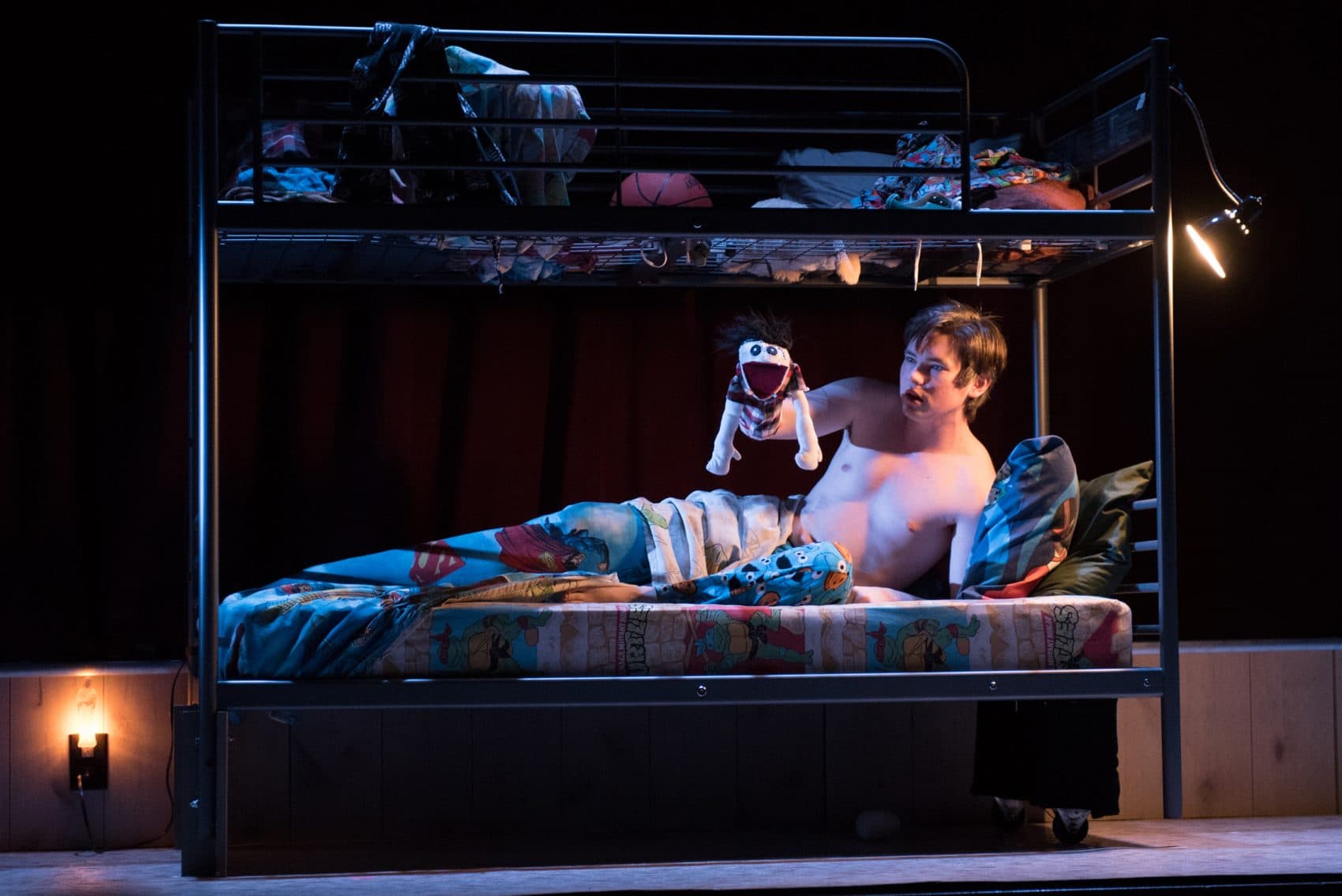 This article is more than 5 years old.
In "Hand to God," the devil's advocate is a sock. Or might the bedraggled piece of footwear, attached to the arm of a troubled teen, be Lucifer himself? Are we in "Bad Seed" or "Exorcist" territory here?
Wisely, David R. Gammons, who helms the unlikely Broadway hit's area premiere (by SpeakEasy Stage Company at the Calderwood Pavilion through Feb. 4), has decided that's for him to know and you to find out. The savvy rather than strident production can be read either way. And whether you're talking Dante's "Inferno" or Dr. Phil's, Robert Askins' subversive peep into the world of Christian mummery gone wrong is flat-out hilarious, its puppet-wielding protagonist as vulnerable as his antihero appendage is vicious.
Playwright Askins is a product of Cypress, Texas, where kids' participation in "Christian puppet ministry" is (or was) a thing. But in the Tony-nominated "Hand to God," the church-basement flock is less in excelsis than in extremis. Supervisor Margery, recently widowed, clings to her faith, not to mention her sanity, for dear life. Pastor Greg wouldn't mind holding more than just her hand. Randy Timothy and sullen Jessica have been more or less parked with the puppets (she's interested in Balinese marionettes, he's hot for Margery). And Margery's son Jason, coerced into his mother's project, has put both arm and Id into a profane, malevolent piece of cloth he calls Tyrone. But is Jason wagging Tyrone, or is it vice versa?
Certainly the increasingly mouthy (and toothy) Tyrone gets both the first and last words, invoking in both cases "the devil" — like Jesus, he asserts, Man's invention. The diabolical puppet also dubs all of human and religious history "that puppet show" — an allusion that would seem to have inspired the SpeakEasy staging. In Cristina Todesco's scenic design, the play unfolds on nesting stages, around which scurrying actors pull flimsy, matching curtains.
The lighting (by Jeff Adelberg) and sound design (a cacophony of thunder, radio static and pastor rant by Andrew Duncan Will) are more otherworldly, suggesting an on-again, off-again amateur apocalypse in the nether regions of the play's Texas place of worship. Whether it's felt scraps or flashing lights that are exploding, chaos does ongoing battle with comedy. And who knew demonic possession could be so raunchily sidesplitting? Or that graphic puppet sex could move beyond the sunny intersection of Broadway and Avenue Q?
And yet … there is poignancy amid the sacrileges and R-rated laughs. The remarkable Steven Boyer, who played Jason both off and on Broadway, may have been more adept at merging his person with his puppet (one actor, his lips clearly moving, speaks for both). But Eliot Purcell, who wars with imaginary friend and fiend Tyrone for SpeakEasy, is more convincing as a grieving misfit teen in whom anguish and panic push up against a somewhat shlubby libido. Purcell, sometimes riding his puppet-clad arm like a rocking horse, genuinely seems to be at its mercy, flung like a ragdoll by invisible forces. But when raw, terrified utterance bubbles out of him, you feel for him as a struggling kid.
More of a piece of work, if crazed by no more than sexual frustration and bitter disappointment, is Margery. As authoritatively played by Marianna Bassham in soft, prissy pastels, she bounces in and out of control, her private Gethsemane close to the border of hysteria. Alternately devout and dominatrix, she's funny, fragile and flying off the hinges.

Letting drop such quaint utterances as "son of a biscuit," Lewis D. Wheeler is a Pastor Greg who, though banal and manipulative, is more than just a figure of fun. Principled if also huffy, pouty and a little silly, he's nonetheless a guy who steps up to the plate. (Askins has fun with Christian fundamentalism, but he doesn't out-and-out trash it.)
As the buff if insecure Timothy, clothed in black leathers and an oven-mitt puppet, Dario Ladani Sanchez gives a committed, amusing performance as a boy who just wants to be loved — preferably by a kinkier if unkinder Mrs. Robinson. And Josephine Elwood is a shyly engaging, empathetic Jessica, a wise child whose puppet turns out to be less Balinese than bacchanalian. After "Jolene" has her lusty, draining way with Tyrone, it may be possible, if neither easy nor without gore, to put a stake in him.