New Rep Mounts One-Man Play About The First African-American Supreme Court Justice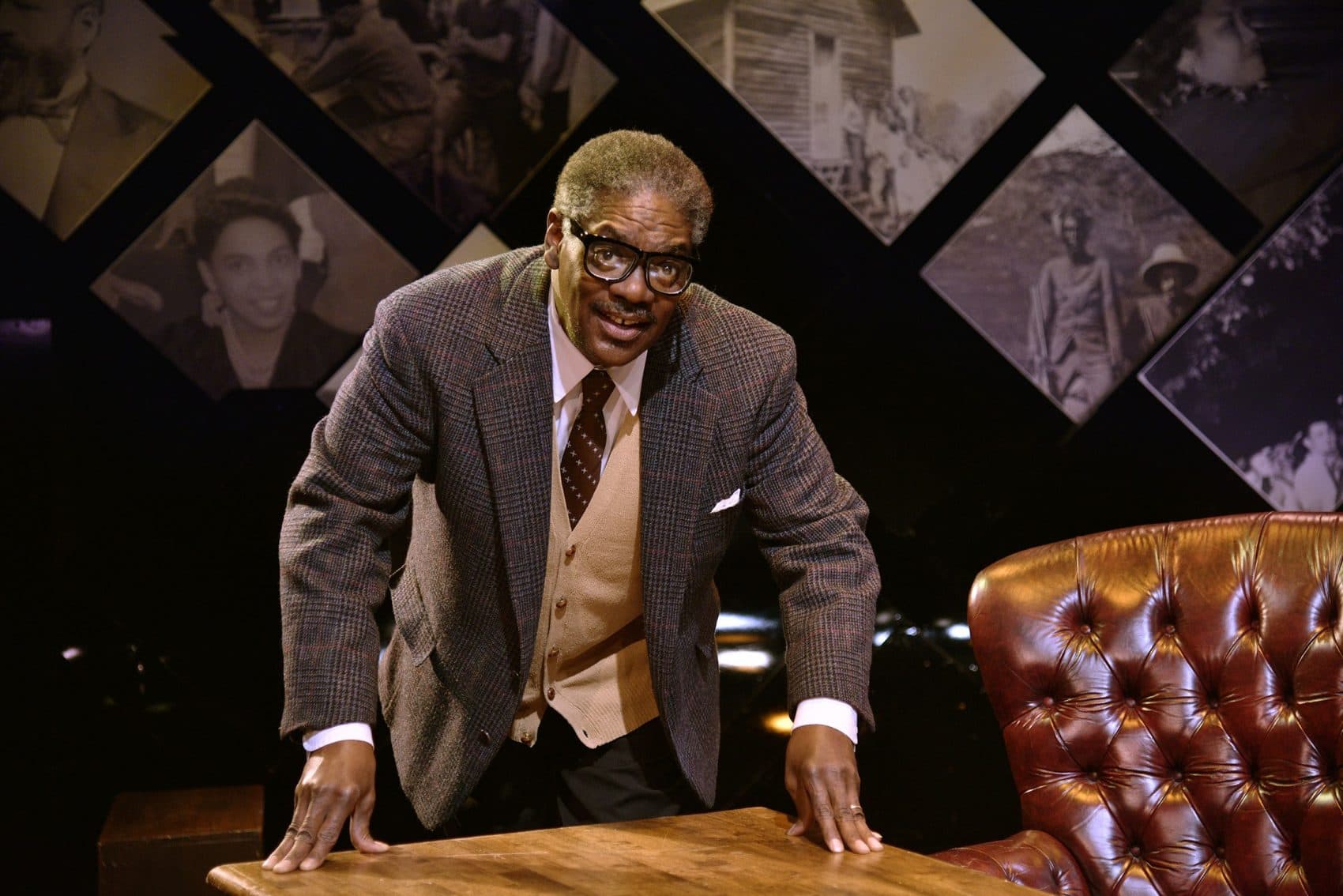 This article is more than 6 years old.
Johnny Lee Davenport delivers a commanding, compelling portrait of the first African-American to serve as a justice on the United States Supreme Court in the New Repertory Theatre's production of "Thurgood," playing through Feb. 5 in the black box space at the Mosesian Center for the Arts.
Marshall was a civil rights advocate who worked from within the system to affect changes in the way African Americans were treated under the law and by society in general. He — like certain recent figures from the courts — was attacked as a "judicial activist," but the case can be made that any judge who seeks the broadest, fairest and most equitable application of the law could be termed an "activist" if his or her work challenges the status quo. Given that America's political landscape has undergone a radical transformation of late — and chances are the legal landscape will follow suit — it seems more than appropriate that this one-man show should grace the stage now.
The play, written by George Stevens Jr., begins by tracing Thurgood Marshall's family lineage — a line that includes ancestors with names like "Thorn Good" and "Thoroughgood." Then it traces another, altogether more melancholy succession: The way a state law, requiring blacks and whites to ride in separate train compartments, resulted in Plessy v. Ferguson, the 1896 Supreme Court case that initiated the Jim Crow era with its plethora of laws enforcing segregation and racial inequality.
Before long, the two narrative threads dovetail into Marshall's life and legal career, but from the start we're given a clear sense of where things are going. "The law can be a weapon if you know how to use it," Thurgood states early on. It's a declaration observers (and survivors) of America's culture wars know from experience to be true, but it's thrilling to hear an account of how Marshall used the law for constructive purposes.
There's plenty of legal history here, related in a dramatic and personal style. The production's various design elements combine to underscore Marshall's intellectual and emotional talking points: Ryan Bates' scenic design amounts to a sketch of a well-appointed office, though the specified setting is "a lecture hall at Howard University." A number of pictures and portraits on the back wall of the performance space light up as Marshall talks about them (Langston Hughes, a windowless "dog house" of a school for African-American children, the two women he married over the course of his life, a photo that documents a lynching). Dewey Dellay's musical score has a documentary feel about it, which keeps the emotional tenor closer to the realm of the historical than the dramatic. Equally lived-in is the biographical nature of the piece, which allows the character of Marshall to address the costs and challenges of second-class citizenship from a first-hand perspective.

More than anything, "Thurgood" is a document of how Marshall learned to use clean, meticulously constructed legal thinking to pare away at racist rhetoric and get at key questions around discrimination and the systematic disenfranchisement of minorities. Marshall's contributions to the progress of our nation's promises of equality cannot be overstated; he argued, and won, Brown v. Board of Education, the landscape-altering Supreme Court case from 1954 that struck down segregation in public schools. Given what we learn here, it feels both right and necessary that Marshall went on to be nominated by Lyndon Johnson to the Supreme Court in 1967, serving until his retirement in 1991. (The fact that George H.W. Bush nominated Clarence Thomas to replace Marshall hovers just off the play's edges, a hard-knuckled reminder of how easily the gains of progress can be eradicated.)
Davenport, under the direction of Benny Sato Ambush, plays the part in a relaxed, collegial manner, so that there's no dusty air of academe. Instead, we're given the warm, wise and slightly rambling recollections of an accomplished jurist, and the way he pours himself the occasional drop of whisky hints at humanizing personal struggles while simultaneously establishing a sense of intimate rapport: Here, indeed, is a figure from history with whom you wouldn't mind sharing a drink. It's without discernible effort that Davenport commands the show for as solid two hours, without intermission. The actor is skilled at folding the occasional dropped line into the flow of his personable delivery, but don't let his approach lull you: Marshall, as we see him here, isn't a faded relic, but rather a respected elder whose patter, soft and inviting as it is, barely conceals a sharp and brilliant streak of humor ... not to mention a still white-hot streak of passion for social justice.
The production is offered as part of the New Repertory Theatre's theme for the current season, "What Past is Prologue," and is the first of three plays following the sub-theme of "Prophetic Portraits: Exploring History at the Level of the Individual." (The other two productions will focus, respectively, on Bertolt Brecht and Gold Meir.) As programming, this lends the New Rep's current season an air of gravitas and immediate relevance; as an experience, though, "Thurgood" feels like a wide-eyed, even rueful, glance at coming times capped off with a big, somber wink, as if to say: "That's not all, folks!"
---
"Thurgood" continues through Feb. 5 at the Black Box Space at the Mosesian Center for the Arts in Watertown.