Crowds Pack Boston Common For Women's March
Play
This article is more than 6 years old.
The organizers of the Women's March on Boston Common are vowing to return.
Organizers and police estimate 175,000 people rallied peacefully Saturday, the day after Donald Trump's inauguration, in support of women's rights.
Similar marches were held in more than 600 cities around the world, loosely organized by groups of volunteers and advocacy groups.
The mood was festive and the energy palpable. The demonstrators — many wearing the signature pink hats — carried signs saying things like " Love trumps hate," "Science is not a liberal conspiracy " and "Resistance is built on hope."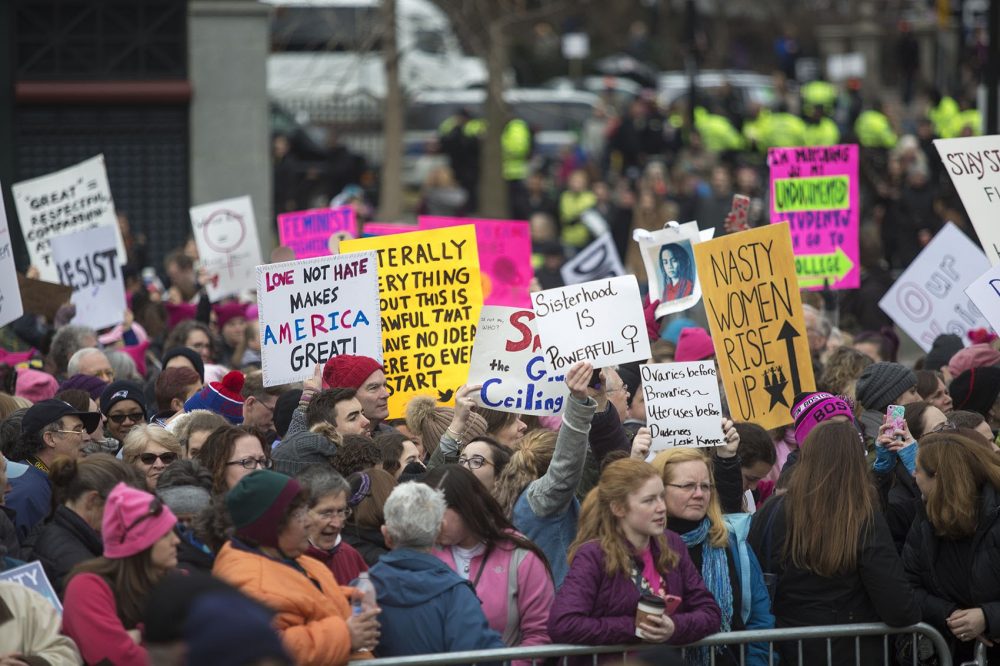 Many said they're concerned about several issues under President Trump such as women's rights, climate change and health care. They also pointed to things he said during his campaign — such as when he mocked a disabled reporter.
Glenn Gabbard of Newton came with his daughter Meghan who is in a wheelchair.
"The tone is so — I'm getting upset. It's so rancorous and divisive, especially when people with disabilities have such challenges to begin with and then to create an environment where they're being made fun of is really awful," he said.
Massachusetts politicians including Sens. Elizabeth Warren and Ed Markey, State Attorney General Maura Healey and Boston Mayor Marty Walsh spoke to the crowd before they started on the mile-long loop around the Public Garden, down Commonwealth Avenue and back to the Boston Common.
Warren vowed to stand up against potential White House changes to health care or immigration.
"We will not build a stupid wall and we will not tear millions of families apart — not on our watch," she said to applause.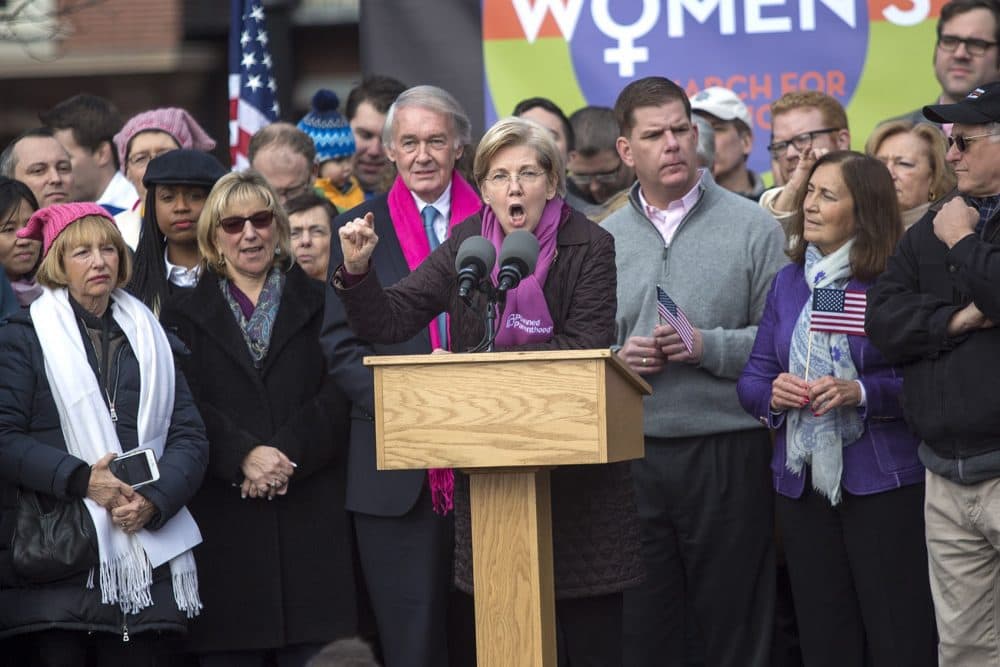 State Attorney General Maura Healey said the size of the crowd shows that "There are more of us than there are of them." She promised to do more than protest if rights are threatened.
"We're gonna make our case day after day for shared values," Healey said. "I have a message for President Trump. The message from the people of Massachusetts: We'll see you in court."
Boston Mayor Marty Walsh told the crowd that Massachusetts has a history of being first on issues. He cited universal health care, same sex marriage — and said the state will be the first to fight.
"We will take this fight from Boston Common to the mall in Washington to let the president know that he is supposed to represent all of us," Walsh said.
Although he didn't address the crowd, Senate president Stan Rosenberg said he believes the march sends a message to state lawmakers.
"We need to know that people are behind the work that we're doing and clearly they are," he said. "By their presence, they're telling us, 'Keep it up, we're going to be behind you.' "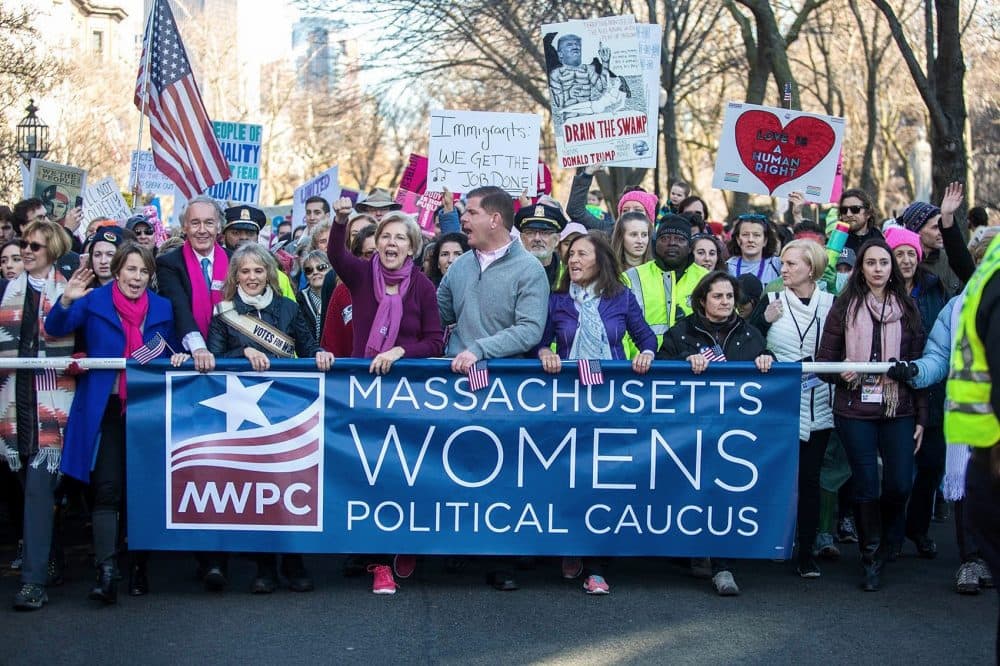 Although the demonstrators ranged from those in strollers to those using walkers, from Massachusetts indigenous groups to Beacon Hill brahmins, some questioned the diversity.
"I'm surprised that there aren't as many black and brown people as I would like to have seen and I wonder where we all are," said Nnena Odim, who is from Boston.
Odim said the march inspired her and diversity might be one of the issues she'll start working on.
That's what the Boston march organizers hope for — greater political action and engagement.
"There will be further organization and action of some sort, keeping people engaged," said Kim Whittaker, of Winchester, who was one of the organizers of the march. "It can be small steps and it can be big steps like putting on things like this and gathering people together."
They say they'll be planning more similar events — large and small — in Boston in the near future.
This article was originally published on January 21, 2017.