Somali Family Resettling In Lowell Worries For Other Refugees As Trump Promises Restrictions
Resume
On Friday, President Trump is expected to freeze all refugee resettlements for up to four months. He's also expected to order a review of the vetting process for refugees coming from several predominately Muslim countries.
The order will have global implications, including for one newly arrived Somali family now living in Lowell.
Resettling, But Feeling 'Very Bad For Others'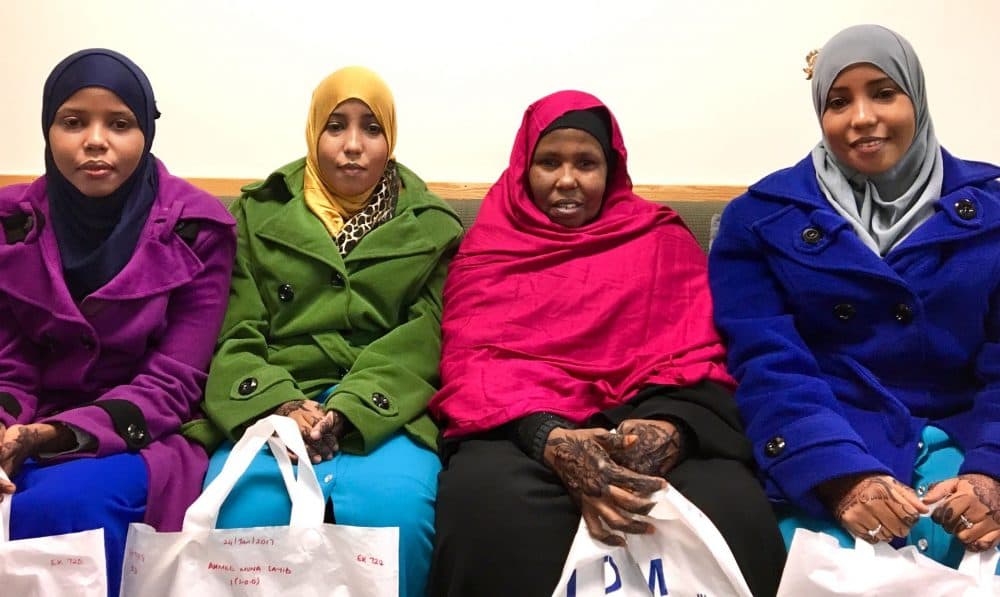 The three Ahmed sisters from Somalia huddled on a couch with their mother in the lobby of a busy office. Each woman wore a brightly colored head scarf and winter jacket, and each clutched a plastic bag carrying their personal documents.
They are the most recent refugees to be welcomed at the International Institute of New England's Lowell resettlement office. And, with Trump's refugee restrictions hanging in the balance, they are likely the last Somali family to enter the state for some time.
"My mom and dad fled from the conflict in Mogadishu," explained Hawo Ahmed, 24. She and her twin sister were only 4 months old when their parents fled for Kenya.
Hawo retold the story of her mother, Fatuma, and why she and Hawo's father left in 1993 amid the Somali Civil War.
"She said that it was, like, conflict all over the country," Hawo said. "People were killing each other, like tribes, different tribes were killing each other. Whenever they see you, they kill you, and they even used to come in the houses to rape the girls and kill them. So they had to move."
The youngest daughter, Asha, was born in Kenya, where the girls grew up, went to school and learned English. Still, they all very much consider themselves Somali.
When asked about their father, one of the young women said she watched him die in 2006 from an asthma attack. She said the family didn't have enough money for a new inhaler.
After beginning the refugee application process in Kenya six years ago, the family arrived in Manchester, New Hampshire, only a few days ago.
Hawo and Muna said their arrival barely felt real, like a dream come true. And then, Hawo said, as soon as they got off the plane, they saw the news about Trump's executive orders on an airport television.
"Even tears were filled up in my eyes, because I felt very bad for others," she said. "They have more expectation, some were even told where they are going, which city they are going, and if they stop all the things, it's going to be very painful. I just have a very sincereful request to the president, that he should drop out that idea. That's all."
Hawo said they know many fellow refugees in Kenya who are in the final phases of their application process.
She said her aunt and cousin, who live in a refugee camp in Kampala, Uganda, had only one more interview to complete before they were hoping to meet them in Massachusetts. Now, they're not sure what will happen to them.
"I couldn't sleep last night, just thinking about them, and she has been in the process for so long, and we want, if you can help her," Hawo said.
Obstacles Facing Refugees Hoping To Resettle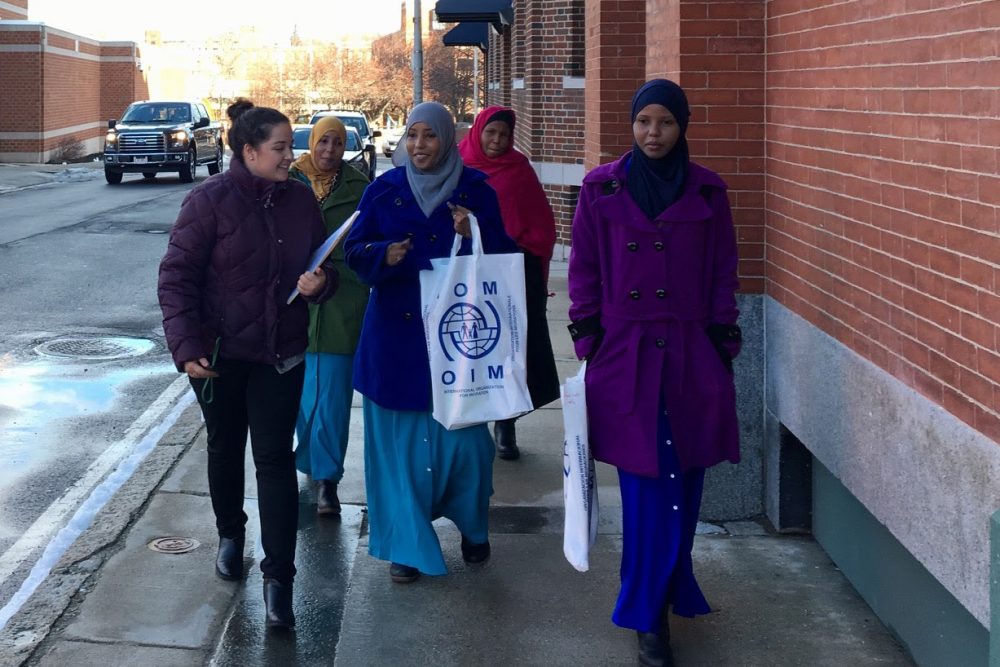 "We work with these folks. We know when they talk about their families, and brothers and sisters and parents that they want to bring to the United States, and we know how heartbreaking it is for this whole process to happen," said Jeff Thielman, president of the International Institute of New England, the resettlement agency that brought the Ahmed family to Lowell.
Thielman said there are countless stories like theirs — of families going through the proper procedures, trying for years to reunite, and now, being told to wait longer.
"So, they want to, they're doing everything right to come to the United States," he said. "They're doing everything they're supposed to do to come here, but there's this obstacle to getting here."
Of course, proponents of Trump's restrictions say there are not necessarily enough obstacles to being resettled in the U.S.
Jessica Vaughan, director of policy studies for the Center for Immigration Studies, a group that supports limiting immigration, said it's about time the refugee resettlement system had an overhaul.
"The point is to make sure that we are not unnecessarily putting ourselves at risk or assisting ISIS, which has promised to infiltrate the refugee flow, by being reckless and going forward with a program that needs a review," Vaughan said. "I think that the administration is going to restart some of these programs, but they want to be confident that they can do so safely."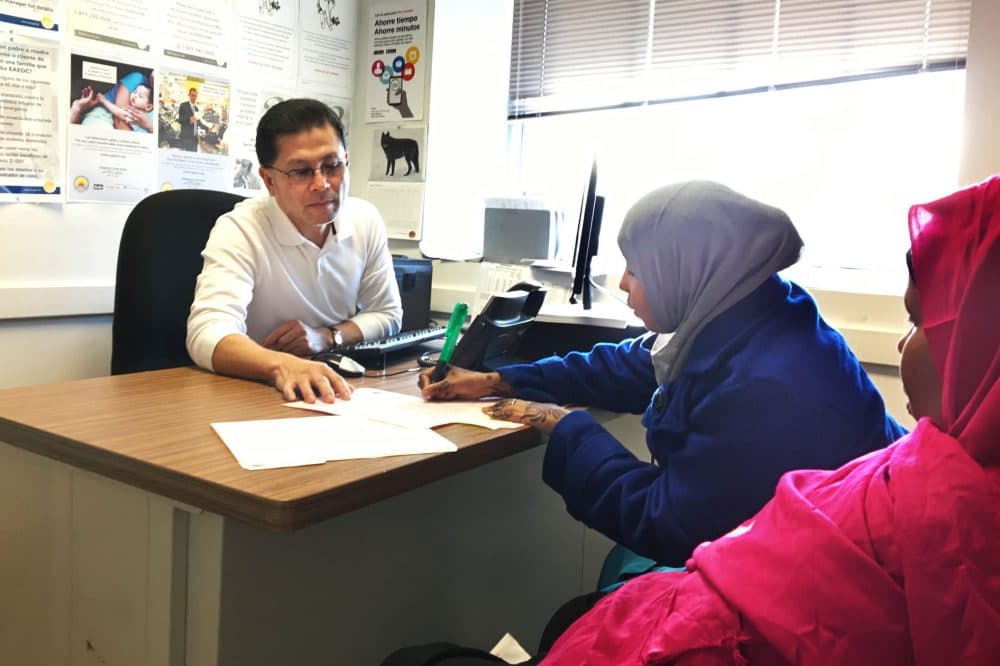 A few blocks away from the resettlement office in Lowell, the Ahmed sisters and their mother each applied for nutritional assistance. After answering a series of questions and showing their documents, they each qualified for one month's worth of emergency food stamps.
The government employee processing their application told the family that he was also a refugee from Cambodia. He typed in their information and printed out their paperwork.
"Welcome to America," he said.
This segment aired on January 27, 2017.