Thousands Gather In Copley Square To Protest Trump's Immigration Freeze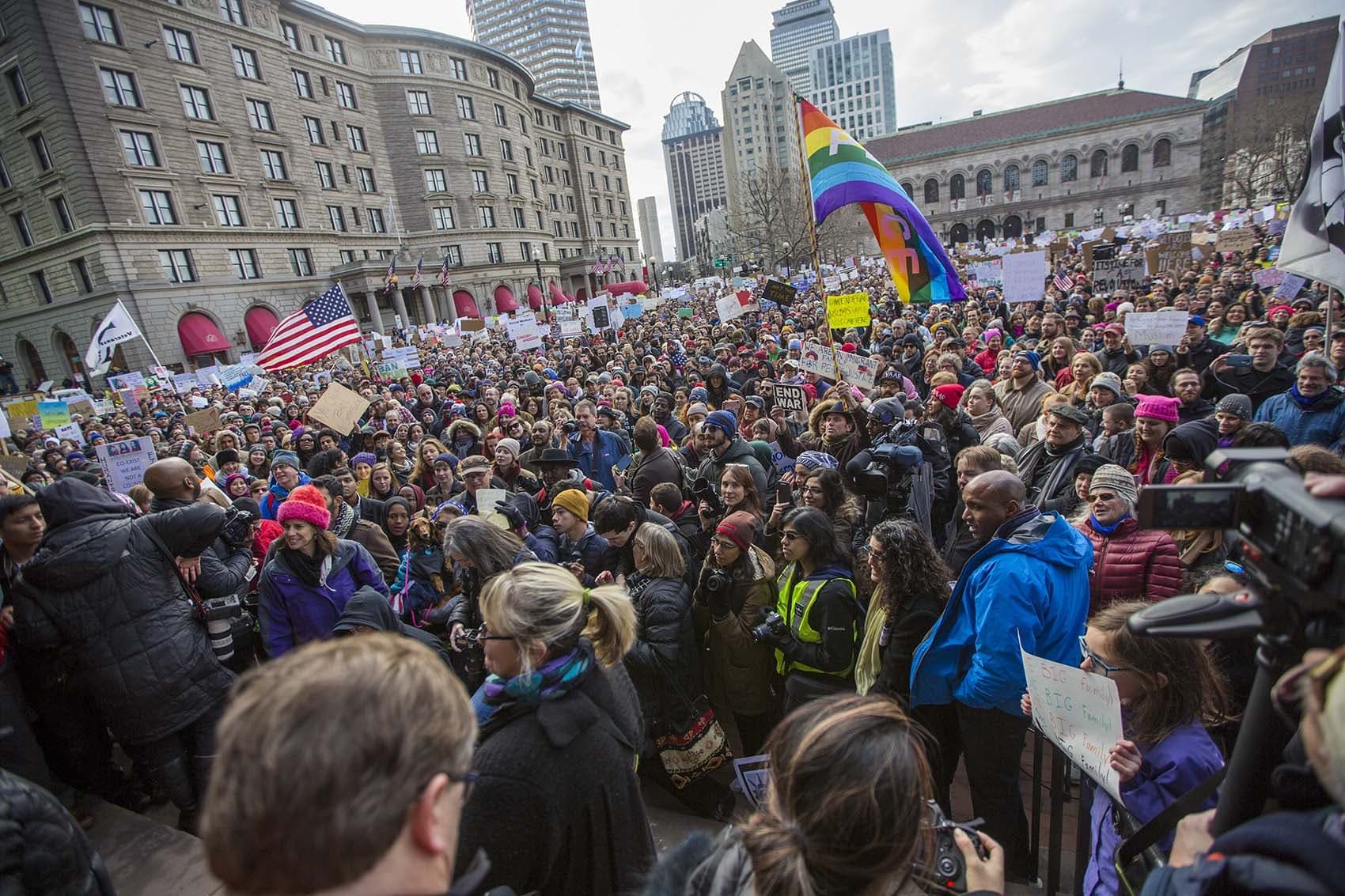 This article is more than 5 years old.
Thousands gathered at Copley Square in downtown Boston Sunday afternoon to protest President Trump's executive order on immigration.
The demonstration, organized by the Massachusetts chapter of the Council on American Islamic Relations, was one of many taking place nationwide this weekend in protest of the president's order barring citizens of seven predominantly Muslim nations from entering the U.S. A large group of protesters had already gathered at Logan Airport Saturday night.
Sens. Elizabeth Warren, Ed Markey, Boston Mayor Marty Walsh and Rep. Joseph Kennedy III were among those in Copley Square Sunday.
Walsh told the crowd: "You can't detain people in airports across America who are part of our society, who have green cards, or are students, or are scientists, or are doctors, or are teachers. I hope that Washington hears this today."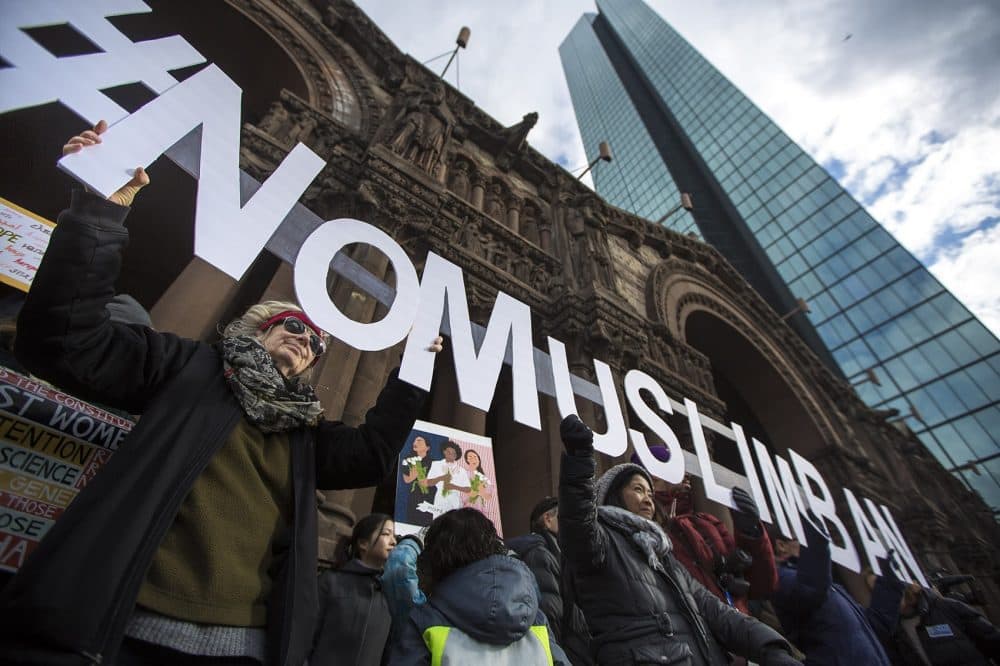 Trump, in a statement Sunday evening, said the order's effects are temporary and will allow officials to reassess immigration policy, and "is not a Muslim ban, as the media is falsely reporting."
"America is a proud nation of immigrants and we will continue to show compassion to those fleeing oppression," he said, "but we will do so while protecting our own citizens and border."
Kennedy brought his wife and daughter to the rally.
"Watching the events of what's happened to this country over the past 36 hours, I think like a lot of people here I felt sick to my stomach," Kennedy said. "To know that we are now a full week into a Trump presidency and there's been hundreds of thousands of people out on consecutive weekends across our country trying to remind the president and his administration the values that we stand for."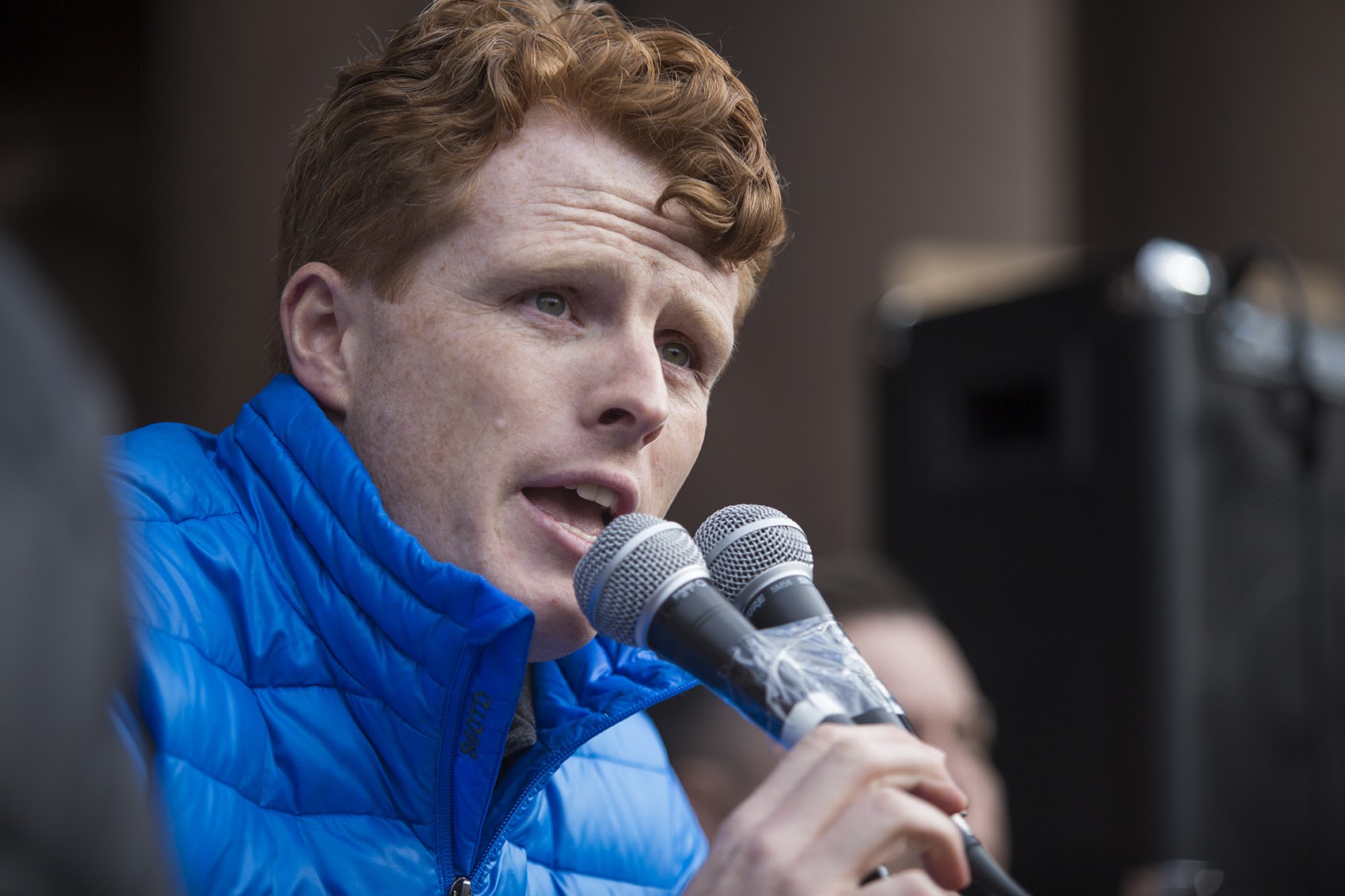 Kennedy said the positive and welcoming atmosphere in Copley Square was encouraging, but he hoped the message of the protesters would eventually get through to the White House.
"I hope at some point we're not going to have to have a reason to protest every single weekend over the next four years," Kennedy said.
Iraqi national Khaled Almharib, of Lynn, was among the protesters crowding the steps of the Boston Public Library in Copley. Almharib says his family moved from Baghdad to the U.S. in 2012 and are now legal permanent residents. But he says he still has family and friends in Iraq and Syria who wish to come to the U.S.
Almharib says he wants Muslim refugees to feel safe in the U.S., and that the action of the Copley protesters is encouraging.
"President Donald Trump's actions make me feel that I'm in danger," he said. "And when I came here today to Boston and saw the crowd, this made me feel like really happy and I felt that the country is still in peace and united."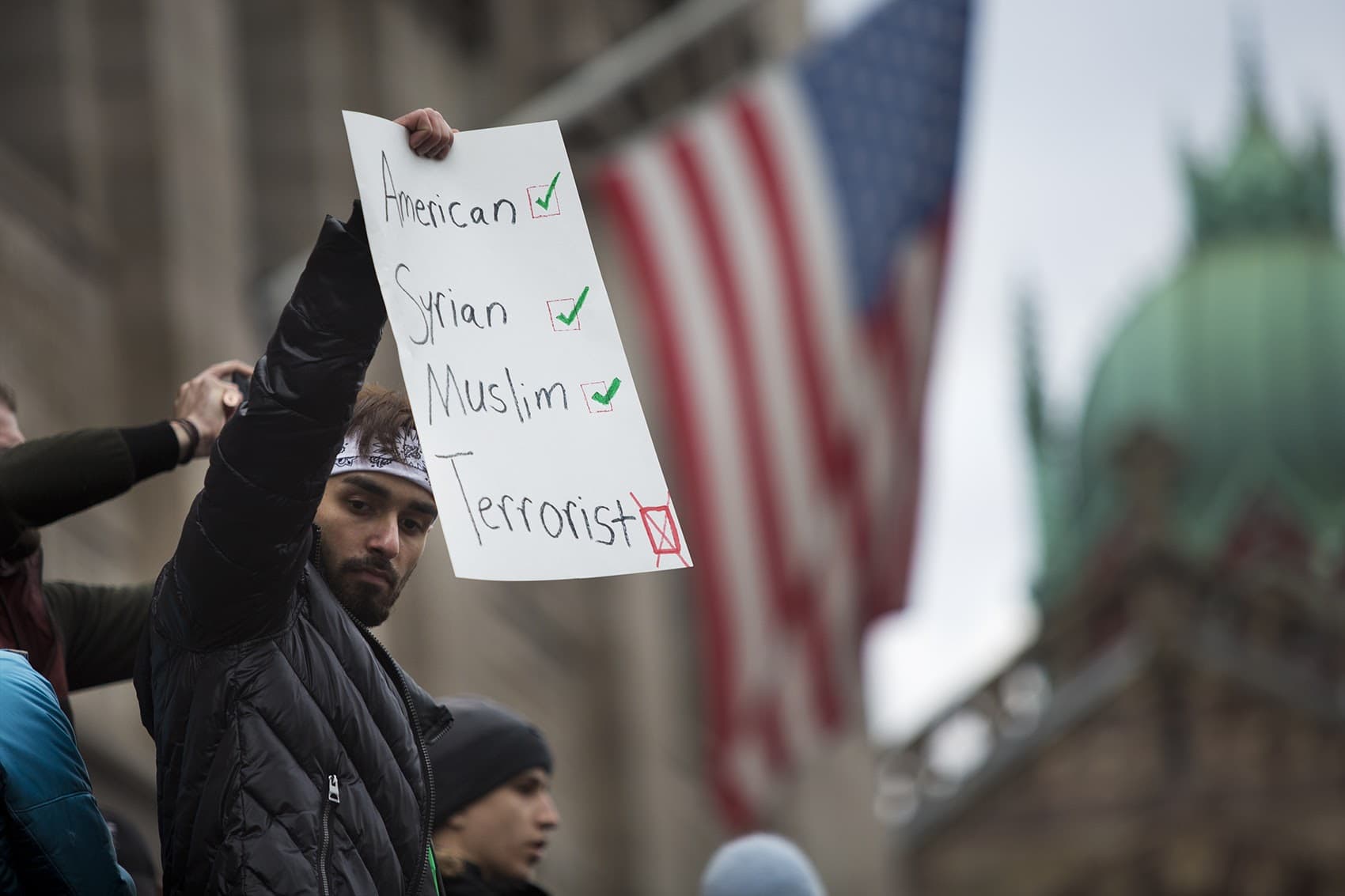 Judy Watkins, of Boston, said she came out to protest because she was appalled by the order.
"The idea that students and people with green cards and visas were trapped in airports, the families that had been ready to come had sold their houses, their businesses and had gone through this very severe vetting, were just stuck. It was just the cruelest thing I could imagine," Watkins said.
Republican Gov. Charlie Baker released a statement Sunday saying the Trump administration's executive order puts the state's global community "at risk."
"I believe focusing on countries' predominant religions will not make the country safer as terrorists have showed they intend to strike from across the world," the statement read. "The confusion for families is real. The unexpected disruption for law abiding people is real. And the lack of guidance associated with such an abrupt and overwhelming decision is hugely problematic for all involved."
Baker added that he hopes the federal courts will offer clarity quickly.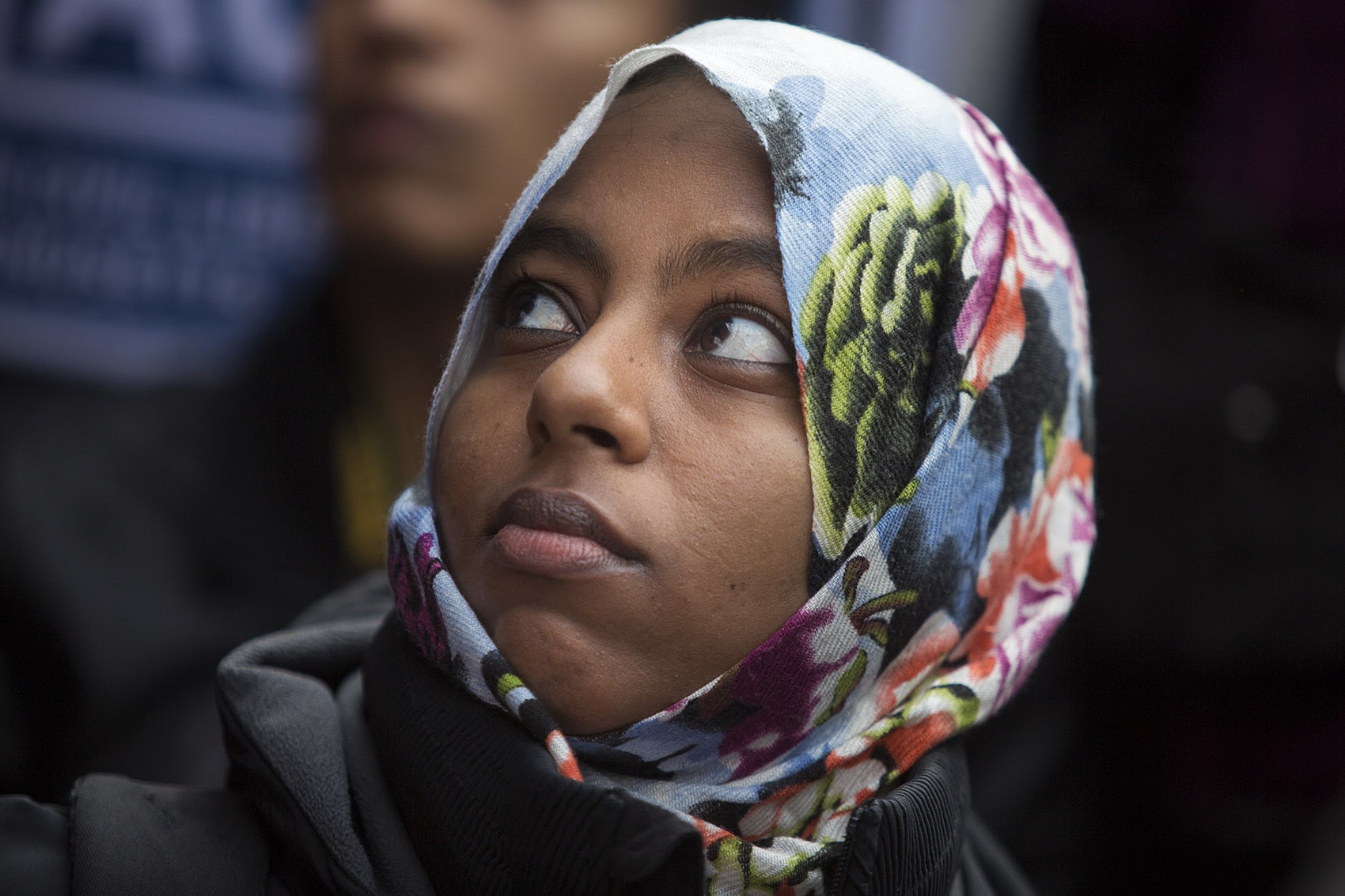 Federal judges in New York, Boston and Virginia have already temporarily blocked parts of the order -- though there is still confusion as to who can stay and who will be kept out of the country in the coming weeks.
The Department of Homeland Security issued a statement early Sunday saying it "will continue to enforce all of President Trump's Executive Orders in a manner that ensures the safety and security of the American people." The statement added, though, that DHS "will comply with judicial orders."
More litigation is expected this week, and organizers of Sunday's rally say they're planning another for next weekend.
With reporting by WBUR's Jack Lepiarz 
This article was originally published on January 29, 2017.