Universities Rush To Assist Students Stranded Overseas After Trump Orders
Resume
Students at universities across Massachusetts are stuck overseas, unable to return to the United States.
They are stranded as a result of President Trump's executive order last week suspending entry into the U.S. by citizens of seven Muslim-majority countries. Universities in Massachusetts and in other states are trying to help their students figure out next steps in the wake of the temporary travel order.
In Pursuit Of A Ph.D. — And A Plane Ticket
Mohsen Hosseini has been stuck in Tehran since last Saturday.
A graduate student at UMass Amherst, Hosseini returned to Iran for the holidays. On Friday, the day Trump signed his executive order, Hosseini heard that he would not be able to return to the U.S. for at least 90 days. He tried to come back anyway. But no airline at the airport in Tehran would give him a boarding pass. Hosseini explained that he was just a Ph.D. student, not a terrorist.
When two Boston federal judges issued a stay of the president's order on Sunday, UMass forwarded the judge's order to him. He took it back to the airlines at the airport. All of them said they had not received the judge's order.
It turns out, the airlines were not allowing Hosseini to board, because on the same night the president signed his order, the State Department revoked all visas from the seven countries, including Iran.
After seeing the State Department memo on Wednesday, Hosseini emailed that he feels like he just wasted the last two years of his life.
People from the seven countries — Iraq, Syria, Yemen, Somalia, Sudan, Libya and Iran — are affected by the order. But in the academic world, this is mainly a story about students from Iran.
"Some of the smartest students in the world come from Iran," said Joseph Bardin, a UMass engineering professor. He has been in regular contact with Hosseini all week and is optimistic that eventually, Hosseini will be able to return to the U.S.
Bardin said Iranians dominate a field called radio frequency integrated circuit design. He said it's a field not enough Americans want to get into. It's designing integrated circuits for radar and all kinds of wireless communications. Typically, the students who come here are among the top 0.1 percent of Iranian electrical engineering students, Bardin said, and once they're here, they want to stay and start up companies.
"If a new policy is put in place that either discourages these students or makes it practically impossible for them to come, from the national level, I'm sure the tech industry will take a hit," Bardin predicted.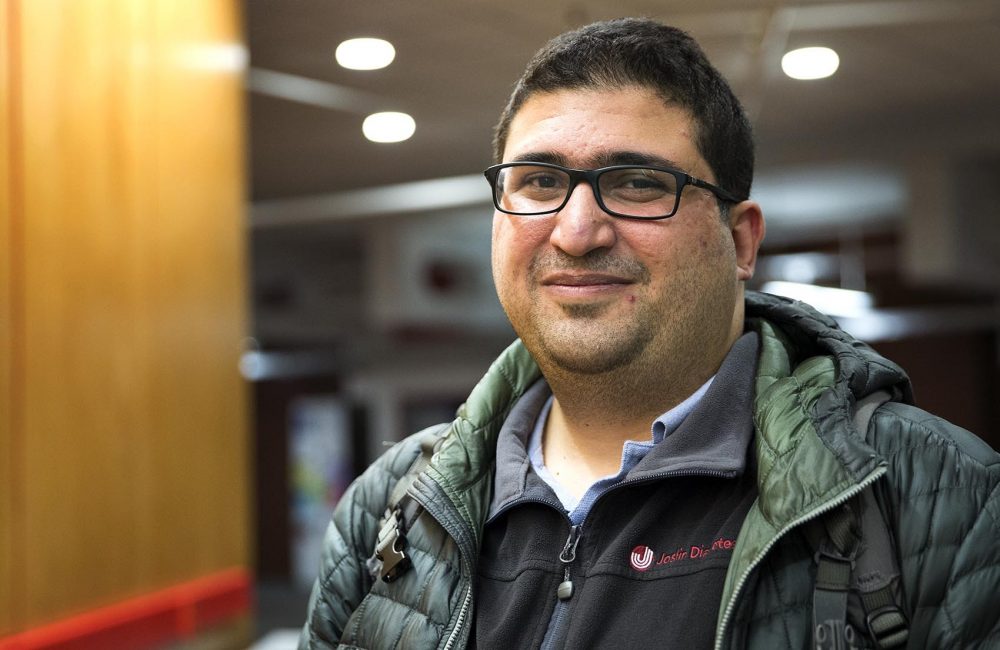 Foreign Nationals Here Feel 'Unnerved'
"The larger point in all of this is that there's just a complete absence and vacuum of really well thought out public policy," said Kenneth Reade, the director of International Student and Scholar Services at UMass Amherst, who is seeing students flood the office.
"What's interesting to me — and I probably underestimated this coming into work first thing Monday morning — was the amount of people from all other types of countries that really have no connection to any of what would be considered countries of concern," Reade said. "I had a French woman who is canceling all of her summer travel in the office [Monday]. All foreign nationals are feeling quite unnerved by this."
Like other universities, UMass is deciding right now which foreign students to admit, and Reade said the suspension of visas for students from the seven countries is on the minds of people making admissions decisions.
"I've had a lot of conversations with faculty when they're making decisions on particularly graduate students, who are a big commitment," Reade said. "They are asking me: 'Should we consider people from these countries, because will they be able to get here in September?' "
And Reade worries that international students in general could rethink whether they want to come here.
"Will people see it as too risky or too hostile or non-welcoming of a place?" he asked.
Reade said in recent weeks, the parents of foreign students have been worried about their children going to the U.S.
On Wednesday morning, students kept coming into the International Students and Scholars Office at Boston University.
"I think there's a lot of angst right now," said Jeanne Kelley, the office's managing director, who leads a staff of 23 who help more than 9,000 foreign students from 134 countries.
"We have students who are having to cancel plans to travel outside of the country to conduct Ph.D. research, and we have a lot of students whose families were hoping to visit either during the spring semester or for graduation, and those families are likely not going to be able to visit now," Kelley said.
Kelley pointed out that the suspension order also affects students' ability to gain valuable experience.
"They apply for work permission for optional practical training, which is available to them during their program of study, or after they graduate, and of course, green card applications are just a few of the applications that may be suspended for 90 days," Kelley said.
The order is affecting Americans, too.
Architect Colin Bonfield is American. His wife is Iranian. She just graduated from Emerson College, and she has one of those work permissions to work for a year more. His wife's visa runs out in June. She's applying for a Ph.D. program, which would require another visa, one she can't get now. Since they're married, he can apply for a green card for his wife, but those applications are suspended, too.
"Honestly, we've talked about if things get bad enough, having to move to another country," Bonfield said. "And I'll have to leave my professional career, and we'll go to Canada or possibly the U.K."
'In Danger Back Home'
For some, the fear is for their freedom and their lives.
Mina Yaghmazadeh was about to finish her Ph.D. in mechanical engineering at Northeastern. She's been actively protesting against the Iranian government on social media. She's also an atheist. She fears having to return to an Islamic Republic.
"This doesn't make any sense that I would be banned here as Muslim and then would be in danger back home as an atheist," Yaghmazadeh said.
And if she is forced home, Yaghmazadeh fears being asked to work on the Iranian nuclear program, and imprisoned if she refuses. She said she had many choices, including Europe, when deciding where to study.
"I felt like the United States is the most accepting country," Yaghmazadeh said. "People from all over the world live together here. Basically, I felt like this is the best place for immigrants. I felt like there is no limit here to progress."
She said she does not regret her choice.
"Until last week, I felt like that was the best choice I made, but now, I don't know," Yaghmazadeh said. "I just don't know."
This segment aired on February 2, 2017.