How An Advocate With Mass. Ties Is Helping The Family Of An Iraqi Toddler Awaiting Surgery Get Back To The U.S.
Play
This article is more than 5 years old.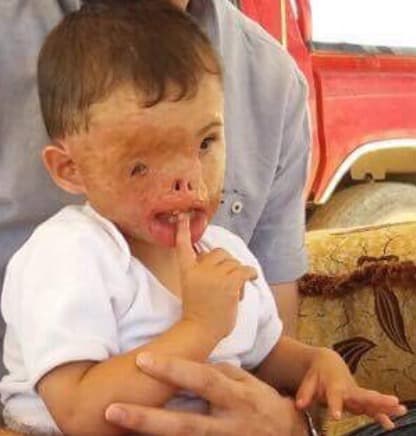 Two-year-old Dilbireen Muhsin's face was badly burned when a heater in the Iraqi refugee camp where he was living with his family caught fire last year.
He is now awaiting a second surgery at Shriners Hospital for Children in Boston. But the operation is on hold because his parents can't get back to the U.S. to be with him. Their visas were revoked after Dilbireen's father returned to Iraq, to be there when his wife gave birth to another child.
Dilbireen was brought to the United States last fall by the British charity Road to Peace, which is run by Sally Becker.
There's another key figure in this story — a California filmmaker named Scott LaStaiti, who grew up in New Bedford. LaStaiti worked his contacts to get Dilbireen and some other Iraqi children medical care at Shriners hospitals in Boston and Minneapolis. And he wrote letters, so as to sponsor the children and their families for their visas. He continues to advocate for them now.
LaStaiti spoke with WBUR's All Things Considered Lisa Mullins about the plight of Dilbireen. (Click the red player button above to listen.) The toddler is currently being cared for by a volunteer nurse in Michigan. Meanwhile, the boy's parents are hoping to get their visas reinstated if the U.S. travel ban instituted by President Donald Trump remains blocked or gets overturned.