A Foot Of Snow Forecast For Much Of Mass. Thursday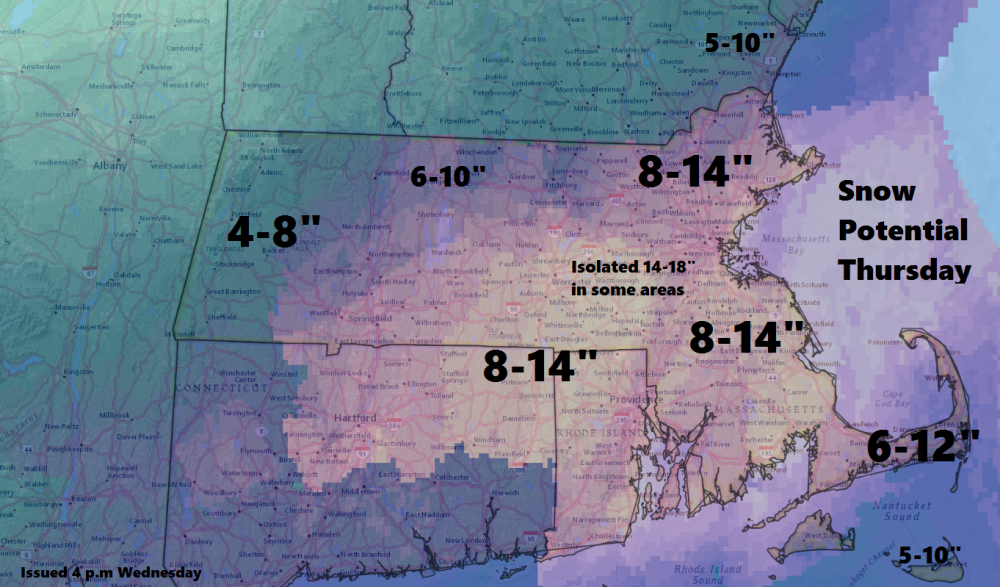 This article is more than 3 years old.
A storm arriving Thursday morning will drop a foot of snow across much of Massachusetts.
The National Weather Service has issued a winter storm warning for the entire state Thursday. A blizzard warning has also been issued along the coast south of Boston and for the Cape and Islands.
WBUR meteorologist Dave Epstein says the snow will start falling around 8 a.m. and be heaviest between 11 a.m. and 4 p.m., before wrapping up by 9 p.m. Epstein is predicting 8 to 12 inches of snow across much of the state, with less in western Massachusetts and on the Cape and Islands. Some areas could see up to 14 inches.
The city of Boston has declared a snow emergency. Parking restrictions will begin at 10 a.m. Thursday. Boston schools will also be closed Thursday, along with several other communities. See a full list of school closures here.
During a press conference Wednesday, Boston Mayor Marty Walsh reminded residents that space savers are not allowed during the storm.
"[The] space saver policy will take effect after it snows, so if you put your space saver out there in the morning and as our trash trucks go out there and see them, they're going in the trash," Walsh said.
The state Department of Transportation is urging the public to avoid driving Thursday and work from home if possible, with reduced visibility and whiteout conditions possible at times.
"The weather forecast is calling for snow to begin before the morning commute on Thursday, become heavy quickly, and continue throughout the day, decreasing visibility and braking time," MassDOT Highway Administrator Tom Tinlin said in a statement. "Safety is our greatest priority, and as this snow storm is expected to create potentially hazardous conditions for the morning and evening commutes, we encourage all travelers to make safe and smart decisions and avoid heading out onto the roadways if they are able to."
After the storm wraps up frigid air will move into the region early Friday, with temperatures falling into the single digits and wind chills falling below zero.
This article was originally published on February 08, 2017.