Forecast: About A Foot Of Snow To Blanket Boston Today
Play
This article is more than 6 years old.
Updated at around 2 p.m.:
The blizzard warning for the South Coast and Cape Cod has been expanded to now include Boston and the North Shore of Massachusetts. Look for snowfall rates at 2-4 inches per hour through mid to late afternoon along with strong winds. This will create whiteout conditions; travel will be nearly impossible.

Updated at around 1 p.m.:
There's not much change from the earlier forecast today as the snowstorm continues through the afternoon and into the evening hours. Generally, I still expect most areas, including Greater Boston, will receive between 10 to 15 inches of snow, give or take a few inches in some places.

While I'd love to be able to tell you exactly how much snow will blanket your backyard, rapidly developing storms always bring surprises. Heavy snow bands develop in widths of around 20 miles. So forecasting the precise location of these bands is impossible. However, we do know these bands seem to love to set up southwest of Boston and around the Worcester hills.
In contrast, areas in the Merrimack Valley have seen lighter snow totals.

Thunder and lightning has been a part of the storm in Connecticut, and that heavy snow should move into Massachusetts this afternoon. This is when some areas could see rate of snowfall over 2 inches per hour.
Snow will be ending this evening followed by overnight clearing. Temperatures will fall into the single numbers and teens. Winds continue and wind chill will be near zero by the morning.
Our original post:
There's not much left to do but ride out the storm.
Snow is overspreading the region this morning and will become heavy as the day wears on. The worst of the storm will be between about 10 a.m. and 5 p.m. when the bulk of the snow will fall.
The snow will continue to accumulate later this afternoon, but by the evening, it won't drop with the same intensity. If you need to get into Boston, the best time to do so will be early this morning. By mid-morning, travel in the city will already be heavily impacted by the storm.
There are some indications we could also hear some thunder during the storm. This would be the result of rapidly rising air as the storm intensifies over the ocean. This is not atypical for ocean storms that strengthen rapidly.
The heaviest snow will descend over the eastern third of southern New England, but even as far west as the Berkshires, as well as into New Hampshire and Maine, a moderate snowstorm is likely.
Some areas could see snowfall rates exceed 2 or even 3 inches per hour. Because of this pace, it is unwise to travel during the height of the storm. For most students and many workers, it's a snow day. (Here is WCVB's list of school closures and delays.)

Temperatures, which were so mild yesterday, will continue to drop throughout the day. I expect readings in the teens by the time the evening commute is underway — whatever limited commute there is later today.

A blizzard warning remains posted for the coastline south of Boston this morning. This may or may not happen (as a blizzard is simply a technical term for when visibility is lost for at least three hours). But there will certainly at least be strong winds, snow and blowing snow that will create whiteout conditions along the coast later this morning and into the afternoon.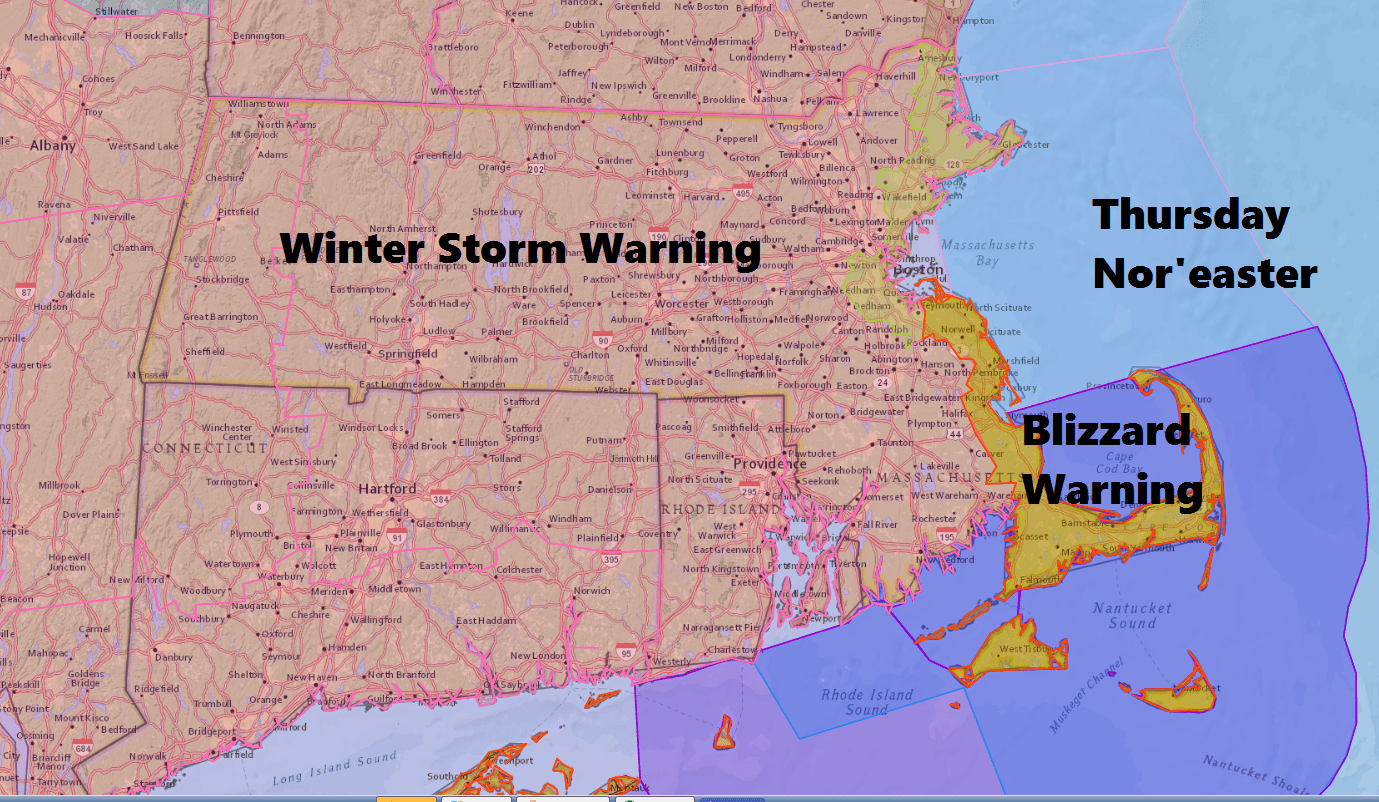 Elsewhere, a winter storm warning remains in effect due to the expected heavy snowfall. Again, travel is not recommended today unless you have to get out.
There will also be plenty of snow to shovel if you need your exercise. The snow will be heavy and wet over Cape Cod. Elsewhere, the snow is expected to be light and fluffy — but there will be a lot of it.
Late this evening skies will clear and temperatures will fall into the single digits to teens over Cape Cod. Friday brings a bright and sunny day with cold air. It will be a nice day to take out the snowshoes or cross-country skies. Another weather system brings some light snow to the region Saturday.
You can follow Dave Epstein on Twitter @growingwisdom
---
Thursday: Heavy snow developing early and lasting most of the day. Any mixed precipitation will quickly changeover to snow along the Cape. Temperatures fall into the 20s — and eventually into the teens. The height of the storm hits Greater Boston between 10 a.m. to 5 p.m. Total snowfall will be between 10 to 15 inches. Locally, higher totals will occur in heavy snow bands.
Thursday Night: Snow ends early, then clearing and cold. Lows 5-15.
Friday: Sunshine and clouds. Highs in the low to mid-20s.
Saturday: Mostly cloudy. Some light snow. Highs 31-38.
Sunday: Lots of clouds, some rain or snow showers possible. Highs 35-40.
This article was originally published on February 09, 2017.