6 Patriots Now Say They're Skipping The White House Visit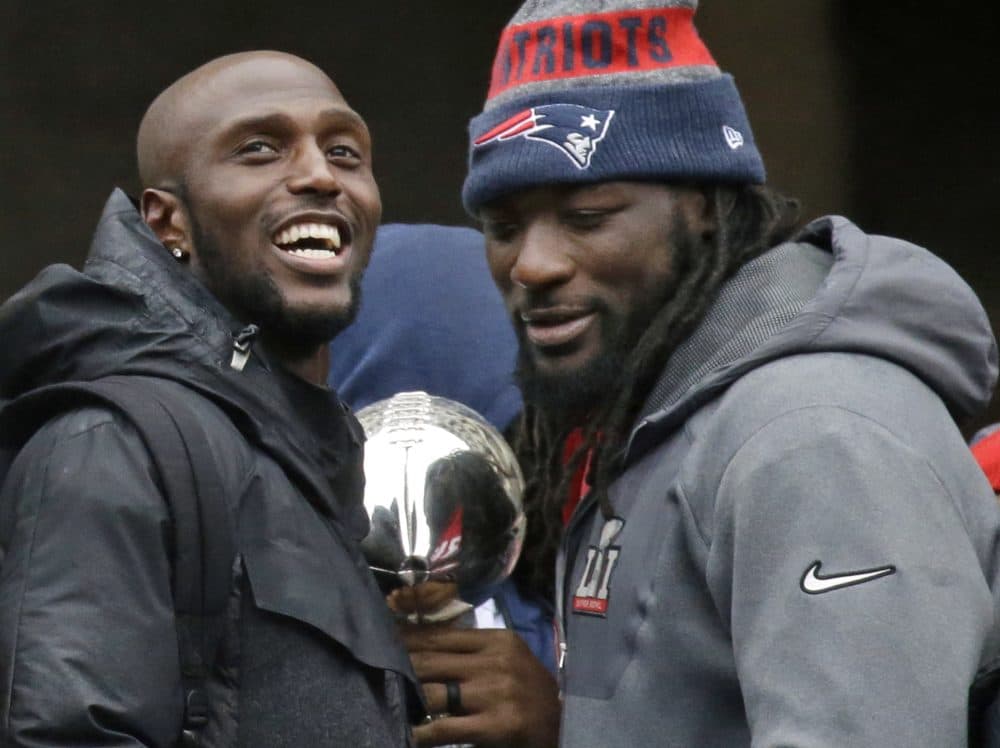 This article is more than 3 years old.
2/10 Update: It's six now. Defensive lineman Alan Branch told SiriusXM NFL Radio Thursday night that he's also out. "I've got four kids at home so I'm just going to hang out with the family and continue celebrating until the next season starts," Branch said.
Here's more from WBUR's Shira Springer.
Original post: 
The number of New England Patriots players who've said they're skipping the traditional White House visit for Super Bowl champions grew on Thursday.
Running back LeGarrette Blount told "The Rich Eisen Show" that he won't be going to the meet-and-greet with President Trump.
"I don't feel welcome [in] that house. I'll leave it at that," Blount said.
Earlier Thursday, defensive end Chris Long said on Twitter that he "planned on skipping." He didn't offer more details about why.
To be clear, players don't need to make the celebratory trip. And they can have all sorts of reasons for sitting it out.
Tight end Martellus Bennett was the first Patriot to announce his intention to skip the White House visit. Bennett told The Associated Press he's not worried about his decision upsetting team owner Robert Kraft. Kraft attended a celebration dinner for Trump ahead of the president's inauguration.
Kraft, coach Bill Belichick and quarterback Tom Brady have all shown support for Trump.
On Monday, Patriots safety Devin McCourty followed Bennett's suit, telling TIME that he was out because he doesn't "feel accepted in the White House."
Linebacker Dont'a Hightower is also skipping, telling ESPN Boston's Mike Reiss that he's "been there, done that." Hightower visited the White House with his college football team, and noted to Reiss that he didn't go with the Patriots the last time, when President Obama was in office.
Brady also skipped that White House visit, in 2015, saying he had a previously planned "family commitment."
Other Boston sports stars have been more explicit about their reasons for passing up the D.C. trip.
Following the Bruins' 2011 Stanley Cup win, then-goalie Tim Thomas said in a statement that he skipped the White House visit because he believed "the Federal government has grown out of control, threatening the Rights, Liberties, and Property of the People."
This article was originally published on February 09, 2017.