Blizzard Lashes Boston With Snow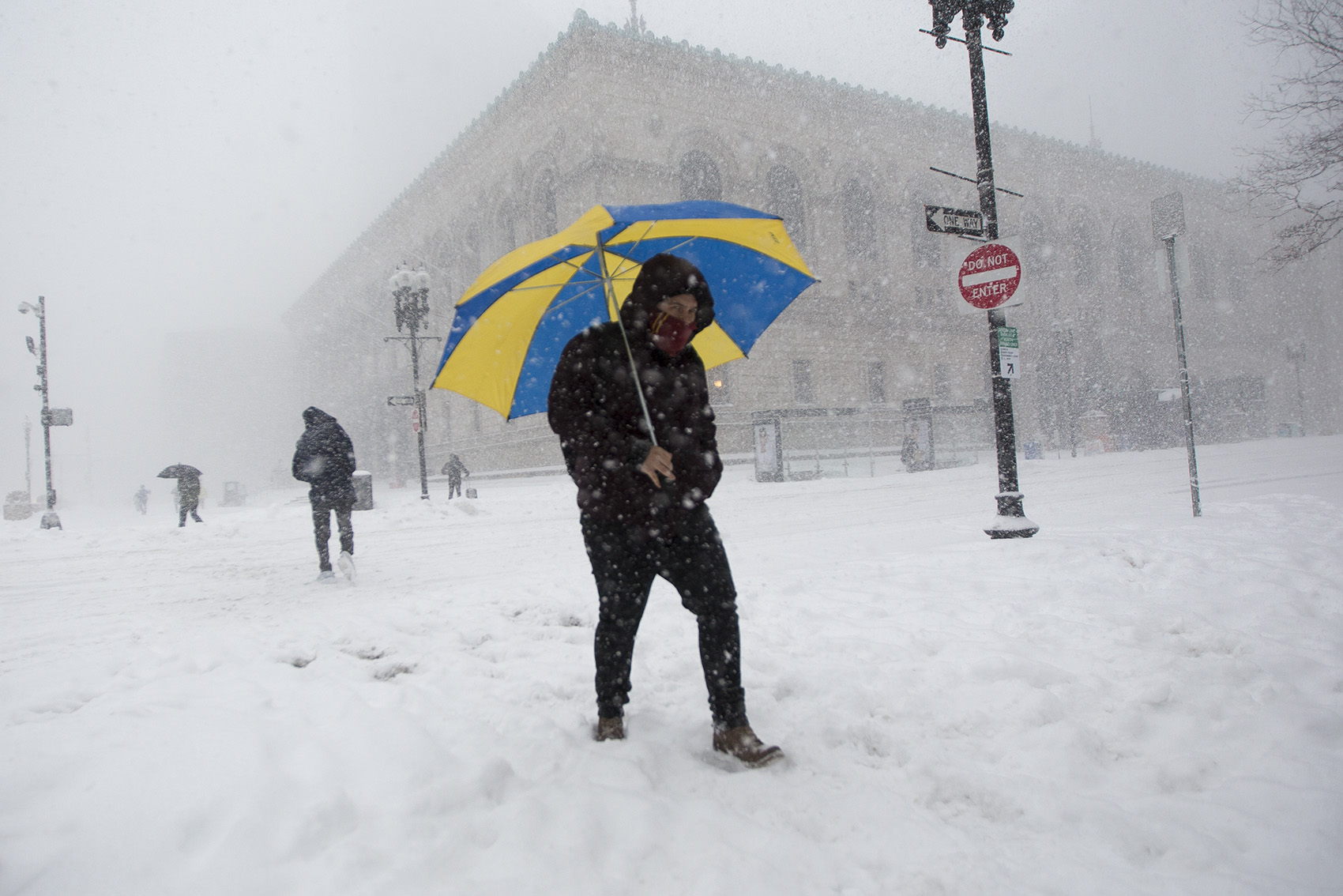 This article is more than 3 years old.
Wind-whipped snow lashed eastern Massachusetts Thursday, creating blizzard conditions for much of the region.
As of 4 p.m. the National Weather Service said Boston was among the areas that had reached blizzard criteria -- the city's first blizzard since Jan. 27, 2015.
A blizzard warning for all of eastern Massachusetts was to expire at 8 p.m.
(Blizzard criteria, per the weather service, means "winds greater than or equal to 35 mph with falling and/or blowing snow, frequently reducing visibility to less than 1/4 mile for three hours or more.")
There were also "numerous" reports of thundersnow, the service said.
As of 6 p.m. there were about 51,000 power outages statewide -- most concentrated on Cape Cod.
"We have not heard of any communities opening shelters, but that's a real possibility," said Sarah White, of the Massachusetts Emergency Management Agency.
Earlier Thursday, WBUR meteorologist David Epstein forecasted about 10-15 inches of snow overall for Greater Boston, with certain areas seeing more snow.
The hard-hitting storm was likely to be the largest since February 2015, Epstein said — which, if you've repressed the memory — was a record-breaking rough month for snowfall in Boston.
"It's also going to be really windy out there [with] white-out conditions," state Highway Administrator Tom Tinlin told WBUR early Thursday. "So, even after the storm winds down — 7 o'clock, 8 o'clock, 9 o'clock tonight — it's going to still feel like it's snowing with all these high winds."
A winter storm warning for the rest of the state was also due to expire at 8 p.m.
Gov. Charlie Baker closed state offices for non-emergency workers Thursday, and urged all residents to stay off the roads.
About 60 percent of flights at Logan Airport were canceled Thursday. Massport said it expects more flights to be canceled at Logan Friday, but that airlines will resume normal schedules by the afternoon.
There were no major issues on the MBTA or the commuter rail Thursday.
Leslie Aun, with commuter rail operator Keolis, said Thursday night will be devoted to making sure Friday morning goes well.
"We'll often keep the locomotives idling overnight to make sure that they're able to run properly the next morning," she said. "Overnight, we'll also be putting our snow-fighting equipment to good use, making sure we've kept all of the tracks clear."
A city of Boston snow emergency and parking ban are in effect.
City schools were closed Thursday — and Mayor Marty Walsh also announced schools will be closed Friday. (Full closure list.)
"We want to make sure we're prepared," Walsh said midday Thursday in announcing the Friday closure, "so I'd rather err on the side of safety for our children to make sure our streets are safe and plowed and that there's no situations out there and that kids; with 18 inches of snow, you'll have some difficult visibility as far as snow banking and things like that."
With reporting by WBUR's Lisa Creamer, Bruce Gellerman and Jack Lepiarz
This article was originally published on February 09, 2017.