Boston-Area Restaurants Participate In Day Recognizing Immigrants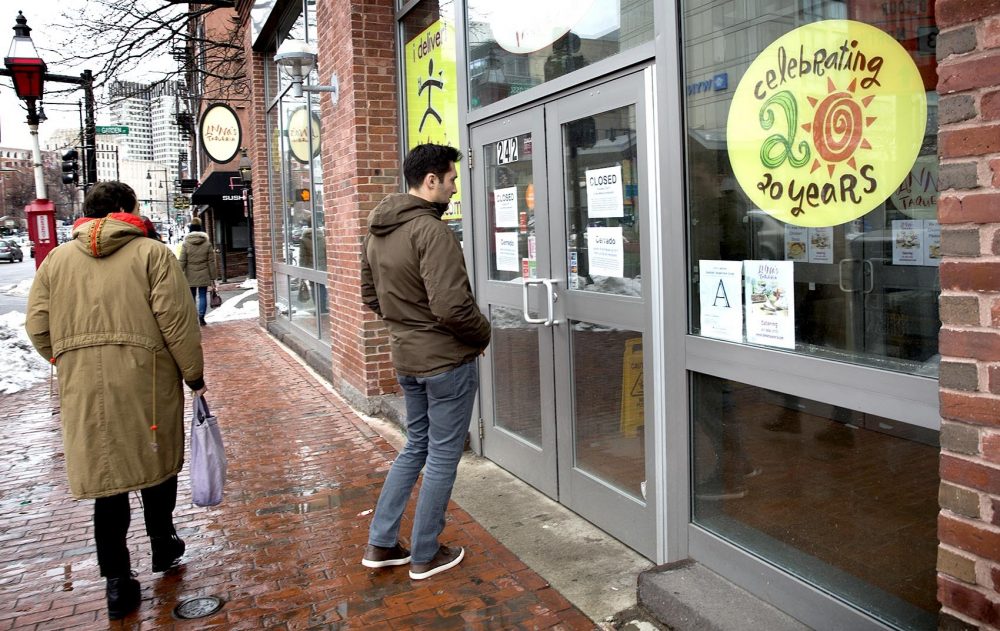 This article is more than 3 years old.
A number of Boston-area businesses and restaurants — and at least one museum — participated Thursday in a nationwide day of action aimed at highlighting contributions of immigrants.
NPR reports on the solidarity effort, dubbed "A Day Without Immigrants":
The movement is a response to President Trump's immigration agenda, which includes a pledge to seal the U.S. border with Mexico, and a travel ban on citizens of seven majority-Muslim countries (which is now on hold).

Some businesses are closing for the day; others are staying open and pledging to contribute a share of the day's proceeds to nonprofits that aid Latino communities. In a number of cases, business owners are abiding by their staffs' wishes, after holding votes to decide whether to open.
Local businesses participating included the new Back Bay food emporium Eataly Boston.
"We are an immigrant company & support any employees participating in the strike," Eataly tweeted Wednesday night.
Another was Anna's Taqueria, which has seven locations around the area. While a location in Brookline was open Thursday morning, an Anna's on Cambridge Street in Boston was closed:
Phil Bannatyne, owner of Cambridge Brewing Company, said his restaurant would remain open but would only offer three items on the menu.
"When you come in here and you get a menu that has a message on it and doesn't have options, I think it really drives home the point that we can't offer you the menu without our immigrant team members working in the kitchen," he said. "We can offer you like three things. That's about the best we can do without the contributions that these folks make."
Eater Boston has a list of other bars and restaurants that are closed, or are expressing support.
Wellesley College's Davis Museum took part by removing or covering artwork created or donated by immigrants.
Museum director Lisa Fischman told WBUR she hopes the demonstration will lead to dialogue.
"We wanted to do something very positive that really honors the contributions of immigrants here," she said. "And if we create and open up an opportunity for more discourse around issues of immigration then that's beautiful."
Fischman said the pieces make up 20 percent of the museum's collection.
With reporting by Shawn Bodden for WBUR
This article was originally published on February 16, 2017.