With Competitive Pinball, A Once-Neglected Game Bounces Back
04:47
Play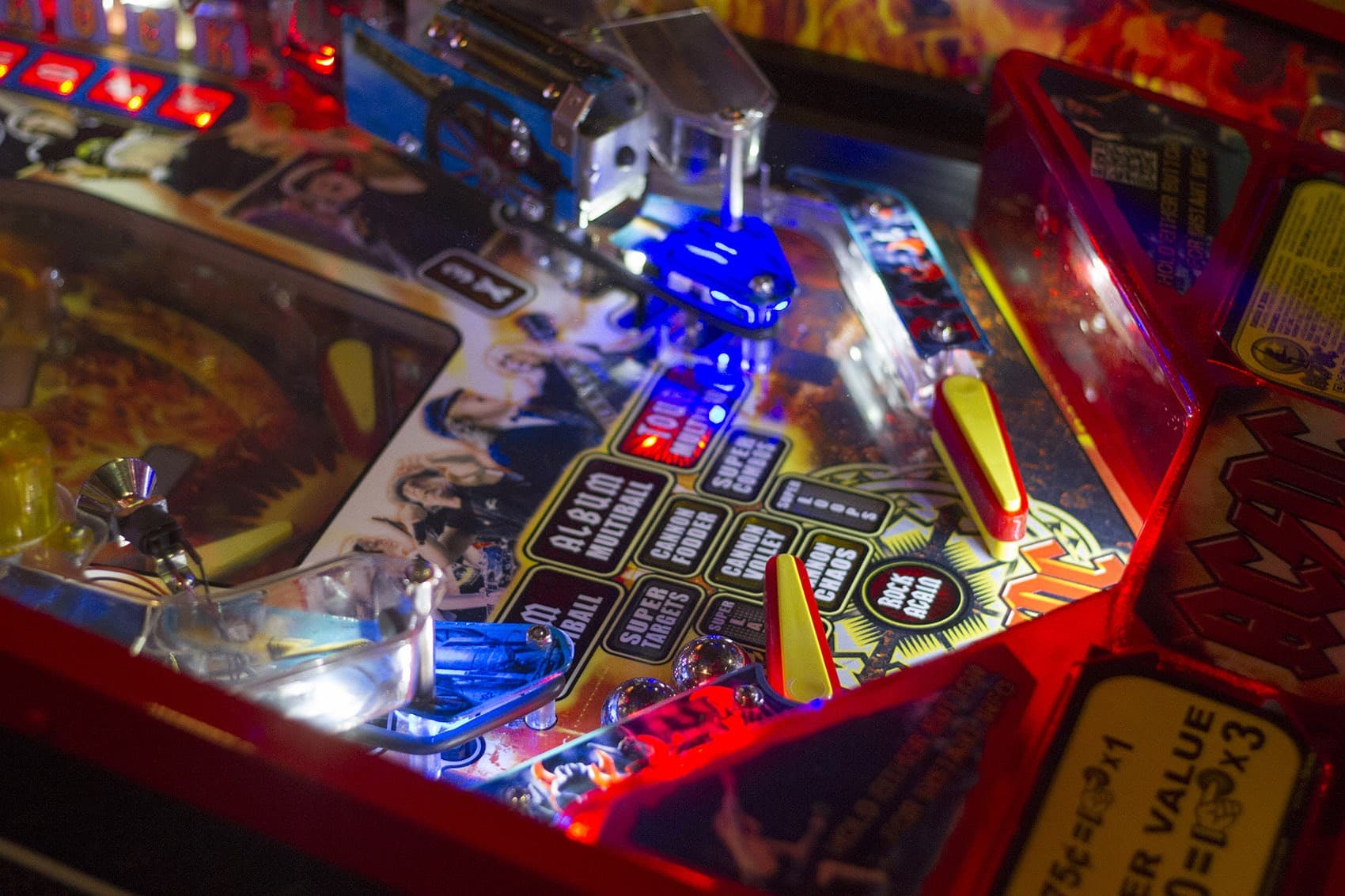 This article is more than 4 years old.
Welcome to "The Wicked Pissa Pinball Pit" in Wakefield. It's a scene straight out of the 1970s — all buzzers and bells and flipper fingers going at full speed. And it's where the best pinball players in Massachusetts are battling for the 2017 Massachusetts State Pinball Championships.
After nearly five hours of competition, the field is down to two finalists: 34-year-old Mitch Curtis of Reading and 41-year-old Kenny Weiner of Stoneham.
Curtis and Weiner compete on machines named Spiderman and AC/DC and Evil Knievel. They talk trash. Then, Curtis talks to the game balls coaxing them toward high scoring targets. "Get up," he says. "C'mon…Good stuff."
For these players in Wakefield, pinball is about more than passing time in an arcade. It's about competing and winning.
"It's a special thing that not a lot of people understand fully," Curtis says, who's been playing competitive pinball for about a decade. "They may look at it like, 'Oh, you're good at tic-tac-toe. [But] it's different. It's something you really can get better at. You can become one of the best in the world. I never thought I'd be the best in the world in a sport. That's right: a sport."
 A Cherished Pastime Comes Back
Pinball is a sport that's in the midst of a resurgence. Renewed interest in the game has led to competitive leagues and championship tournaments. And those events are attracting young kids, millennials and a nostalgic older crowd that remembers machines from pinball's heyday.
The New England Pinball League has grown from 25 to 250 players during the last four years. Salem's Bowen Kerins, 41, was instrumental in starting the league.
"The appeal of competitive pinball, to me, is the pressure," Kerins says, a three-time world pinball champion. "It's an opportunity to act like a pro athlete for a few weekends a year, and then go back to your real life.
"I've played pinball for as much as $10,000 for one game and you really feel it," Kerins says. "You feel the pressure of the people watching you, the broadcasters, the trophy, the opportunity."
Kerins directs one of the largest pinball tournaments in the world. It will take place later this year in Pittsburgh and feature 800 players vying for $100,000 in prize money.
'King Of The Arcades'
In Wakefield, 16 players are competing for a trophy and a top prize of $110. The event takes place in the basement of tournament director Chuck Webster's house, aka The Wicked Pissa Pinball Pit.
Webster's wife, Nancy, bought him a pinball machine in 1992.
"Then, it just exploded," Webster says. "I redid the basement so I could fit more machines in here. Made my office a into a miniature arcade. Now, I have a collection of 20 to 25 machines at any time and I'm hosting tournaments."
At 52, Webster remembers pinball's downfall.
"Pinball was king of the arcades for years and years and years, then video games came on the scene," he says. "When video games came on the scene, the video game operators were making a lot more money having Pac-Man in the bar or bowling alley than they were pinball machines."
Pushed aside, pinball machines sat in disrepair in the dark corners of arcades and bowling alleys. That is until nostalgia-driven tournaments started popping up and growing year by year.
Pinball 'From Dusk To Dawn'
Finalists Curtis and Weiner are starting a decisive Game 7. The match is being live-streamed to pinball fans around the world.
The two title contenders say the game involves strategy, skill and time spent practicing. Curtis even has a routine.
"Three raw eggs in the morning. Pound of bacon. Pot of coffee. Take it right to the face and get out there and play pinball from dusk to dawn," Curtis says.
Whatever he did to prep for the state championship, it pays off. Curtis takes the title with an improbable comeback.
Beaming from beneath his Patriots hat, Curtis is now state champion.
"I feel like the Brady of pinball right now," he says.
Curtis is a pinball veteran, but he believes young players will be drawn to the game, too. And for reasons that have nothing to do with feeling like Tom Brady.
"If they're used to phone apps and video games," Curtis says, "they see a real silver ball kicking around in there and it grabs you."
And if pinball grabs enough kids, this once-neglected game could play long into the future.
More Photos:
This article was originally published on February 17, 2017.
This segment aired on February 17, 2017.