New Music Venue Set To Open In Former Home Of T.T. The Bear's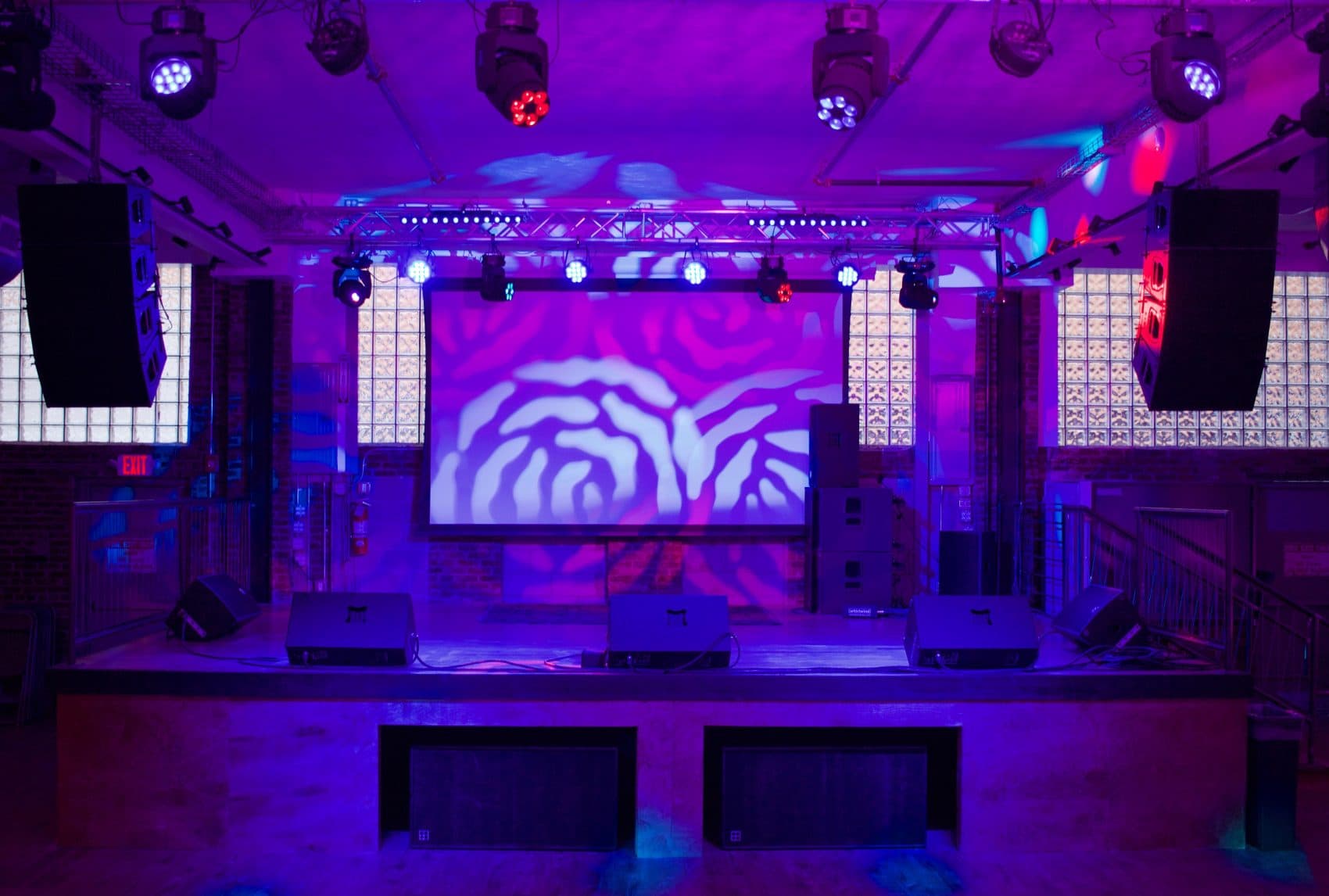 This article is more than 5 years old.
Opening the door at 10 Brookline St. in Cambridge, you are greeted by a vast expanse of open space. In front of you, about 30 feet away, is a formidable stage, 22-feet wide and 16-feet deep with a screen for projections at the rear.
Sonia, the new club in Central Square, is pretty much unrecognizable from what was T.T. the Bear's. The longtime mainstay of the local rock scene closed its doors in July of 2015.
Joseph and Nabil Sater, the two brothers who own the building and operate the adjacent Middle East Restaurant and Nightclub, are adding the 4,600 square foot space to their complex.
The 350-capacity club, named after their sister who is also a part-owner, fits between the 200-person Middle East Upstairs and 575-person Downstairs. Ned Wellberry is moving over from the Middle East Upstairs to manage the new location.

The club opens to the public on March 31, with an all-ages garage punk rock show featuring the local bands Doom Lover, Auva, Bad Boys Club and CreaturoS. The jamtronica band Wobblesauce follows on April 1 and Sonia's first hip-hop date is LiL PEEP on April 14. The first nationally known act is likely to be the emo performer Braden Barrie who goes by the stage name SayWeCanFly on May 17.
Boston area rock fans have been flocking to the spot since the early 1980s. T.T.'s booked many key local and national bands on their way up. Local bands that T.T.'s helped launch included 'Til Tuesday, Pixies, Dinosaur Jr. and Mission of Burma. National acts that checked in included Smashing Pumpkins, Scissor Sisters, Joan Jett and Arcade Fire.
T.T.'s had a warm, comfy vibe, but could be a difficult music room. The sound was not ideal and the stage's location made it tough for fans not directly in front of the stage — that is people near the main bar or in a back pool room — to see and hear clearly.
Bonney Bouley, owner of T.T. the Bear's, shuttered the club when she could not meet the rent increase after the Saters bought the building for $7.2 million.
When the Saters took over the space, they planned on some simple renovation work. The contractor, Tom Short, said they started working on the club's infrastructure in October 2015. But any plan to fix up the place was scuttled when they realized "We were going through layers and layers of walls, ceilings on top of ceilings. It was six times the job we thought it'd be."
Over the months, T.T.'s was gutted. "One thing turned into another," said Nabil. "We started to peel off the layers and then thought 'Let's renovate the whole damn thing.' "
"We decided to take an empty room and try to make the best out of it," added Joseph. He didn't want to put a dollar figure on the cost, though he acknowledged it was "a lot more than I expected."
Now visitors are greeted by a mural-painted archway. There are various pop culture figures on the wall and ceiling like David Bowie, Marilyn Monroe, Madonna, Elton John and the Notorious B.I.G. It's a kaleidoscopic range of faces and inanimate music-related objects — a turntable, a boom box, a musical note — done by Erica Femino. She called her work "graphic pop art — portraiture combined with abstraction."

Sight lines, a problem for audiences in the Middle East Downstairs, a converted bowling alley with low ceilings, won't be an issue at Sonia.
"I wanted the stage to be big enough so if the [nine-piece] Mighty Mighty Bosstones wanted to play, they could," said head sound engineer John Overstreet. He added that he's spoken to representatives of two bands, the Electric Six and Bad Rabbits, which have packed the Middle East Downstairs, but might rather play the smaller Sonia because of superior sound and sight lines.
It's essentially a big box with high ceilings and beautiful wood floors. Several layers of soundproofing are under the floor — using a lighter concrete called gypcrete, which should mute almost all the bass rumble that can emanate from the Middle East Downstairs during concerts. (The sound from that club, which is situated underneath Sonia, tended to bleed through at T.T.'s.) The "state of the art" sound system is by the German company d&b audiotechnik and cost upward of $100,000, according to Overstreet.
"We're going to follow a Middle East club tradition and be open to anything, multi-genre," said booker Aaron Roy. Expect hip-hop, EDM, garage rock, punk, metal and more. Roy said he had confirmations or holds on dates from bands Thursday through Saturday throughout April. Moreover, the Saters hope Sonia will host everything from dance to theater, wedding receptions to bar mitzvahs.
There will be welcome amenities for the artists. Stage left, bands will utilize a spacious green room, presently awaiting furniture, but containing rest room facilities. The club's black-tiled restroom facilities are stage right. (Not having opened, there's not yet a speck of graffiti on the walls, very unlike the Middle East clubs and the old T.T.'s.)
There's a handsome L-shaped bar, designed by Irene Ferri, just up and to the left after you enter, with cherry wood bottom panels and a polished yellow pine top, wood formerly used in an old Massachusetts mill building. Behind the bar are Byzantine-style arches, like those in the Middle East clubs next door.
But there's no beer, wine or liquor. Not yet anyway. Sonia does not have a liquor license; so for now all shows are all-ages.
Nabil explained that Bouley still has possession of the license for 10 Brookline St. until April 11. Once that expires — assuming she's not granted another extension — Sonia's owners would apply to the city of Cambridge for a full license, a process Nabil said that could take four to six weeks for approval. Bouley chose not to comment for this story.

Approval of the license, while likely, is not a guaranteed lock. "If they want to give me a license, fine," said Joseph, "but it shouldn't be an obstacle to doing business."
Still, liquor is where clubs make most of their money. Fans want the option to drink and bands want to play where people gather.
After the Saters bought the edifice, built in 1916, in late 2014, there were rumors, not unfounded, that they planned to build multiple condo units above the Middle East space. "We're not interested in doing that right now," Nabil said. "We want to strongly continue with the restaurants and clubs. It makes it very hard to build if we're going to build over the restaurant. We would have to redo the whole structure and foundation."
Will there be an opening party? Joseph says no: "It will be a soft opening forever, like we did at the Middle East."