Gay Veterans: We've Been Denied Spot In St. Patrick's Parade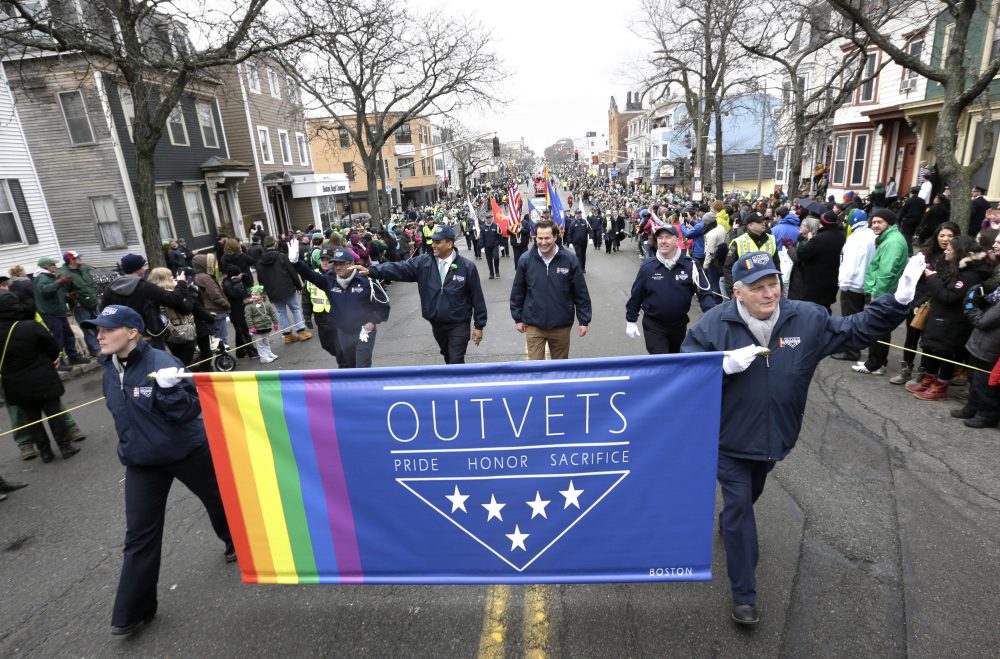 This article is more than 5 years old.
Gay veterans who first marched in Boston's St. Patrick's Day parade in 2015 after decades of resistance from organizers say they have been denied a spot in this year's event.
The veterans group OutVets said on their Facebook page that the reason for the denial is unclear, but "one can only assume it's because we are LGBTQ."
The South Boston Allied War Veterans Council, the parade's organizer, voted 9-4 Tuesday to keep the group out of the March 19 parade.
In response to the vote, Dan Magoon, executive director of the group Mass. Fallen Heroes and a member of the council, has stepped down as this year's chief marshal of the parade. He voted in favor of allowing OutVets to march.
"They're veterans, and that's important," Magoon told WBUR in a phone interview Wednesday. "It's not who they are or what they look like or where they come from. It's the fact that they've served this country, and they deserve a spot in the parade."
Magoon said some parade organizers who voted to reject the group did so because OutVets missed the application deadline. Emails and phone messages seeking comment from the council on the reasoning were not immediately returned Wednesday.
Ed Flynn, a member of the council, says he voted to allow OutVets to participate. The Navy veteran says he is "saddened and outraged" that the council "voted to turn back the clock on equality."
In a statement released Wednesday morning, Boston Mayor Marty Walsh said he would not march in this year's parade "unless this is resolved."
"I will not tolerate discrimination in our city of any form," Walsh said in the statement. "We are one Boston, which means we are a fully inclusive city. I will not be marching in the parade unless this is resolved. Anyone who values what our city stands for should do the same."
Gov. Charlie Baker also said he would not march in this year's event unless the LGBTQ veterans group was permitted to participate.
"The idea that we would restrict the opportunity for men and women who put on that uniform," the Republican said, "knowing full well they can put themselves in harm's way, and deny them the opportunity to march in a parade that's about celebrating veterans, doesn't make any sense to me."
Democratic U.S. Rep. Seth Moulton called for an outright boycott of the parade.
Boston City Councilor Tito Jackson, a mayoral candidate, says he too will sit out the parade.
The South Boston Allied War Veterans Council had for decades fought legal battles to keep gay organizations out, even winning a landmark U.S. Supreme Court decision in 1995 backing their right to bar gay groups.
With reporting from The Associated Press and WBUR's Jon Cain, Steve Brown and Lisa Creamer
This article was originally published on March 08, 2017.