At Boston Naturalization Ceremony, CEO Tells Fellow Immigrants 'The American Dream Is Alive And Real'
Resume
"The American dream is alive and real."
That was the message from an immigrant as he addressed 200 other immigrants from around the world as they became U.S. citizens on Wednesday.
Mohamad Ali, the CEO of Boston-based Carbonite, a data backup company, shared his immigrant story during a naturalization ceremony at the JFK Library and Museum.
"You have been our nation's strength and will continue to be. Your citizenship is our badge of honor and our hope," he said.
Immigrants from Morocco, Venezuela and dozens of other countries sat side by side, each clutching a miniature American flag.
"You will work hard, you will study hard, create businesses, create jobs, and build our American economy," Ali said. "Because you know what life is like elsewhere and you chose America."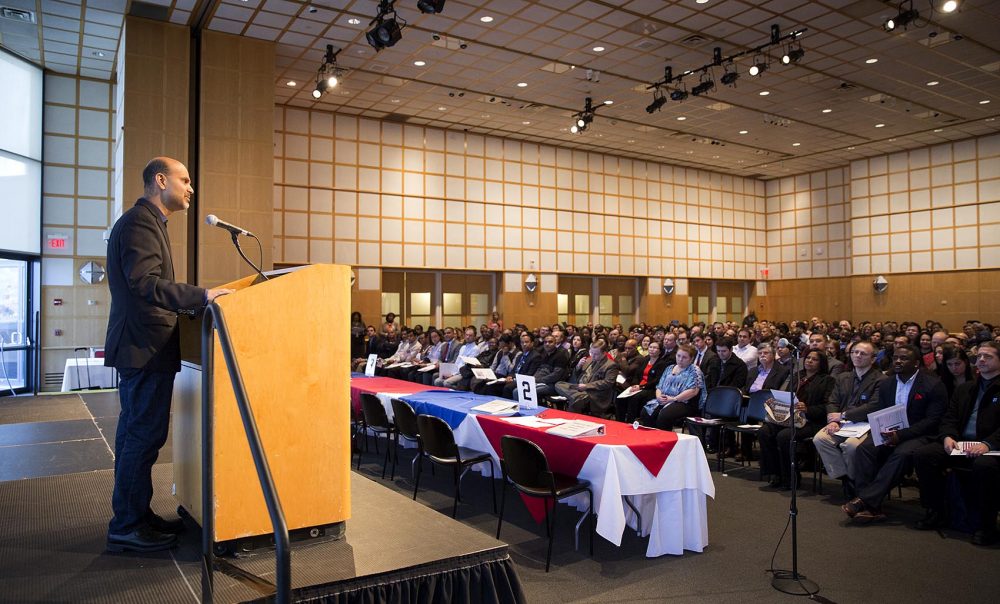 Ali spoke of his father, the police officer, and his mother, the teacher, who decided among civil unrest and poverty in Guyana to seek a better life for their family.
That's exactly what 21-year-old Miguel Velez — originally from Columbia — has in mind for his own family. Velez did his best to explain how he's feeling now that he is a U.S. citizen, carrying his 17-month-old daughter on his hip.
"I want her to go to college," he said. "United States have the best college in the world, so it is all for her. So, I feel happy and safe. That's how I feel."
Happy and safe.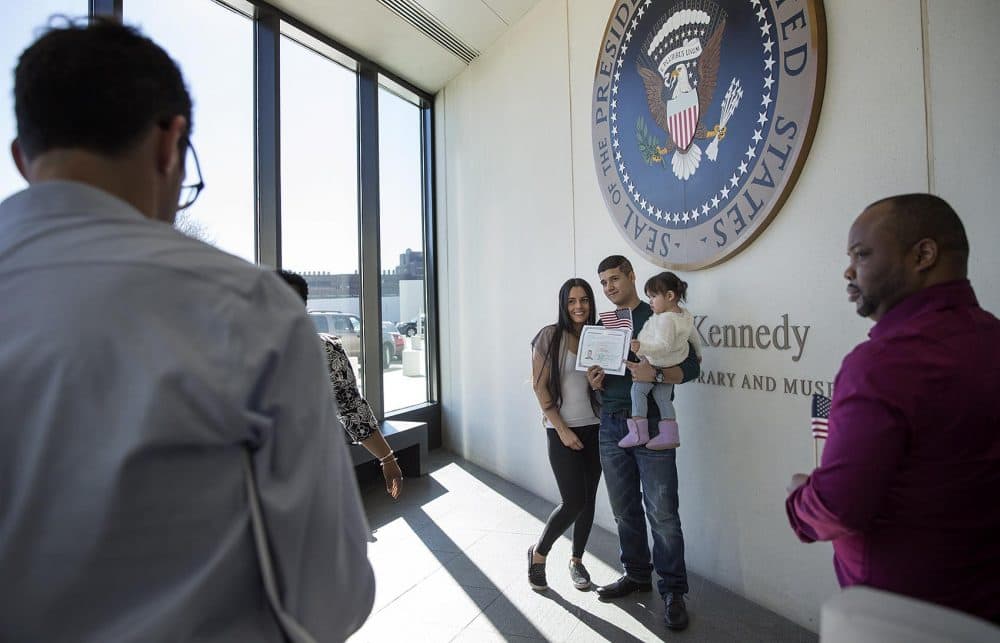 For 30-year-old Marie Claire Kum, the ceremony brought new hope.
"Today is my naturalization and I'm so happy," she said with a laugh. "Like, you all don't know how much this means to me, so much to me. This means I can bring my mother in the United States and I can't wait to see her."
As a U.S. citizen, Kum can now sponsor her mother to come to the country. She hasn't seen her since leaving Cameroon in 2001.
Kum now works as a nursing assistant and loves her job and her life here. She just hopes her friends can also become citizens soon.
"I'm still nervous for my friends that are still waiting to hear from the people and all that, so I'm still nervous," she said. "I used to be nervous for me but now I'm nervous for my friends."
Along with wide smiles and obvious joy, there was also a sense of relief among many of the new citizens.
This was the first naturalization ceremony in Boston since President Trump issued his revised immigration order, barring travel for some people from six predominately Muslim countries.
With all the talk of travel bans, Kum says she wants to begin the process of bringing her mom to the U.S. immediately — but first she'll send her mom in Cameroon a picture of the citizenship certificate.
This segment aired on March 9, 2017.