Late-Winter Nor'easter Slashes Mass.
A powerful late-season nor'easter swept across Massachusetts Tuesday. The storm brought with it heavy snow and strong winds, knocking out power to thousands and creating blizzard conditions in some areas.
The National Weather Service says Lawrence was the only city to officially reach blizzard conditions — at least three consecutive hours of blowing snow with low visibility — but winds were howling across the state. Logan Airport reported gusts up to 55 mph, with higher gusts in southeast coastal areas. Wellfleet, on Cape Cod, reached 79 mph at 3:05 p.m.
Those powerful winds caused significant power outages. As the snow tapered off Tuesday evening, some 68,000 Massachusetts customers were without power. (See the latest outages numbers here.)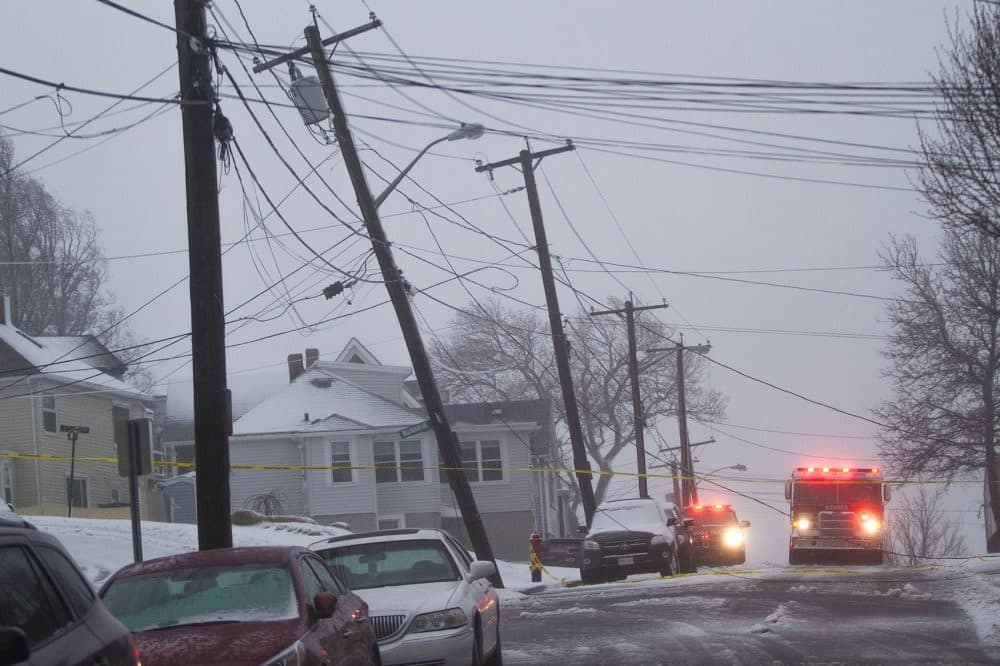 Gov. Charlie Baker warned that some customers might have to wait until winds subsided before power was restored.
"The ability the utilities are going to have to get to some of these, if they do require people to go up in bucket trucks to solve the problems, are going to require the wind to come back down," Baker said during a Tuesday afternoon press conference. "That remains I think the thing we are most concerned about."
Baker also urged residents to avoid driving if possible, to give crews the ability to get roads ready for the Wednesday morning commute.
"Temperatures are going to drop into the early evening and tonight, which means we should all be mindful of ice on the roads. And a lot of work for our folks at the highway department, in terms of treating that ice and trying to get it down to pavement by tomorrow morning."
State transportation officials said about 3,200 crews were out treating and clearing state roads as of 4 p.m.
Schools across the state were also closed Tuesday, as well as state offices. Boston Mayor Marty Walsh announced that city schools would be closed Wednesday as well, though city offices would reopen and the parking ban would be lifted at 7 a.m. (See the full list of Wednesday closings here.)
Walsh said the decision to cancel school Wednesday was all about safety.
"I don't want the kids and young children walking around on icy streets and sidewalks that might not be shoveled," he said. "I get concerned. Kids wait at bus stops and kids are kids, and I don't want them to put themselves in harms way."
Waves crashed along seawalls during high tide Tuesday afternoon, but no significant flooding was reported.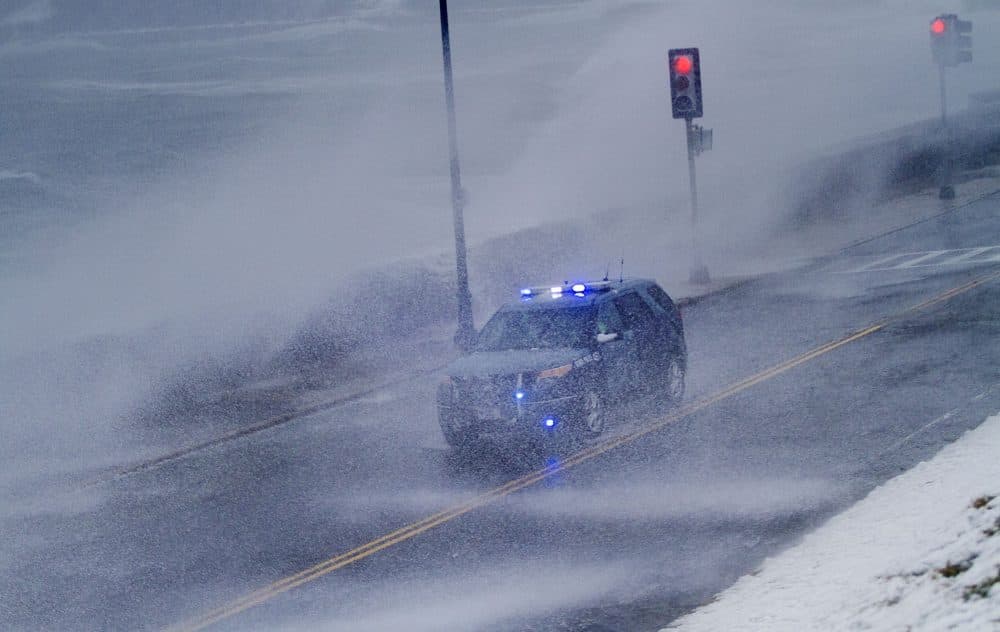 The MBTA ran on a normal weekday schedule Tuesday, with some exceptions. Ferry service was suspended for the day, buses were replacing Mattapan line service, and the commuter rail was operating on its severe weather schedule. Delays were reported on some subway lines throughout the day, and many buses were placed on snow routes.
Regional train service was also disrupted. Amtrak suspended Northeast Regional and Acela service between Boston and New York City Tuesday
And at Logan Airport, almost no flights got in or out.
The National Weather Service says falling temperatures overnight could lead to freezing on wet pavements, and urged people to use caution as they headed out Wednesday morning.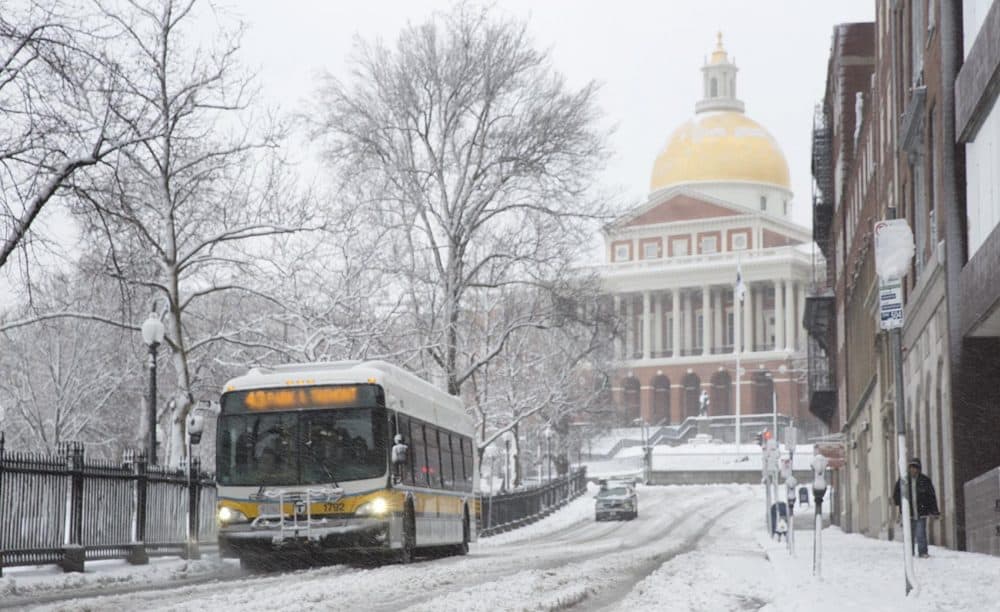 With reporting by WBUR's Abby Elizabeth Conway, Lisa Creamer and the Newscast Unit
Clarification: The National Weather Service reported that Worcester had officially experience blizzard conditions Tuesday, but later retracted the designation. Correction: An earlier version of this post said a blizzard warning was in effect for southeastern Massachusetts. It is northeastern Massachusetts. We regret the error. 
This article was originally published on March 14, 2017.