Remembering Boston Playwrights' Theatre Founder Derek Walcott
Resume
Derek Walcott was a titan in the literary world. He won a Nobel Prize for Literature in 1992 — that was during his almost 30-year career teaching poetry and playwriting at Boston University.
Walcott died Friday morning at age 87. He's being remembered for his ambitious body of work. He wrote a staged adaptation of Homer's "The Odyssey" and wrote the musical "The Capeman" with Paul Simon. He also wrote another musical with Galt MacDermot called "Steel."
He was a native of Saint Lucia, an island nation in the Caribbean. His work was infused with both the lush imagery of the island and themes of colonialism and exile. He wrote about the days when he would sit under the acacia trees by scenic empty beaches. He wrote of his dismay at seeing the island he loved overtaken by luxury hotels:
"… these new plantations by the sea; a slavery without chains, with no blood spilt — just chain-link fences and signs, the new degradations. I felt such calm writing under the acacias."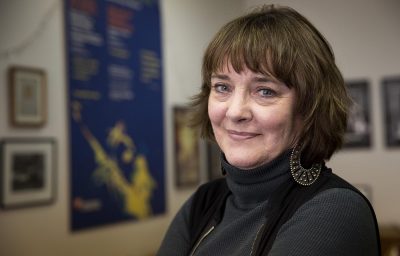 Walcott founded Boston Playwrights' Theatre in 1981. It's part of Boston University and brings new works to the stage.
Kate Snodgrass is the artistic director of the theater and teaches playwriting at BU. She was a colleague and friend of Walcott's and wrote about visiting him for the celebration of his birthday in January. One of her last memories there was of seeing Walcott talk with a student.
Snodgrass joined WBUR's All Things Considered to discuss Walcott's legacy and memory.