Federal Judge Releases 2 Vermont Migrant Activists Arrested By ICE
Two Vermont immigration rights activists arrested by Immigration and Customs Enforcement agents earlier this month were released on bail by a judge in Boston Monday. A third was denied bail because of a DUI charge, which the state of Vermont had dismissed.
Activists marched outside the federal immigration court in Boston during Monday's hearing, protesting the detention of Enrique Balcazar, Zully Palacios and Alex Carillo-Sanchez.
Balcazar worked on Vermont dairy farms for several years before becoming a full-time leader with Migrant Justice. He was arrested in Burlington while driving with Palacios, his girlfriend and fellow activist, who overstayed her visa by about eight months.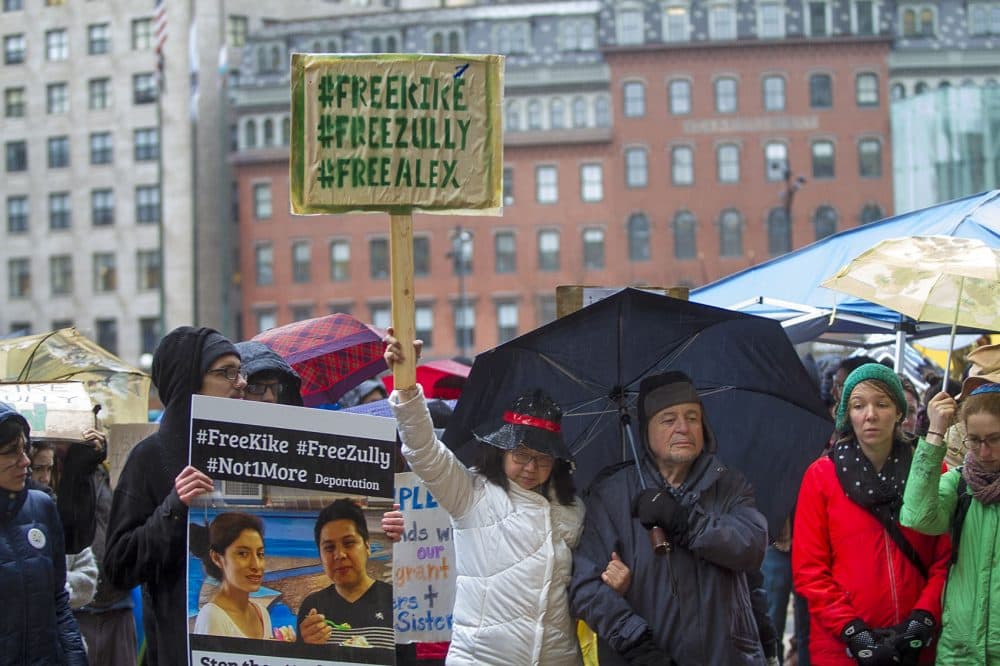 Attorney Matt Cameron says his clients were targeted for their outspoken activism on behalf of dairy farm workers in Vermont.
"They've been the target for some time of surveillance and targeting, and we know that they were the targets," Cameron said Monday. "There's nothing about Enrique that would set him apart other than outspoken advocacy for his community."
A representative from ICE says the agency does not target individuals based on political beliefs or activism.
Palacios and Baltazar were each released on $2,500 bail Monday.
The third activist, Carillo-Sanchez, will remain detained with no bail due to a previous DUI charge, although the state of Vermont has dropped those charges. Carrillo-Sanchez is married to a U.S. citizen with whom he as a child.
Brendan O'Neill with Migrant Justice told the crowd outside the court that Carillo-Sanchez's outcome was unexpected.
"To be honest, it's about the worst result one could expect for someone who is a father with a daughter, a Vermonter, a friend and hard worker," O'Neill said. "It's a difficult result."
Palacios and Balthazar could be returning to Vermont as early as Tuesday.
This story comes via the New England News Collaborative, and was first published by Vermont Public Radio.