Forecast: An Actually Not-So-Surprising April Snowstorm Comes Friday, Ends Saturday
This article is more than 5 years old.
Evening Update:
The models have trended a bit colder for this storm and are now keeping precipitation in the area longer. This means there's potential for even more snow than forecast earlier, but I will have an important update in the morning Friday to discuss this storm. If you live from about the Massachusetts Turnpike northward including Boston, stay tuned to latest forecast as the snow totals predicted could change.
There is a winter storm watch now posted for Boston. This means the potential is there for the 4-8" snow band to end up south along the Mass. Pike, but this isn't written in stone just yet, (it never really is with weather). I will review the Thursday night data and have an important update Friday.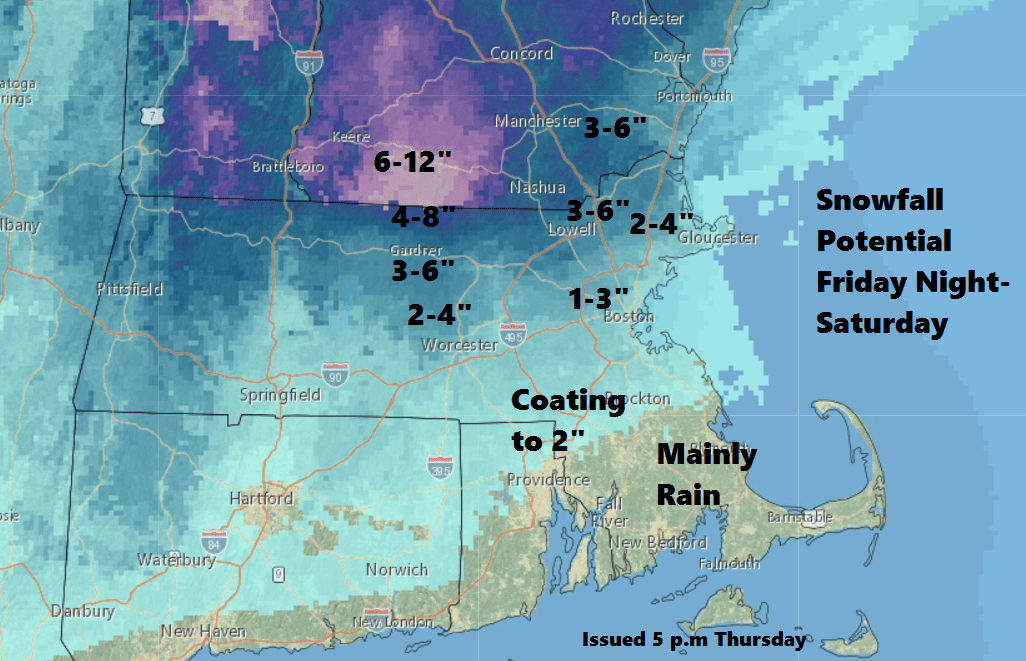 Snow in April. How dare Mother Nature bring us such nonsense! While you might be thinking this, in actuality it snows in Boston over 80 percent of the time in April. In other words, this storm is not a big surprise.
While it does snow in April, it usually doesn't amount to very much, especially along the coastline. Inland areas, away from the influence of the ocean, tend to see more snow this time of the year, and this will be the case with the upcoming nor'easter Friday and early Saturday.
There are a few factors which will determine how much snow we end up measuring. First, the sun is quite strong this time of year and even with cloud cover, the roads tend to absorb enough solar radiation so the snow has a hard time sticking during the day. However, once the sun goes down, that's when the bulk of April snow tends to accumulate.
The harder it snows, the better chance we have of it accumulating. Intense precipitation brings down cold air from above and keeps the precipitation in the form of snow rather than rain.
Snow will accumulate fastest in shady areas and on grassy surfaces, as well as on any existing snow you might still have left in your yard.
While I am confident in a nor'easter hitting the region Friday, the exact temperature profile of the atmosphere in your location will determine what falls from the sky. Rain, sleet and snow are going to be the primary precipitation types, but these could vary across a 10-mile swath quite a bit.
The precipitation will arrive Friday and then end midday Saturday. The evening commute Friday will be impacted along with travel plans early Saturday. Those of you along the coast will have primarily wet roads, but the further inland you travel, the higher the likelihood of icy conditions.
You can follow my updates on Twitter at @growingwisdom.
---
Thursday Night: Increasing clouds, but dry. Lows just around freezing.
Friday: Rain or snow developing continuing at night. Expect a poor evening commute. Highs 35-42.
Friday Night: Snow, sleet and rain.  Lows 31-38.
Saturday: Snow, mixed precipitation and rain. Rain near the coast, snow well inland. Highs in the low 40s.
Sunday: Mostly sunny and cool. Highs 43-48.
Monday: Sunshine and seasonable. Highs in the mid-40s.
This article was originally published on March 30, 2017.