ICE Arrests Green Card Applicants In Lawrence, Signaling Shift In Priorities
Play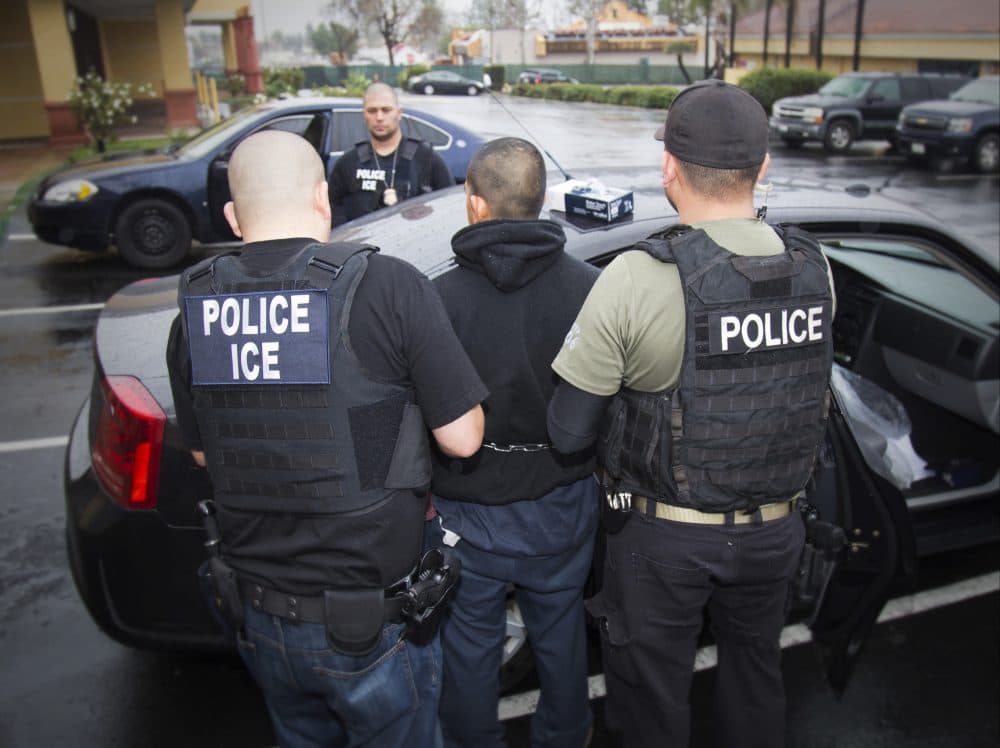 This article is more than 5 years old.
Federal immigration officers arrested five people in Lawrence on Wednesday when they showed up for scheduled appointments at a U.S. Citizenship and Immigration Services (USCIS) office.
WBUR has confirmed that at least three of those arrested were beginning the process to become legal permanent residents. U.S. Immigration and Customs Enforcement (ICE) says the agency had orders to detain each of the five individuals for deportation.
'They're In A Sort Of Catch-22'
Brian Doyle, the attorney for one of the three people who were seeking green cards before they were arrested, says he knew there was a chance his client would be taken into custody at the appointment.
His client, a Brazilian national who had been ordered deported before she married a U.S. citizen, understood the risks as well, but ultimately decided that she wanted to keep the appointment and begin the green card process.
This, Doyle says, is an example of the difficult situation for many immigrants living in the country illegally, who are forced to weigh the costs and benefits of keeping an appointment with an immigration official in light of new deportation priorities set by President Trump.
"Now, they're in a sort of catch-22 where, 'All right, I'm being called in for this interview. I want to have this first step approved.' If they don't show up, it's what's called abandoned ... USCIS just sort of assumes that they don't want to go forward with it," Doyle said. "But now, if they do show up, trying to take that first step and they're detained, it can lead to them being removed."
Because Doyle's client is married to a U.S. citizen, she is eligible for a specific application process sponsored by her husband. Both Doyle's client and her husband were present at the USCIS office for what's called a marriage petition interview, a process used to screen for fraudulent marriages. Doyle said his client, a small business owner with no criminal record, had just completed her 40-minute question and answer session when an ICE agent entered the office and informed her that she was ordered removed and was being taken into custody.
Doyle says ICE acted within its authority when taking his client into custody.
"Yes, they have the authority to, but you're typically not going to see that person detained in that environment, because they are taking that first step in obtaining status through whatever avenue that they have," he said.
Doyle's client is in ICE custody at the Suffolk County House of Corrections. He says his client could be detained, away from her three children and husband, for weeks while the legal process unfolds. Ultimately, she could be deported to Brazil — a country she has not visited in more than 15 years.
'Back Into The Shadow Of Immigration Land'
Susan Church, who heads the New England chapter of the American Immigration Lawyers Association, says she finds the arrests at the USCIS office not only troubling but also surprising.
"The detention of an individual under these circumstances and most likely the arrest would be something that is definitely new," Church said. "Because the priority system under the Obama administration instructed ICE officers not to arrest or detain individuals under these circumstances."
But that appears to be changing.
Church and other lawyers say that the fact ICE was notified is not necessarily unusual, but that people were taken into custody leads them to believe that this represents a shift in tactics.
"What this means is that people who are eligible to obtain their green card in the United States, who are following the law, who are following the rules, who are doing what the government is instructing them to do, are going to be too terrified to show up and follow through with the process," Church said. "And now a whole new category of people is going to go back into the shadow of immigration land and be living in fear."
In a statement, ICE confirmed that officers were "responding to an investigative tip" when arresting the five foreign nationals at the USCIS office in Lawrence.
"All five individuals have final orders of removal issued by a federal immigration judge. All five will be held in custody pending removal from the United States," the statement read.
When asked if the five people arrested had criminal records, an ICE spokesman said two of the people had no criminal record while the other three had "multiple traffic violations."
This segment aired on March 31, 2017.