Northeastern Celebrates Grand Opening Of $225 Million Science Facility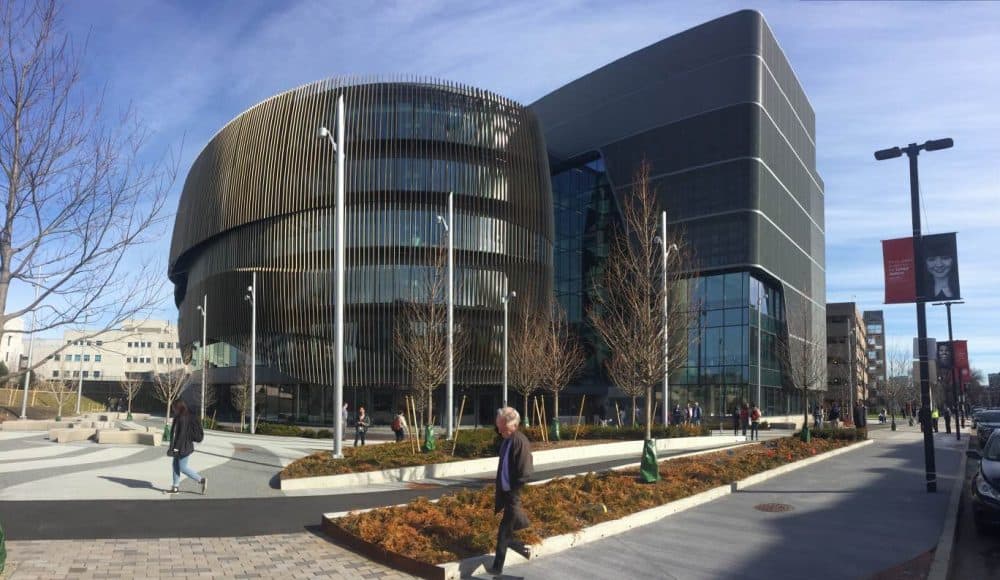 This article is more than 5 years old.
Amid uncertainty around the future flow of federal research dollars, Northeastern University celebrated the grand opening of its new Interdisciplinary Science and Engineering Complex on Monday, pointing to the $225 million facility as evidence of the school's growing ambition and its commitment to scientific advances in Massachusetts.
"This complex is a statement that this city, this state, thrive because of discovery, because of research, because of learning," Northeastern President Joseph Aoun said.
U.S. Sens. Elizabeth Warren and Ed Markey, U.S. Rep. Joseph Kennedy III and Boston Mayor Martin Walsh joined Aoun to officially recognize the Columbus Avenue complex, which opened its doors to students and faculty at the beginning of this semester.
The new ISEC complex features 234,000 square feet of academic space focused on drug discovery, robotics and security research. Displayed in the building's atrium Monday morning were demonstrations of Northeastern research and development including a Valkyrie humanoid robot prototype developed with NASA for possible use on Mars, and an example of how health care delivery could benefit from robots.
"This new complex will be a gleaming way station where students can punch their passport to the jobs of the future and prepare themselves to join the workforce after graduation." - Sen. Ed Markey
"This new complex will be a gleaming way station where students can punch their passport to the jobs of the future and prepare themselves to join the workforce after graduation," Markey said.
The completion of the facility "signifies a major shift in the culture, history, and trajectory of Northeastern," according to the university. The onetime commuter school is ramping up its research budget to become "a powerhouse on par with the nation's elite research colleges and universities" and Provost James Bean said the opening of the ISEC will "accelerate Northeastern's momentum."
The university's federal research funding has more than doubled in the last 10 years, Bean said, and Northeastern currently receives more than $130 million a year in federal research funding. Since the 2006-2007 academic year, Northeastern has hired 565 new tenured and tenure-track faculty in disciplines tied directly to its research goals, Bean said, and the school plans to recruit additional faculty in coming years.
Northeastern last year was named one of the 115 universities with the "highest research activity" by the Carnegie Classification of Institutions of Higher Education.
"A strong research program is imperative to build best-in-class doctoral programs, match the strength of other top universities in attracting the most accomplished students and faculty, and to compete effectively on a global scale. The ISEC is a linchpin in Northeastern's mission to grow as a research university, as laid out in our 10-year master plan," the university wrote on a website for its fundraising arm. "The ISEC will provide the necessary infrastructure to achieve this planned growth while positioning the university to achieve distinction as a premier research university in three critical domains: health, security, and sustainability."
Though Monday's grand opening was intended as a celebration of research, the speaking program veered instead into a defense of research at a time when funding from the federal government is increasingly in doubt.
"It is staggeringly stupid not to invest in research," Warren said in remarks that focused on President Trump's administration and its proposed cuts to federal research funding.
Warren used Alzheimer's disease as an example of the importance of research funding. Last year, Americans spent $259 billion, she said, taking care of loved ones with Alzheimer's. The federal government, through the National Institutes of Health, spent "less than one half of 1 percent of that amount" fighting back against the disease and looking for a cure, Warren said.
"Alzheimer's disease alone will bankrupt our health care system if we don't find a cure," Warren said.
Before National Science Foundation Director France Cordova provided the morning's keynote address, Walsh highlighted the fact that Cordova is a foreign-born woman of Hispanic descent.
"Over the last few months, we've been hearing and seeing a lot of things coming out of Washington, D.C., and some of it is on immigration," Walsh said. "The scientists that will walk through these doors come from all over the world. We have to make sure that continues to happen."
Noting that Northeastern competes with universities all over the world, Aoun also took the opportunity Monday to link the opening of the new research space to the debate over immigration.
"We are here today to reaffirm that this community, this city, this commonwealth, and this nation are going to offer opportunities," Aoun, who lives next to the State House on Beacon Street, said.