Budget Proposal Would Boost Boston Spending By 5 Percent
City of Boston spending would be hiked by nearly 5 percent under a budget proposal offered by Mayor Marty Walsh Wednesday.
The $3.1 billion blueprint for the fiscal year beginning in July would increase spending by about $144 million, or 4.8 percent over current levels.
In a statement, Walsh said the proposal "represents a smart, responsible, and sustainable fiscal strategy that is forward-looking and will achieve maximum impact by investing in our people."
The statement from Walsh's office also says the budget plan "positions the City to manage through instability at the national level."
President Trump's federal budget blueprint, which the Republican administration released last month, calls for significant increases in military and border security spending, but deep cuts to some domestic programs.
Walsh, a Democrat, said Trump's budget proposal "puts cities across America and our residents last."
(Reality check: With Congress controlling appropriations, a president's initial budget proposal is always more a statement of priorities than predictor of actual federal spending.)
The Trump administration has also threatened to withhold U.S. Department of Justice funding from so-called "sanctuary cities," which include Boston.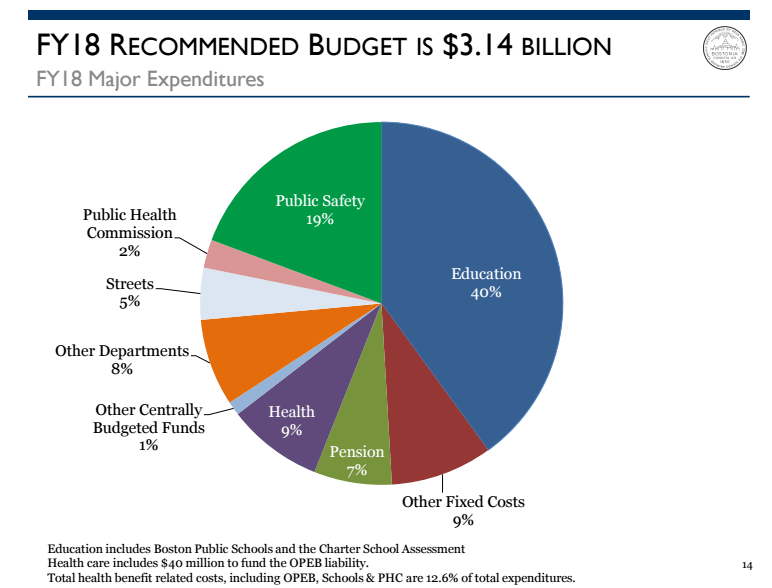 In Walsh's budget proposal, $40 million more would be directed to Boston Public Schools, with another $18 million for district students enrolling in charter schools. (In total, 40 percent of the spending plan is earmarked for education.)
Some $54 million of the overall spending increase would go to city services, including rising public safety costs and to add six full-time hokeys, or people who clean streets. About $32 million more would go to pensions, debt service and other fixed costs.
Walsh's office says the budget proposal would implement about $60 million in cost savings, including $13 million in overtime reductions, $5 million by eliminating "long-term vacant positions," and nearly $6 million in energy costs by retrofitting streetlights with LED lights.
The spending plan now moves on to the City Council.