Students Converge On Beacon Hill For 70th Annual Student Government Day
03:32
Play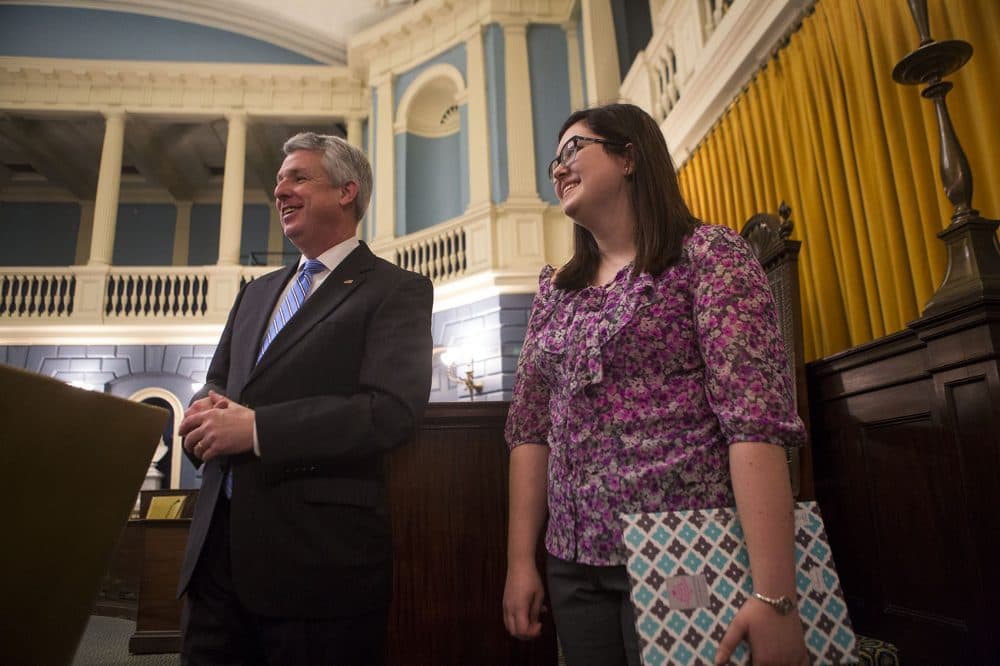 This article is more than 3 years old.
Beacon Hill legislators have the day off Friday, but in their stead hundreds of high school students from all around Massachusetts will be at the State House for a civics lesson known as Student Government Day.
The annual springtime event has been held every year for 70 years, and is even mandated by state law.
Planting The Seeds Of Civic Engagement 
Emma Johnson, a junior at the Bristol-Plymouth Regional Technical High School in Taunton, will be one of the nearly 400 students playing the role of legislator Friday. She traveled to the State House recently for a preview of the event and to meet with Quincy state Sen. John Keenan, whose passion for politics was stoked when he was a high school student government representative 36 years ago.
"I really always had an interest in student council," Johnson told Keenan. "So now I'm president, so it's a lot of fun, getting to run all the events and everything. It's really interesting to get to learn about the government because it does affect you very profoundly. Most people don't really have a good grasp on it so it's interesting to learn about it."
Johnson's desire to learn more about state government resonates with Keenan. In 1981, it was a young John Keenan who like Emma Johnson today was elected by his peers to be a student legislator.
"I remember Student Government Day fondly," Keenan said. "In fact, when I was in Student Government Day, I came in prior to Student Government Day to meet with my state representative who was Michael Morrissey, who went on to be a state senator, and held the seat that I have before I was elected."
The chances that any of the students taking part in Friday's session will eventually serve in the Legislature are slim. But organizers hope the event plants seeds for them to become civically engaged.
Becoming 'A Knowledgeable Citizen'
First known as "Good Government Day," the Legislature passed a law in 1947 requiring it be an annual event.
"It's just a couple of years after World War II ended and we had a resurgence in people getting interested in how government functions," explained Anne Ziaja, executive director of the state Senate's Office of Education and Civic Engagement.
Ziaja hopes high school students understand and feel connected to their government.
"For many of them, this will be the first time coming to the State House. The first time looking at legislation. The first time hearing many of the leaders in state government and perhaps planting a seed in each student that they do not necessarily have to get into public service, but they do have to be a knowledgeable constituent, a knowledgeable citizen."
Jamie Pacheco, Emma Johnson's civics teacher at Bristol-Plymouth, calls Student Government Day a valuable tool.
"It's very hard to stick in these opportunities in the classroom, so it's a good opportunity for the students who are interested in that and put them through the experiences of, OK here's what you talked about in class. Now actually experience it. This is what actually happens," Pacheco said.
The students have a busy schedule. They'll begin their day with an address from Gov. Charlie Baker, as well from the student governor for the day. They'll hold hearings and then vote on two bills that are before state lawmakers this session — one requiring drivers use hands-free cell phone devices, and another pertaining to the privacy of student data.
Organizers hope they'll head back to their classrooms with a new perspective on the importance of state government.
This segment aired on April 7, 2017.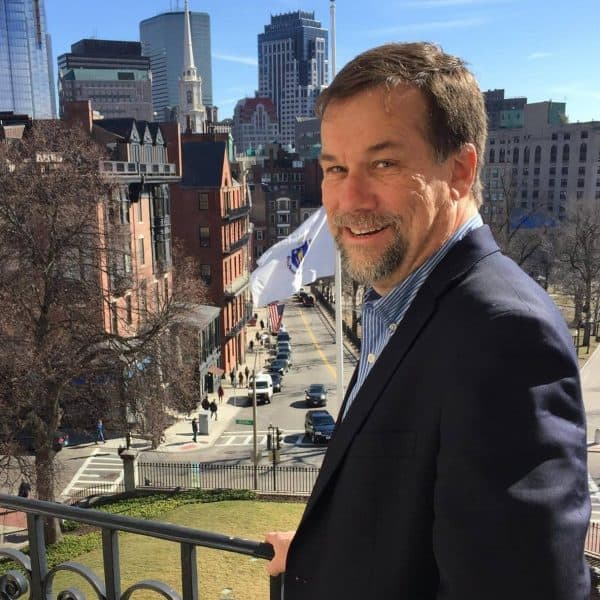 Steve Brown Senior Reporter/Anchor
Steve Brown is a veteran broadcast journalist who serves as WBUR's senior State House reporter.