Baker's Current Popularity May Not Offer A Safe Path To Reelection
Play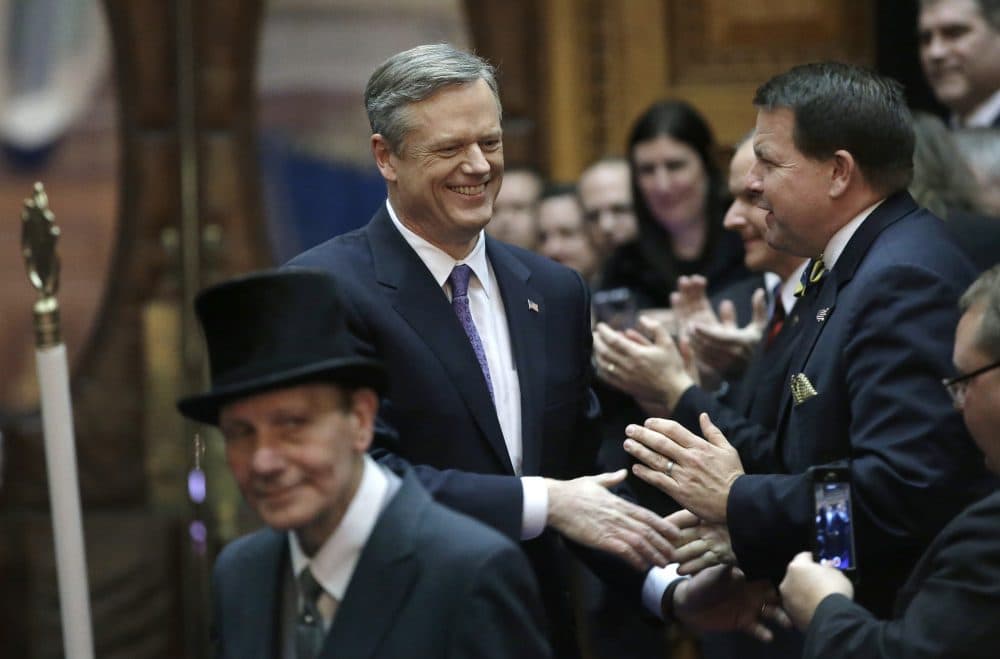 This article is more than 5 years old.
Republican Gov. Charlie Baker is no stranger to popularity, or to bipartisanship. But the numbers in the new WBUR poll are unique — even for him. In the survey of Republican-leaning towns in central Massachusetts, Baker is viewed more favorably by registered Democrats than by members of his own party.
Among Democrats in the region, 71 percent see Baker favorably, compared to 65 percent of Republicans. And on the flip side, the percent who see him unfavorably is lower among Democrats. These days, nearly every issue and every political leader is viewed through a partisan lens. Members of each party often view the other side with suspicion and even hostility.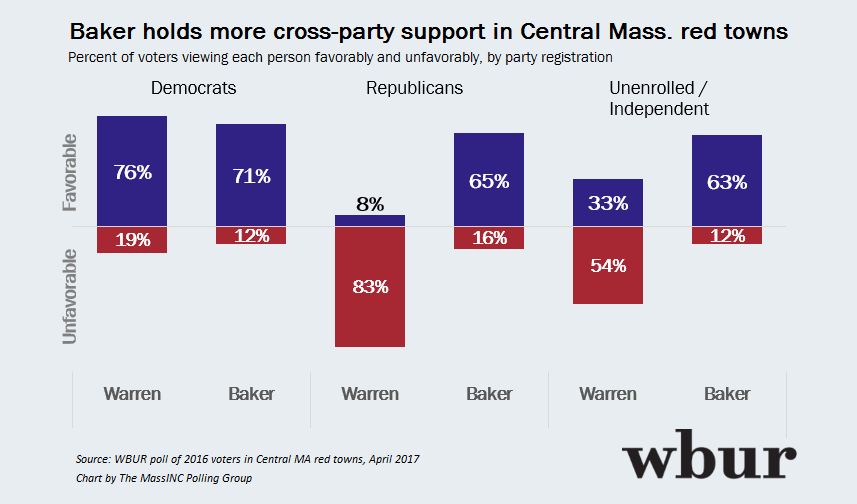 So a governor popular with members of both parties is unusual, to say the least. One who is as strong or stronger with the other party is even more rare. Baker has studiously avoided partisan conflict on any front, either with President Trump's administration or with Democratic leaders in the state. It helps explain why Baker has been among the most popular governors in America since his 2014 election.
But it may not offer a safe path to reelection.
Democratic leaders have so far focused on finding areas of agreement with Baker. And when they do disagree, it's without the ugly partisanship on display across most of the country in recent years. But with reelection looming, this could well change. As Democratic leaders prepare for a contested primary, and eventually line up behind their own party's nominee, their critiques of Baker will likely sharpen and grow more frequent. The question for Baker is: Can he hold onto enough Democratic voters to win, even as the environment grows more partisan?
On the Senate side, Elizabeth Warren's numbers show a conventional party split, a very familiar dynamic to her political team. Unlike Baker, she has never had much bipartisan appeal among Massachusetts voters, and has spent the months since Trump's election as one of his most vocal critics. In a close contest, she will likely pull support from her own partisans and independents. She has shown no inclination toward Baker's brand of bipartisanship.
The leaders of their respective parties are taking very different paths to reelection. Both are looking strong right now, but their strategies could not be more different.
This segment aired on April 14, 2017.