Aaron Hernandez's Death Opens Door For His Murder Conviction To Be Quashed
Play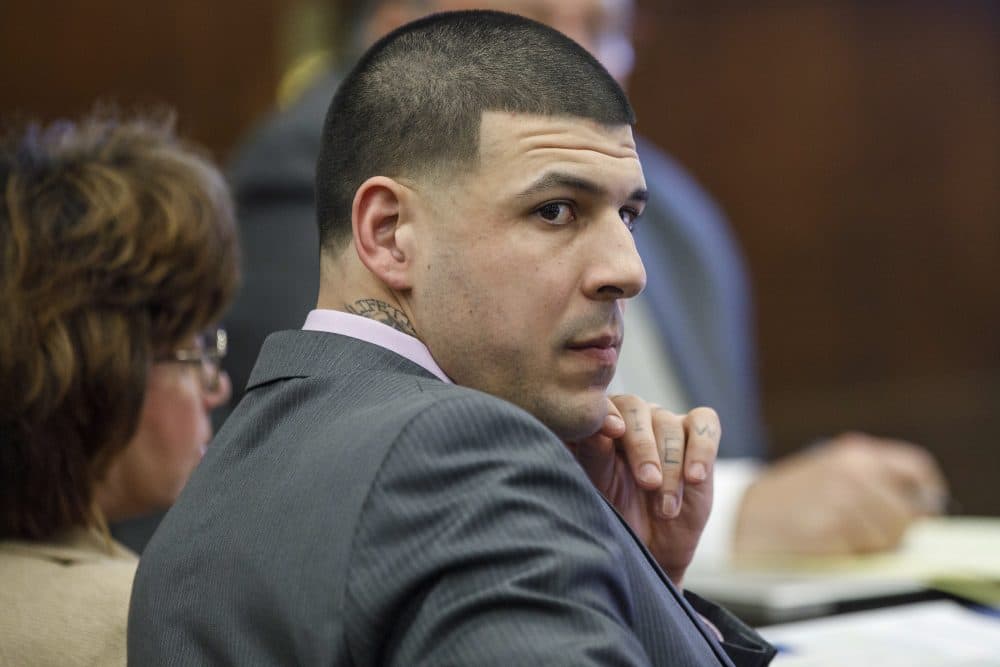 This article is more than 5 years old.
Former New England Patriot tight end Aaron Hernandez was found dead in his prison cell early Wednesday morning.
The Massachusetts Department of Correction said in a statement that officers found the 27-year-old hanging in his cell at the Souza-Baranowski Correctional Center in Shirley at 3:05 a.m. The department says corrections officers attempted lifesaving techniques, but to no avail. Hernandez was then transported to UMass Memorial HealthAlliance Hospital in Leominster where he was pronounced dead at 4:07 a.m.
Hernandez was serving a life sentence without parole for the 2013 murder of his friend Odin Lloyd. The Department of Correction says he was in single cell in a general population unit and that he "hanged himself utilizing a bed sheet that he attached to his cell window."
Leslie Walker, of Prisoners' Legal Services of Massachusetts, told WBUR's Deborah Becker on Morning Edition that prisoners are monitored to prevent suicide.
"Corrections officers are on duty 24 hours a day and they do rounds," Walker explained. "I'm not sure sure what kind of rounding was occurring in G2, the block where Mr. Hernandez was housed. Sometimes rounds are done more frequently, and I do not know how often, but regularly — half hour, hour."
Lisa Newman-Polk, a former mental health worker at the prison, says prisoners serving life sentences are always flagged as higher risk for mental health problems.
"And certainly somebody who is in a really high-profile position is also somebody that would be considered to be needing of an extra level of assessment as to whether or not they need some sort some of treatment or services," Newman-Polk said.
According to the Bureau of Justice Statistics, 41 inmates died by suicide in state and federal prisons in Massachusetts between 2001 and 2013.
The New England Patriots said they "will not have any comments" on Hernandez's death. The team visited the White House Wednesday afternoon to celebrate their victory in the Super Bowl. Before that visit quarterback Tom Brady said he would not attend, writing in a statement that "in light of some recent developments" he was unable to attend due to "some personal family matters."
State Police are investigating Hernandez's death. In a statement, the Worcester district attorney's office says only that Hernandez was found unresponsive in his cell.
The Office of the Chief Examiner in Boston will conduct an autopsy to determine the cause and manner of death.
Hernandez's agent, Brian Murphy, tweeted that there was "absolutely no chance" Hernandez took his own life. "[H]e would never take his own life," he added.
Just last week Hernandez was acquitted in the 2012 shooting deaths of Safiro Furtado and Daniel de Abreu.
One of his attorneys in that case, Jose Baez, issued a statement saying that his law firm would conduct its own examination into his Hernandez's death.
Bristol County District Attorney Thomas Quinn, who prosecuted Hernandez for the murder of Odin Lloyd, issued a statement saying, "This is a shocking and sad end to a very tragic series of events that has negatively impacted a number of families."
Martin Healy, chief legal counsel of the Massachusetts Bar Association, says Hernandez's death opens the door for his conviction for Lloyd's murder to be quashed.
"Basically what this means for Aaron Hernandez is that he will have in fact died an innocent man," Healy said.
One of Hernandez's attorneys in the Lloyd case, John Thompson, says once he gets the death certificate he will file a motion to quash Hernandez's conviction.
"When a criminal defendant dies during an appeal, the normal process is for the appeal to be dismissed, and the judgment of the trial court to be vacated, and the indictment to be vacated."
Thompson is also calling for an impartial investigation into Hernandez's death.
This segment aired on April 19, 2017.