New Rep Takes Lydia Diamond's 'Gift Horse' For A Ride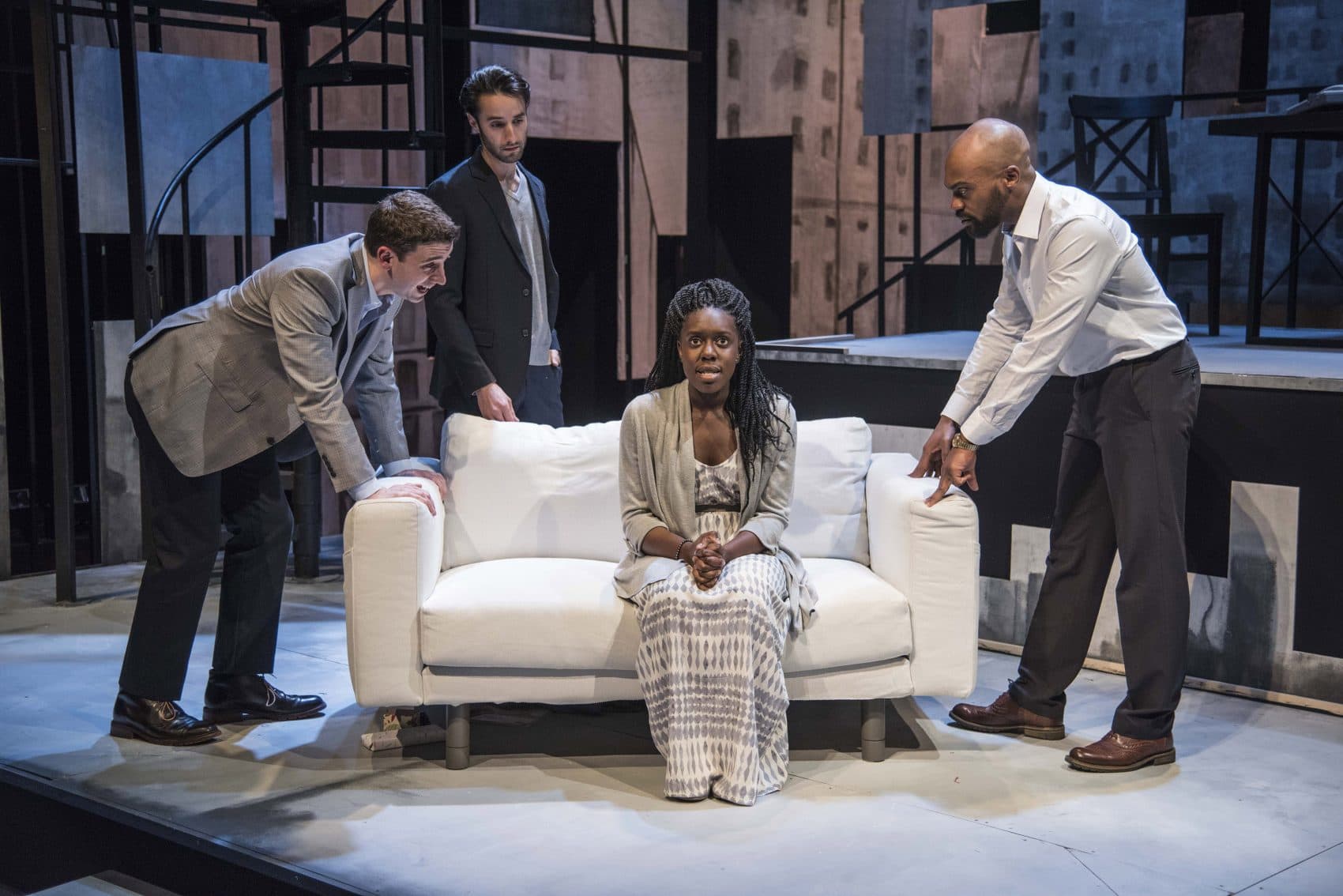 This article is more than 5 years old.
You might call "The Gift Horse" Lydia R. Diamond in the rough. First produced in 2002, when "Stick Fly" and "Smart People" were just glimmers in Diamond's keen eye, the play — seen here in its area premiere by New Repertory Theatre (at the Mosesian Center for the Arts through May 14) — is less sophisticated and more fractured than its acclaimed successors. It is also crammed to bursting with issues of race, sex and psychology, not to mention the AIDS crisis and a few big clichés. But boy, does it prove its author can shout and twist.
A onetime Cambridge resident and Huntington Playwriting Fellow, Diamond has had her plays produced locally by both the Huntington, which staged "Stick Fly" and premiered "Smart People," and Company One Theatre, which did her multi-layered "Voyeurs de Venus" and affecting adaptation of Toni Morrison's "The Bluest Eye." Additionally, Diamond's "Harriet Jacobs," based on the only American slave narrative written by a woman, was staged at Central Square Theater.
Now New Rep gets into the act with this skillfully staged and well-acted revival of "The Gift Horse," a comedy-drama that unfolds over several decades, employing narration, flashback and multiple locales. The New Rep production, helmed by artistic director Jim Petosa, both brings out the warmth of the piece and embraces its splintered form, mounting it on a set by Jon Savage that resembles an urban-landscape jigsaw puzzle.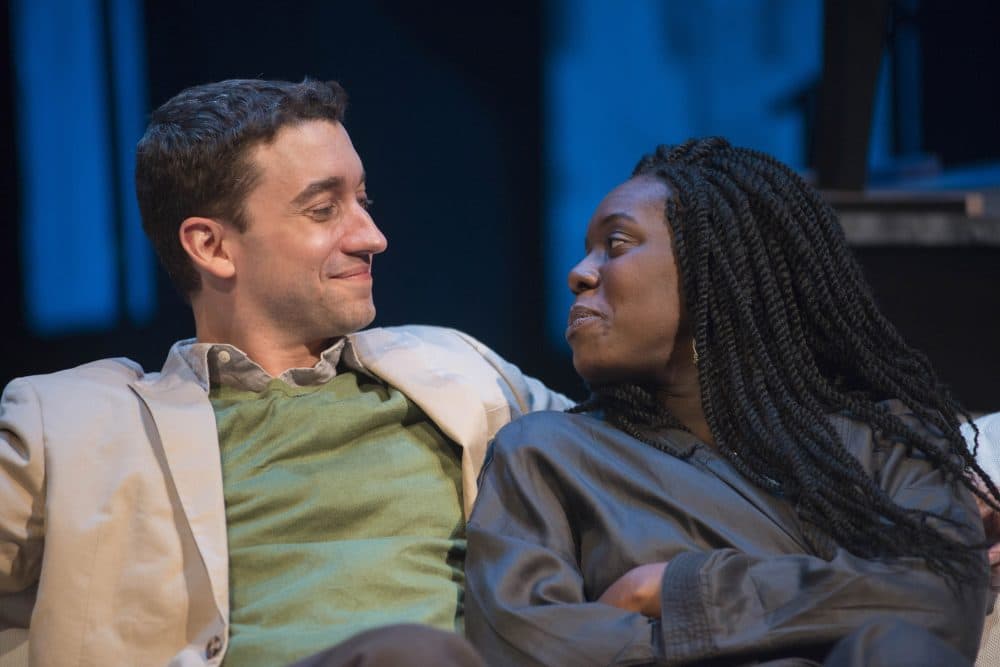 At the heart of the work is an exuberant African-American artist/teacher named Ruth, who, in the charismatic person of Obehi Janice, sports as many braids as her character has hang-ups. We first meet Ruth as she interacts with a mysterious young cellist who seems to exist outside the action of the play, telling her own story of artistic engagement. The two characters are riffing on famous mothers: Mother of Jesus, Mother Courage, Mother Teresa, Mother Goose. You get the idea, and you will get much more if you stick with "The Gift Horse" until the end.
Following the maternal jiving, we return to the 1980s when college-age Ruth first bonds with her gay Latino soulmate Ernesto, who later becomes both a psychologist and her roommate. Theirs is a close, bantering relationship that will persist well into the future, when it becomes something of an annoyance to Ruth's otherwise affectionate psychologist spouse, Brian. In fact, Ernesto and his significant others will pop into scenes of Ruth's life where they arguably have no business entering into or commenting on the action.
From Ruth's salad days, we leapfrog about in time as she ultimately confronts the painful childhood experience that has rendered her flirtatious but sexually fearful. (It's not Diamond's fault that this particular trauma has been blunted by dramaturgical overuse.) Meanwhile, Ernesto lives out his own love drama, which careers from horror to sweetness. In its quirky portrayal of the ways in which we carve our unorthodox, non-nuclear families, the play is a little like "Falsettos" without the songs.
"The Gift Horse" is also like "Falsettos" in its blend of comedy and tenderness and in its invention of credibly capricious characters. Most intriguing of these is Ruth, who is as stymied by matters of race as by her repressed childhood memories. Guiltily self-centered and smug about her charms, she is nonetheless highly empathetic. She is also, as enacted by the commandingly likeable Janice, irrepressible.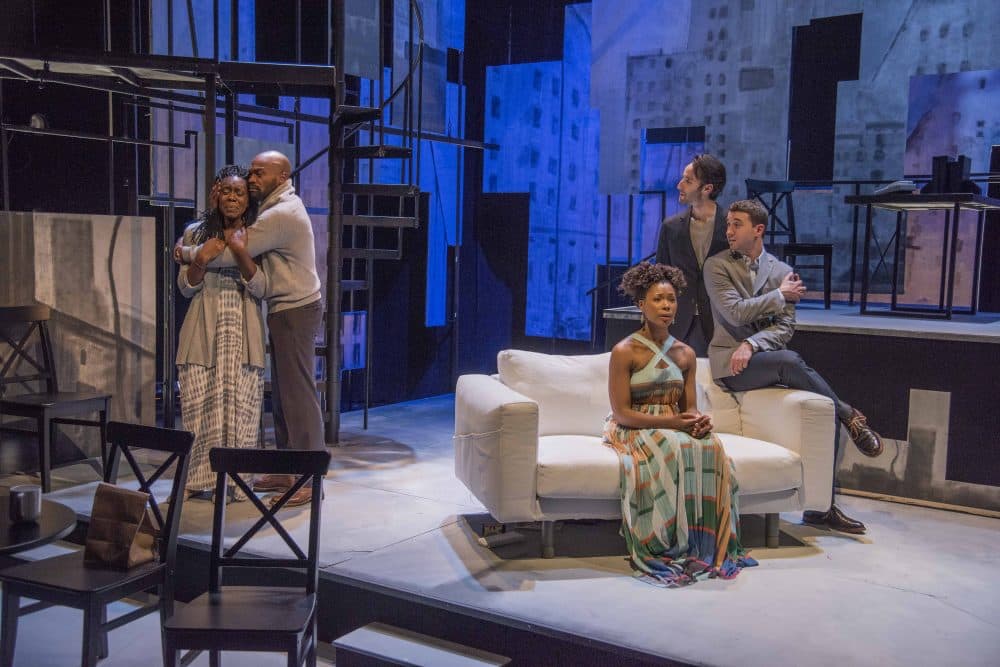 Alas, some of the other characters are less vividly drawn. Ernesto presents an intriguing combination of religious and romantic fervor to which Alejandro Simoes brings a relaxed, almost impish charm. The reliable Maurice Emmanuel Parent imbues Brian with both gravitas and sexual spark, but the character's rigidity and disconnect from a past life are insufficiently probed.
Cloteal L. Horne, appearing to saw away at the Bach suites on her cello, spiritedly articulates what must be Diamond's view of the sacred relationship of art and audience. And she ultimately leads us back to that initial meditation on motherhood. Zachary Rice is given little to work with beyond a sage, playful calm. And Lewis D. Wheeler does a deceptively casual job of acting a guy who is acting.
So, no — "The Gift Horse," written when Diamond was in her early 30s and first performed at Chicago's Goodman Theatre, is not as smart or as provocative as some of her more recent works. But it's surprising and witty and comes at us in an adventurous jumble that compels by holding back. Whatever the adage about free equine offerings, "The Gift Horse" is well worth a look in the mouth — even if, as an orthodontist might say, it's a little overcrowded in there.