Refugee Resettlement Agency Seeks To Connect Cultures Through Live Storytelling
Resume
Storytelling is built into cultures around the world. It's a way of socializing, passing down family history, and for people of different cultures stories can reveal common ground.
Finding that common ground is what the International Institute of New England, a refugee resettlement agency operating in Massachusetts and New Hampshire, hopes to accomplish with "Suitcase Stories," a new traveling series of live storytelling performances.
The Power Of A Story
Gathered in the lobby of the International Institute's Lowell site, refugees and first-generation immigrants, award-winning orators and first-time storytellers are all seated together in a circle to learn more about the art and the power of telling a story.
Cheryl Hamilton, director of the Lowell site, scribbles down pointers on a giant sticky note, leading the group in a brainstorming session.
"I think we all really connect when someone else is authentic or honest," Hamilton says. "What else makes a good story? How do you know someone is telling a good story?" The group shouts out words like, "emotion," "humor" and "gestures."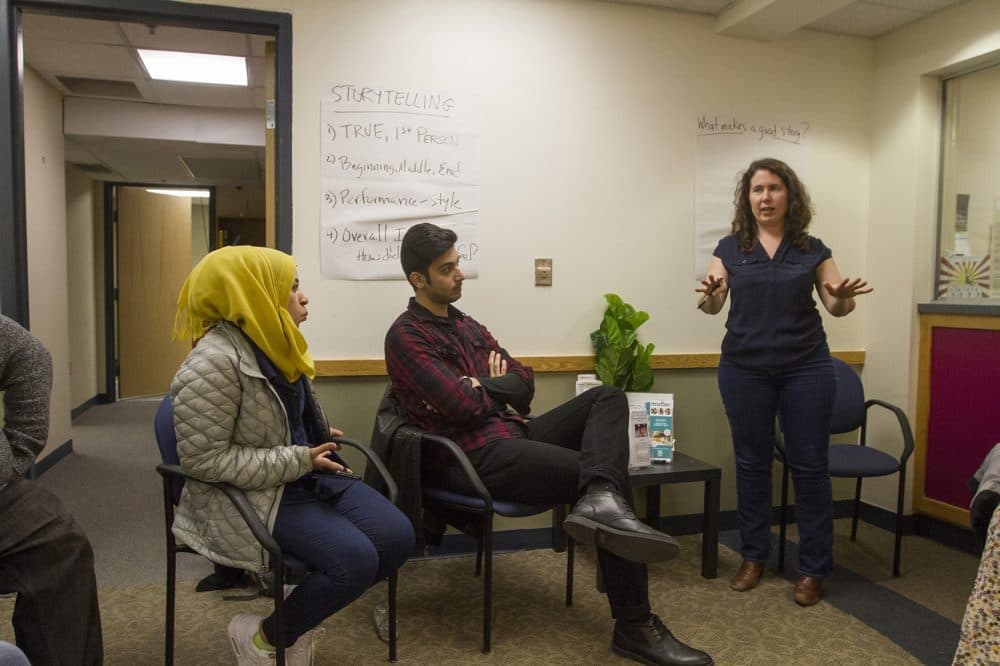 Sulekha Ali, a 37-year-old Somali refugee and mother of five, stands in front of the group and practices telling her own story. It begins when she was a child.
"I'm 11 years old. I just had my dinner. I'm sitting with my mom in a Somali traditional house called aqal. She was telling me a story about an animal that lives with water and grass only. Suddenly, I heard voices out[side]." Ali paces back and forth, drawing the group into the story with her shifting inflection. "I saw some men outside talking to my dad. I didn't know what they were saying. Later on my dad came in and told us: They want our boys to go and fight."
In Ali's story, her dad refuses to allow her brothers to fight in a war among different clans. Ali uses different tones as she tells her story to the group, signaling a shift in voices.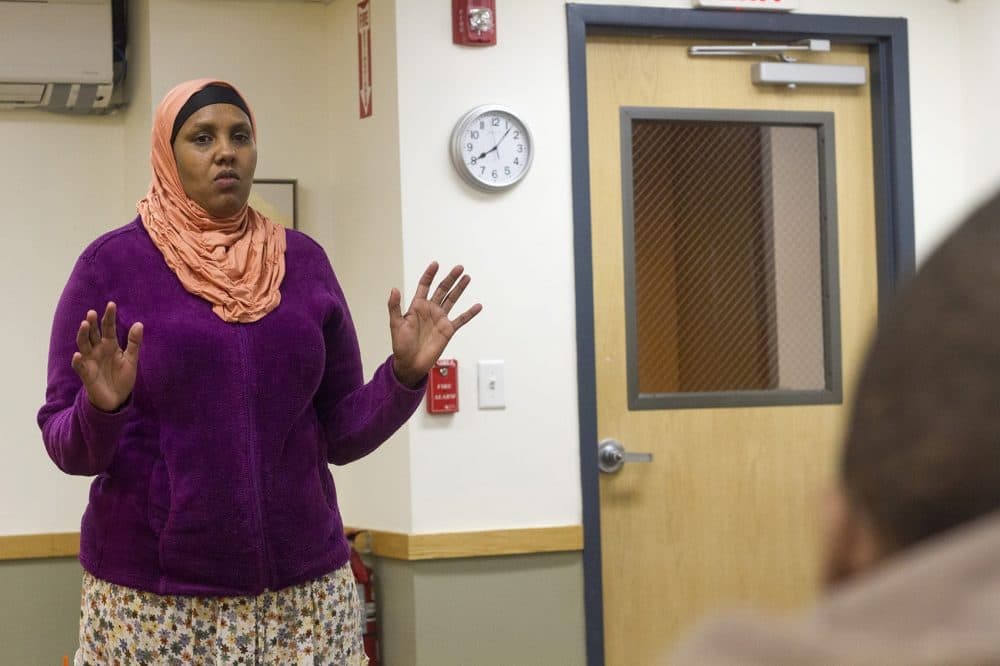 "At around 5 a.m. I heard this huge sound. I thought that I was dreaming. Then I saw my mom also waking up and she went, 'Did you hear?' I said, 'Yes, I heard.' We all ran out. Everything was scattered. There was blood everywhere. My mom ran to the yards. She found out my two brothers dead."
Turning Strangers Into Neighbors
Ali's story goes on to recount her family fleeing war-torn Somalia in 1991. After spending 20 years in a Ugandan refugee camp the family settled in Lowell in 2014. Ali says she wants to relay elements of what it's like to be a refugee — bouncing from country to country — and the toll it takes.
"It's even worse than the war that you have fled. So I'm very happy to the countries that, they have warm hearts, they have received us well," Ali says. "So I want to share my story as a refugee. What I've gone through, what I've seen."
Ali hopes that maybe listening to stories like hers can help move people beyond the current divisive political climate.
"Storytelling is where you share a human experience with somebody else and you start to reflect yourself in them and just are transformed into someone else's life immediately."

Cheryl Hamilton, director of the International Institute of New England's Lowell office
Hamilton, the director of the institute's Lowell office, also serves on the board of Massmouth, a statewide storytelling group. She's been trying for years now to fuse together the worlds of refugee resettlement and live storytelling. She sees it as a way to break down cultural barriers and turn strangers into neighbors.
"We can go to sports matches and have a great time and cheer together, we can watch a movie and enjoy the film," she says. "But storytelling is where you share a human experience with somebody else and you start to reflect yourself in them and just are transformed into someone else's life immediately."
With growing political attention on refugees and immigrants, Hamilton says kicking off the traveling "Suitcase Stories" series is an opportunity to bring communities together. And it's not just about uniting refugees. The series also invites U.S.-born community members to share the same stage and share their own stories, connecting immigrant experiences across generations.
Experiences like those of Rose Saia, whose grandfather came from Sicily in the early 20th century and settled in the mostly Irish neighborhood of South Boston. It was a difficult transition, one that Saia sees mirrored in refugee experiences today.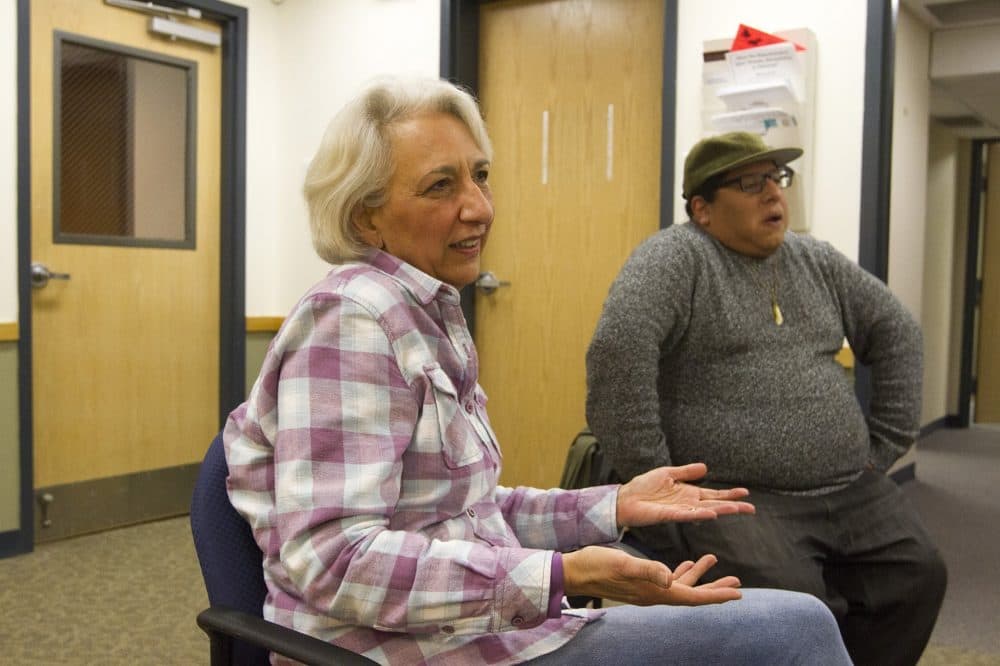 "My uncles and my father were beaten up every day, and I grew up being called names," she tells the group. "I think there's a lot of things that happened that I heard as stories at my table and that happened to me that, here we are, not that much later, and the same things are happening again."
Saia can relate to contemporary immigrants struggling to feel at home in the U.S. She's hopeful that audiences will also be able to identify with the stories of refugees like Ali.
'Life Is Very Good Here'
Standing in front of the group, Ali's rehearsal comes to a close.
"Twenty-four years later, I'm here in Lowell, pursuing my degree as a nurse. Driving, which I never dreamt of. Helping my children with their homework. Life is very good here."
She smiles, and while the group breaks out into applause she says she needs to practice the ending. Then she sits down and listens to feedback from her fellow immigrants — her fellow storytellers.
This segment aired on May 2, 2017.