Mass. Spending On Incarceration Is Up 18 Percent, Though The Inmate Population Is Down 12 Percent
Massachusetts has fewer inmates in county jails and state prisons but is spending more to incarcerate them.
Over five years, the average daily population in all Massachusetts correctional facilities fell 12 percent, according to a report out Tuesday, while overall correctional spending increased 18 percent, or $181 million, to $1.2 billion.
Here's that in chart form: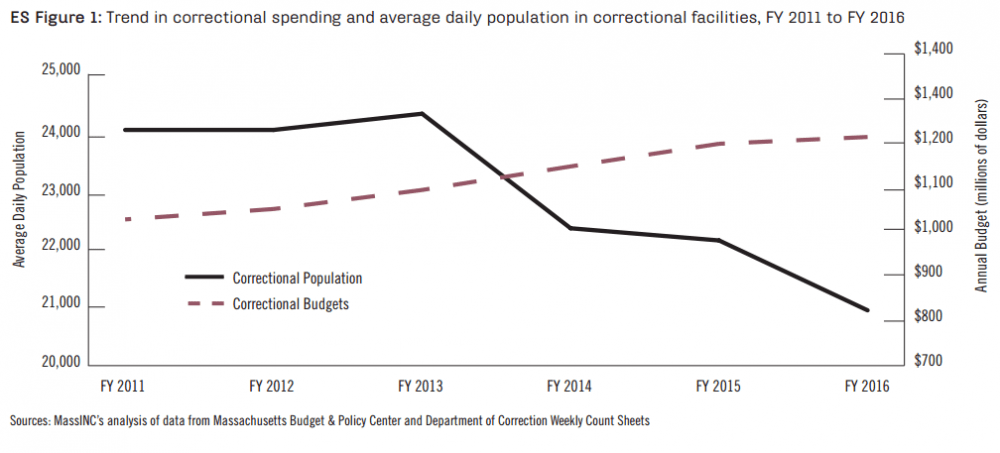 Spending per inmate rose 34 percent between fiscal years 2011 and 2016.
The state now spends more on corrections than on higher education, per the report.
Eighty-four percent of the growth in correctional spending went toward rising employee pay and new hiring in sheriffs' county facilities: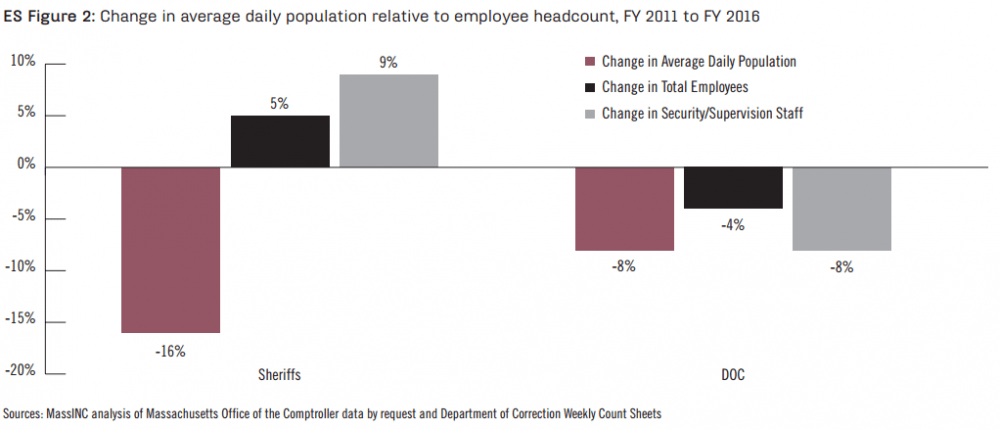 The report comes from the nonpartisan think tank MassINC, which advocates for criminal justice reform measures.
Its authors write that, over the five years, spending "associated with recidivism reduction did not increase significantly, and these services continue to represent a small fraction of total correctional expenditure."
"The savings if we'd held the spending growth to inflation would have been $72 million," co-author Michael Widmer, former president of the Massachusetts Taxpayers Foundation, told WBUR's Newscast Unit. "That $72 million could be used dearly elsewhere, including on programs to reduce recidivism."
The report follows a survey, from the MassINC Polling Group, that found most Massachusetts voters are concerned about the effects of incarceration. Fifty-three percent of poll respondents said they think that when inmates get out of prison, they are "more likely to commit new crime because they've been hardened by their prison experience."
In February, state leaders unveiled a report proposing a number of reforms to the criminal justice system, including increasing anti-recidivism programming.
With reporting by WBUR's Newscast Unit