Forecast: Boston Breaks Heat Record Before Cooler Air Comes Late Friday
Update at 4:45 p.m.: As of 3 p.m. today, Logan Airport reached a sizzling 95 degrees — breaking the old record of 91 set back in 1936. This puts May 18 up as one of the top five warmest May days ever recorded (and records go back to 1872 in Boston).
---
Our earlier post continues: Record heat is on tap for today immediately following the first 90-degree day in Boston since Sept. 24.
On Wednesday, the high of 92 in Boston tied the record for that date while in Worcester, the 88-degree reading broke the date's old record by a degree.
Speaking of Worcester, the last time it was 90 degrees was back on August 12 last year. Remember, Worcester is at 1,000 feet of elevation and that height makes a difference; the city is often cooler than the Greater Boston area during its hottest days.
The southwest flow today will boost Boston's temperatures over 91, which is the day's current record. I don't think there's much doubt we break it. It's just a matter of by how much. We could see Logan Airport reach 94. If Worcester hit 92, it would be the second warmest May reading ever. Indeed, this is hot stuff!
Humidity is higher today and tonight, and it will be a bit uncomfortable for sleeping. I confess I did put the air conditioning on last night, less that 48 hours after I turned off the heat. Whiplash weather isn't fun.
Friday won't be as hot or as humid by the end of the day. A cold front will knock temperatures back from the 80s at their peak in the middle of the day to the 60s by or just after sunset and then the lower 50s by Saturday morning. It's back to having the windows open again for the weekend.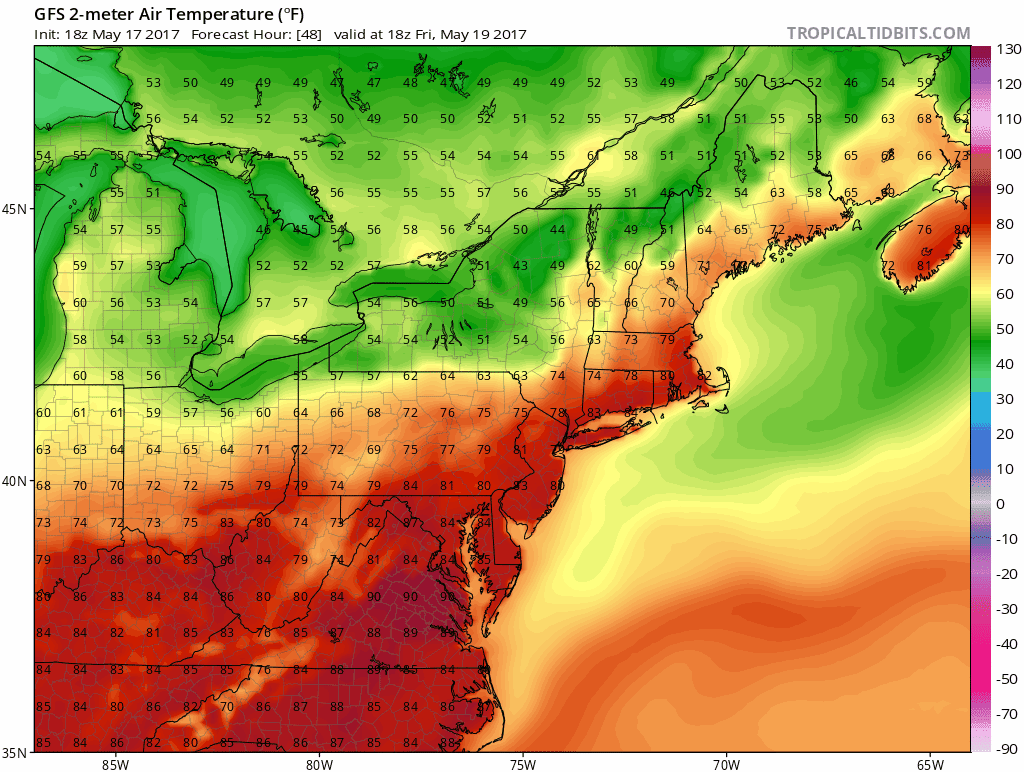 Sunshine and seasonable temperatures are the rule all weekend. Highs will be in the 60s without any noticeable humidity.
You can follow my updates here and on Twitter @growingwisdom.
---
Thursday: Record heat. Lots of sunshine. Hot and humid. Highs 85-93. Cooler toward the Cape.
Thursday Night: Partly to mostly clear with near record warm lows. Lows 65-70.
Friday: Mostly sunny. Highs in the upper 70s to mid-80s. Humid early, then turning drier. There could be an isolated storm during the middle of the day.
Saturday: Partly to mostly sunny and pleasant. Highs in the mid-60s.
Sunday: Partly to mostly sunny and pleasant. Highs in the mid to upper-60s.
Monday: Clouds begin forming with a few late-day showers. Highs nearing 70.
This article was originally published on May 18, 2017.