Craft Brewers Support Veterans With Batches Of Dark Beer For The 'Black Ale Project'
Covert military missions are often referred to as "Black Ops." Massachusetts-based beer geek Dave Pappas said that's part of the story behind the Black Ale Project's name.
The non-combat, Persian Gulf War veteran has been collaborating with about two dozen New England breweries for the past two years to make special batches of dark beer with the goal of raising awareness and money for various veteran organizations.
"I had a beer blog before I started the Black Ale Project," Pappas said, "and was lucky enough to meet and become friends with so many great people in craft beer. It is a wonderful community of kind, generous folks with lots of compassion. I felt I would get plenty of support for veterans if I reached out for help — and that has proved to be the case since day one."
Pappas rides a black motorcycle, wears a black helmet and is also a longtime fan of dark beer. His fundraising project is proving he's not alone in his taste for ebony-hued brews.
Participating brewers have been eager to design recipes for the project, which they've gone on to sell mainly in on-premises taprooms. Proceeds from the pours are then donated to veterans' organizations chosen by folks at each brewery.
"So far, we have had a great mix of styles — including several variations of stouts and hoppy black ales, as well as a black lager," Pappas said. "Future releases will include even more variety, including barrel-aged beers."
Brewers at Exhibit A Brewing Company in Framingham are currently conditioning their Black Ale Project contribution in rye and whiskey barrels from a Brooklyn distillery.
"It has really beautiful notes of chocolate and roasted burnt grain," brewer Matthew Steinberg said on my recent Sunday visit to his facility. The brewer listed off some of his personal connections to people who've served in the U.S. military.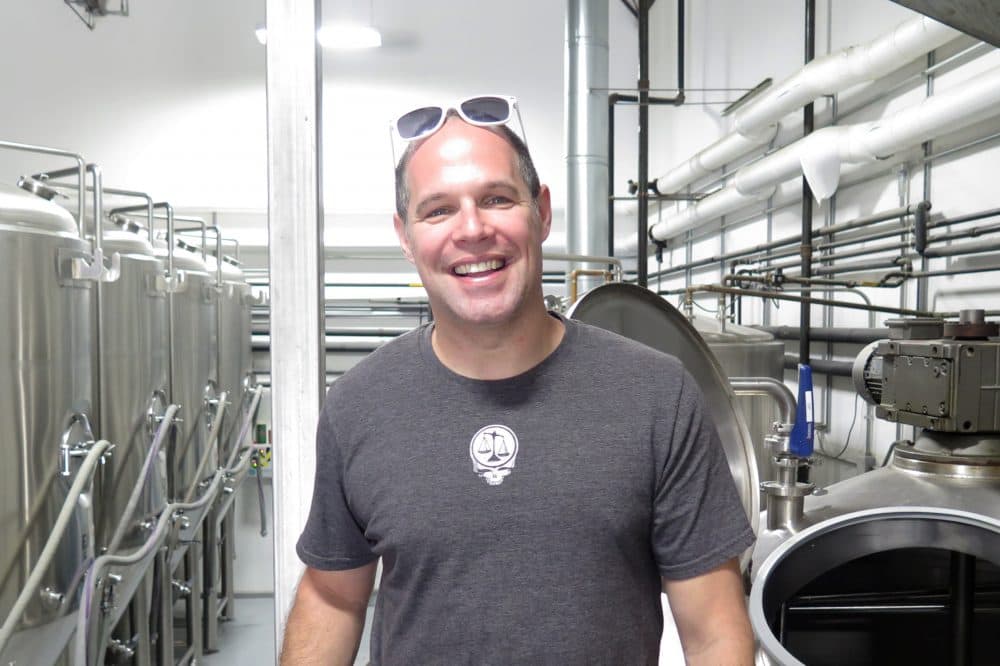 "My sister is involved with veterans — she's a filmmaker," he said. "My wife's father is a veteran. Our favorite neighbor is a veteran. This is an important way for Exhibit A to give back."
Kelsey Roth, director of marketing and retail at Exhibit A, said the veterans who are regulars to the Framingham taproom have been responding enthusiastically to the Black Ale Project's concept.
"They're excited to bring together the veteran and brewing communities in Massachusetts," Roth told me, smiling. "Plus, veterans like to drink beer."
Roth says Exhibit A is supporting the nonprofit Homes for Our Troops. "We chose them because they're a local organization, they're based out Taunton, and they build ADA [Americans with Disabilities Act] accessible homes for veterans who've been injured and have special needs."
Exhibit A's black ale, which is a riff on its recipe for a beer called "Sunday Paper," will probably be on tap in September, Steinberg predicted.
Ales are available now, though. The Foundation Brewing Company in Maine is distributing cans of "Sergeant Stubby" and it's on tap in various Maine locations in time for Memorial Day.
Pappas is proud that the Black Ale Project has helped raise more than $14,000 so far. And he says 15 more breweries have signed up to release beers in the not-to-distant future.
"It has been a real honor to have these incredible beers represent the Black Ale Project and our deserving veterans," Pappas said. "The veterans who have attended the beer releases — whether as official representatives of charity organizations or as loyal customers — have been so grateful and truly happy that their local breweries are stepping up to support them."