AG's Office, GE To Fund $2M Addiction Prevention Program For Middle-Schoolers
Play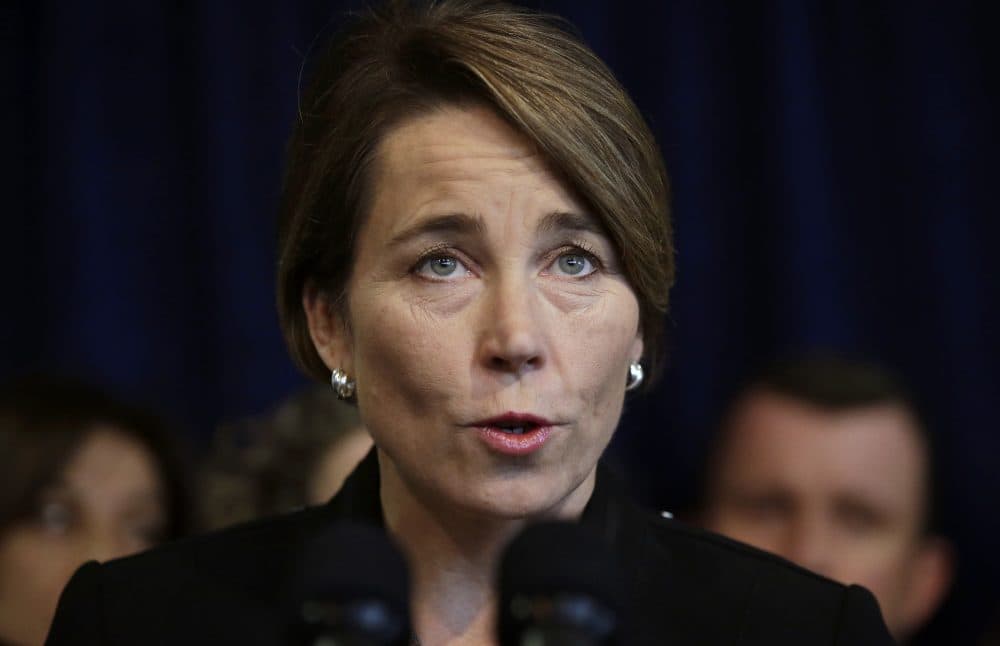 This article is more than 5 years old.
Trying to prevent addiction — starting with students in middle school — is the focus of a new public-private effort that could be in Massachusetts schools by the next school year.
Massachusetts Attorney General Maura Healey wants the program, called "Project Here," in all of the state's public middle schools by the fall.
"That is essentially the mandate," Healey explains. "Let's get it ready, let's be ready to roll come September. I do not want to start school without this in the hands of every middle school kid in this state."
Healey says Project Here will do three things: provide educational toolkits to help students talk and learn about substance use; increase access to social workers and those in recovery; and create an app that will allow young people to connect with others about substance use.
"This state has mandated that we talk to kids about substance use and drugs," Healey says. "But we have not comprehensively funded that or provided the resources to actually make that happen."
When making budget cuts in December, Gov. Charlie Baker eliminated almost $2 million from substance use prevention programming. Project Here is a $2 million initiative funded by the attorney general's office, which is putting up $500,000 (from settlements with the pharmaceutical industry), and General Electric, which is providing the remaining $1.5 million.
Ann Klee, president of the GE Foundation, says the effort is part of GE's pledge to spend $15 million over the next five years on public health, a promise made as the company establishes itself in Boston.
"If we as a community are really going to bend the curve and prevent more people from becoming addicted, from falling into the trap of substance use disorders," Klee says, "we have to focus on prevention."
The marketing research company Epicenter Experience will help design the app for young people. Chris Herren, founder of the The Herren Project, which helps educate young people about substance use and advocates for treatment, will also work with the AG's office and GE on the initiative.
Speaking at GE headquarters in South Boston Tuesday to announce the project, Herren, a former Celtics star whose heroin use cost him his career, said prevention needs to be part of overall wellness education.
"We've been so focused on math and science and history and English, and yet we haven't included wellness in their core curriculum," Herren says. "I'll retire from doing this once wellness becomes a core class in our school systems."
But wellness is now a part of school curricula. Although, it could be expanded, says Tom Scott, executive director of the Massachusetts Association of School Superintendents. He says actions like Project Here are needed — and some Massachusetts schools will likely start using Project Here in September — but it might not be implemented statewide quite that soon.
"I think it's a little ambitious to get us rolling [in] September, but I think in the fall it's doable in a lot of locations," Scott says. "You have to remember we do have in many of our schools health and wellness programs in one form or another. So this is going to be how do we provide these materials and make them purposeful."
Healey says she is establishing an advisory council to help devise the educational materials and the app that will be used in the project.
This segment aired on June 1, 2017.