At Springfield's New Dr. Seuss Museum, A 'Perfect' Tribute To The Best-Seller's Life And Career
05:50
Play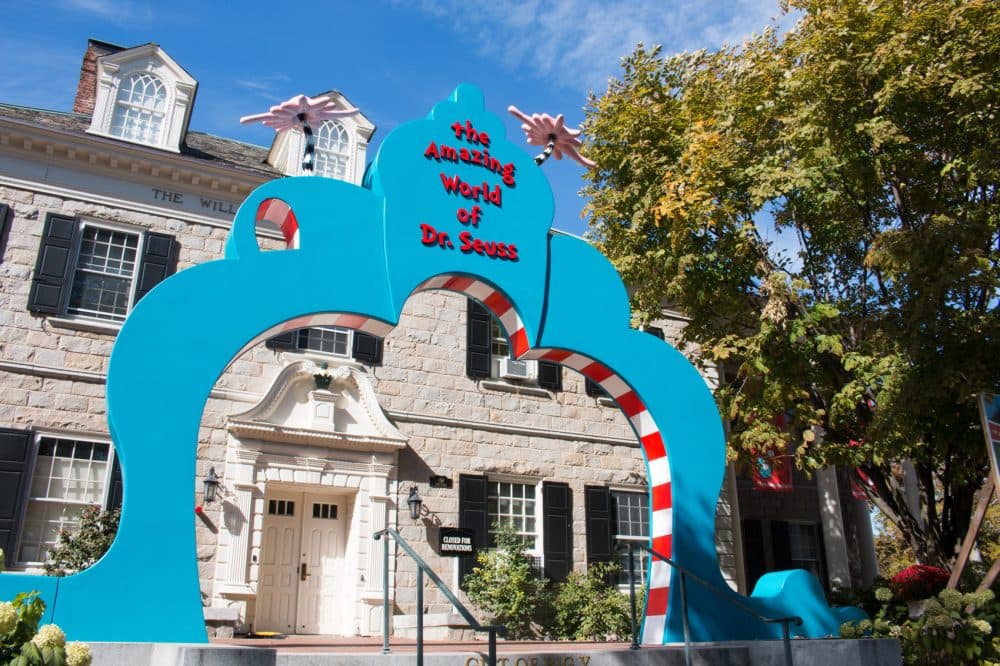 This article is more than 4 years old.
He was not a real doctor. His friends and family called him Ted. Since his death in 1991, Theodor Seuss Geisel — better known as Dr. Seuss — has become the best-selling author of children's books in the world.
Now, the city of Springfield, Massachusetts, pays homage to its favorite native son with the first-of-its-kind Dr. Seuss Museum, which opens Saturday.
A Museum Of Imagination
I visited a few weeks before the museum's opening as construction workers and painters put finishing touches on the space. The walls blaze with a riot of colors, including reds, blues, greens and orange.
Large murals show favorite characters. Horton the Elephant studies the Who sitting on his trunk. The Cat in the Hat balances a number of objects on his paws and tail. And rushing down the stairs with a plate of green eggs and ham is Sam-I-Am. Remember him?
The entire first floor of the new museum offers interactive displays. In the recreation of Seuss' boyhood bedroom in Springfield, children can draw on touch screens mimicking artwork done on the walls by the young Seuss and his sister Marnie.
"I tried to capture his family members, so his relationship with his sister Marnie," said artist and designer John Simpson. "And the relationship with his mother with the bakery, which is downtown here. And then with his father fishing at McElligot's Pool. I tried to show how these family experiences contributed to his imagination."
Family experiences are also highlighted on the second floor, where Seuss' two stepdaughters have installed their own personal collections, gathered while they lived with their mother and their stepdad in La Jolla, California.
Leagrey Dimond said she just about emptied out her own house in order to recreate the rooms where Seuss spent most of his time.
"He would lean back in the chair, always with his feet up and he would look at what he was doing," Dimond said. "The room is lined with bulletin boards, and he would pace out the book on pale yellow paper and he would work the room over and over. And then he'd kick back in his chair with his feet up and then he would throw the chair forward. His hair would come forward and he'd be working at the desk."
At the end of every workday, Dimond said her stepdad would have a gin and tonic, complete with a kumquat from the yard.
Dinner took place on the sofa, where the whole family would use trays on their laps. That sofa now sits in the re-creation of the Seuss sitting room, along with family tapestries and other furnishings. Dimond and her sister have also contributed drawings, photographs and other family memorabilia that have never been seen by the public before.
"You saw him at his desk making these things. He would drop little notes on your bed or put them in your coat pocket," Dimond said. "So everybody has memories of their pop and their mom. Those are your memories if Ted was your step-pop."
Becoming The Dr. Seuss We All Know
Dimond's famous "step-pop" almost didn't make it as a children's book author. Some 27 publishers rejected his first effort, "And to Think That I Saw It on Mulberry Street," before it finally appeared in print in 1937.
Twenty years later, Seuss joined a campaign to improve children's literacy by writing a book using only a few hundred simple words. That book was "The Cat in the Hat." It helped launch a beginner book series that's still helping kids learn to read today.
Eventually versions of Seuss' books would appear on television, in feature films and on Broadway. That led to recognition from the Oscars, the Emmys, the Grammys, a Pulitzer Prize — and a star on the Hollywood Walk of Fame.
Before all that success, Geisel worked as an illustrator and cartoonist. During World War II, he drew some anti-Japanese cartoons. These are not currently on display — or mentioned at all — in the museum.
Dimond said her stepfather eventually came to regret his feelings about the Japanese.
"Of course he evolved and changed," she said. "And I'm very careful not to put words in his mouth. But the man I knew did not have any type of racism or prejudice. We never heard any type of [prejudicial] talk, ever."
But Dimond said the family did hear his opinions about social and and political issues, which he often included in his books. Seuss wrote "Yertle the Turtle" as an allegory about Hitler. "The Lorax" focuses on the environment.
Kids can read about the Lorax and some of Dr. Seuss' other famous characters in a museum exhibition space called Readingville, while their parents explore the re-created office and family room on the second floor, where Seuss lived and worked.
Dimond said her stepfather would have loved this museum.
"He would be absolutely at ease here," she said. "And to know that he's going to be here permanently, safe, protected — that people who want to know more are going to make the trip here to see him. It's perfect."
This story comes via the New England News Collaborative and was first published by New England Public Radio.
This article was originally published on June 02, 2017.
This segment aired on June 2, 2017.