'No More Pushing It Off': Trial Begins For Mass. Woman Accused Of Coercing Teen Friend Into Suicide Via Texts
Play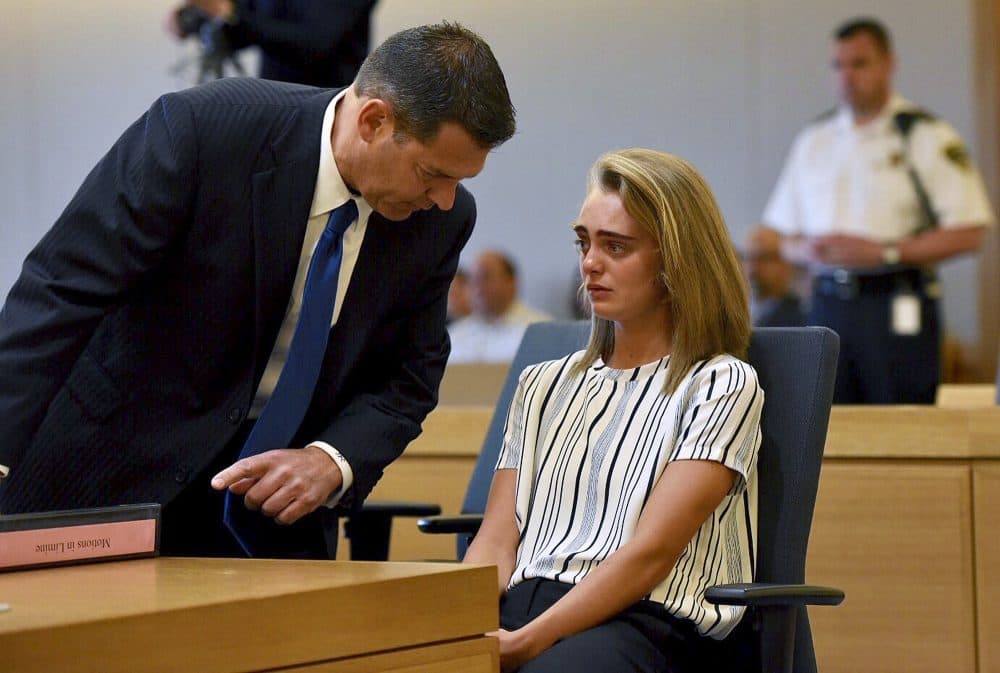 This article is more than 5 years old.
Can words and text messages be lethal?
That's the question a juvenile court judge in Taunton must answer in an involuntary manslaughter trial that began Tuesday.
Michelle Carter, 20, of Plainville, faces that charge as the result of text messages she sent to Conrad Roy III, who died by suicide in 2014.
The Prosecution
In court Tuesday, Bristol County prosecutor Maryclare Flynn called them boyfriend and girlfriend, which seems belied by the fact that Roy and Carter ever only saw each other two or three times after they first met.
But, in some ways, they were actually closer than teenage sweethearts, since they were confiding their thoughts and plans for killing themselves.
"He came to rely on her more and more than anyone else during that time period," Flynn said. "They texted at all hours of the day and night. When Conrad told her that he didn't believe in himself any longer, she brought up the fact: 'Take your life?' she questioned. He said, 'You think I should?' "
They conversed about psychiatric hospitals, antidepressants and the best ways to kill yourself.
"From July 6 to July 12, [Carter] asked Conrad in excess of 40 times when he was going to kill himself," Flynn told the court.
Though Judge Lawrence Moniz will deliver the verdict — not a jury — the prosecutor spoke emotionally and indignantly, as if speaking to a jury. A picture emerged of Carter bringing a can of gasoline and a match to a scarecrow.
"He says, 'I don't understand why I'm so hesitant,' " Flynn said. "She replies, 'You just need to do it, Conrad. The more you push it off, the more it will eat at you. You are ready and prepared. All you have to do is turn on the generator and you will be free and happy. No more pushing it off. No more waiting.' "
Reading text after text, Flynn portrayed Carter as coaxing, badgering, berating and mocking the troubled teenage boy into suicide. From one text: "The time is right, and you're ready. Just do it, babe," Carter wrote. Then this exchange:
"You promise?" wrote Carter.
"I promise, babe," replied Roy. "I have to now."
"You can't break a promise," Carter wrote in response after a couple texts.
Roy's relationship with Carter would culminate in a K-Mart parking lot in Fairhaven on July 12, 2014. A generator in the backseat of his truck filled the cab with carbon monoxide. The plan was working, as Carter would text a friend afterward. All she had to do to stop the suicide and save Roy was to call the police, which she didn't do, said the prosecutor, in quoting another Carter text: "And I would submit it was during that last phone call that Conrad got out of his truck as he was being poisoned, and the defendant [f------] told him to get back in," Flynn told the court.

The Defense
Carter's attorney, Joseph Cataldo, briskly tried to establish that neither Carter nor her texts were the cause of Roy's death.
"Your Honor, this case is a suicide case. It is a suicide. It is not a homicide," Cataldo said.
The cause of Roy's death, Cataldo asserted, was Roy himself.
"Michelle Carter was not present, and the evidence of the texting is overwhelming that Conrad Roy was on this path to take his own life for years," Cataldo told the court.
Roy had tried to take his life in 2012 and several times after that, according to the defense attorney, and, in the run-up to his suicide, Roy was researching easy ways to find poisons, carbon monoxide poisoning and "quickest ways to kill yourself."
"'Committing suicide makes you happy,' right off of his computer," explained Cataldo. "This is in June, when Michelle Carter has not advocated or encouraged him to commit suicide."
Defense attorneys had tried to get the manslaughter charge against Carter dropped, but the Massachusetts Supreme Judicial Court ruled Carter must stand trial. In strong language, the SJC unanimously said the lower court judge had probable cause to show "the coercive quality of the defendant's verbal conduct overwhelmed whatever willpower the 18-year-old victim had to cope with his depression."
Now the prosecution has the burden to prove beyond a reasonable doubt that Carter's texts — her words — caused the suicide, while the defense argues that the cause was the determined choice of a depressed young man she may have urged onward.
The National Suicide Prevention Lifeline is available 24/7 at 1-800-273-8255.
This segment aired on June 7, 2017.