Baker And 6 Other Governors Criticize House GOP Health Overhaul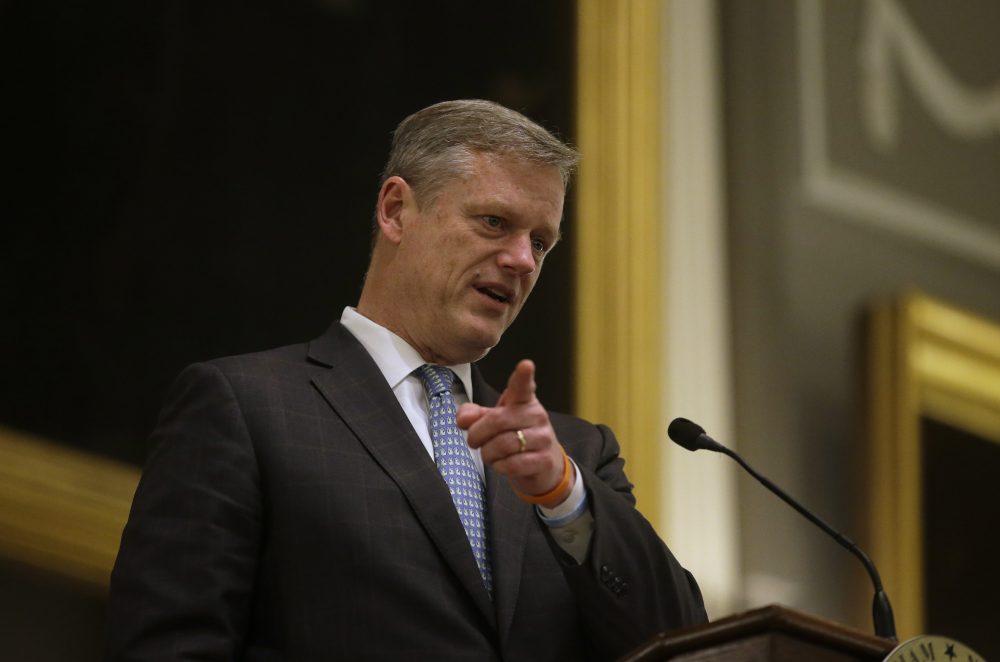 This article is more than 5 years old.
A group of Republican and Democratic governors are criticizing a House GOP health care bill, saying it threatens coverage for the most vulnerable. Instead, they're asking Senate leaders to work together on an overhaul of the Affordable Care Act.
In a letter sent Friday to Senate Majority Leader Mitch McConnell and Minority Leader Chuck Schumer, seven governors -- including Massachusetts Gov. Charlie Baker and two other moderate Republicans -- argue that "true and lasting reforms are best approached by finding common ground in a bipartisan fashion." The governors implore the Senate leaders to focus on stabilizing the individual insurance markets, give states flexibility, and ensure affordable cover.
The governors said they oppose the bill the House narrowly passed last month, citing its deep cuts to Medicaid, the federal-state health insurance program for low-income Americans.
Republicans have said the House bill is aimed at lowering premiums and expanding consumers' insurance choices while getting rid of the mandates in Obamacare that require people to buy coverage. The nonpartisan Congressional Budget Office has said the House measure would raise costs for many older and lower income people while causing 23 million people to lose insurance over a decade.
The bill "calls into question coverage for the vulnerable and fails to provide the necessary resources to ensure that no one is left out, while shifting significant costs to the states," the governors said.
During a White House meeting this week, President Trump privately told Senate Republicans that the House bill was "mean." That was an extraordinary slap at legislation that Speaker Paul Ryan, R-Wisconsin, guided through the House and that Trump himself had championed and praised at a Rose Garden ceremony.
McConnell, R-Kentucky, has been under criticism, including from some fellow Republican senators, for writing the Senate version behind closed doors. He's hoping to get the measure through the Senate before Congress' Fourth of July recess, though it's unclear that will happen because of divisions among GOP lawmakers.
"The House bill is just unacceptable to me," Ohio GOP Gov. John Kasich said in an interview. "The problem is it's going to take away insurance coverage from people, and that takes us backward. My sense is you've got to start to develop a little bipartisan support, and working with Democratic and Republican governors is a good start."
The governors said in the letter: "Medicaid provisions included in this bill are particularly problematic. Instead, we recommend Congress address factors we can all agree need fixing."
Governors signing the letter are Kasich, whose state Trump won in 2016, and Republicans Brian Sandoval of Nevada and Baker of Massachusetts. Democrats Steve Bullock of Montana, John Bel Edwards of Louisiana, John Hickenlooper of Colorado and Tom Wolf of Pennsylvania added their names.
They all opted to accept terms of the 2010 health law that allowed them to receive additional federal money to expand the number of people covered by Medicaid. The House bill would phase out the money for increased Medicaid coverage by 2020.
Some moderate GOP senators are trying to extend the phase-out over seven years and ease some of the Medicaid cuts the House bill would make.
Republicans will be unable to pass a Senate bill if just three of their party's 52 members vote "no." All Senate Democrats are expected to oppose the legislation.
The governors say Congress must focus more on controlling costs and settling the individual insurance market.
"That will positively impact the coverage and care of millions of Americans, including many who are dealing with mental illness, chronic health problems, and drug addiction," the letter states.
The letter suggests no specific policy proposals.
More than 2.5 million people in the seven states were enrolled in Medicaid under the expanded access allowed by the 2010 law as of last year, according to the Kaiser Family Foundation.
In all, more than 14 million Americans were enrolled in Medicaid as a result of the expansion.