'God Willing, I'll Be OK': Some Boston-Area Muslims Take Safety Precautions As Ramadan Ends
03:32
Play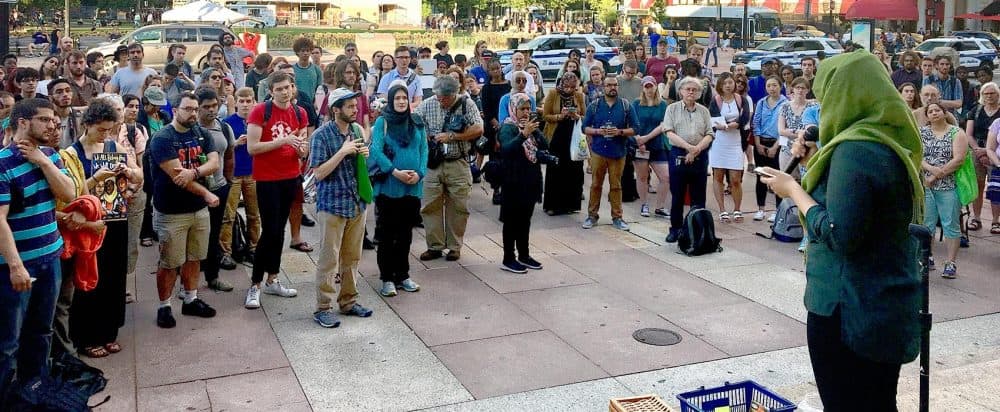 This article is more than 4 years old.
The Muslim holy month of Ramadan comes to a close this weekend. The final days of the holiday are meant to be a sacred culmination of weeks of prayer and daily fasting from sunrise to sunset.
But in the wake of recent violent acts against Muslims, many in the Boston-area Islamic community are coming together not only to pray, but also to seek comfort and safety.
In the waning hours of sunlight Tuesday, a crowd gathered on the steps of the Boston Public Library in Copley Square as part of a nationwide vigil recognizing the murder of Nabra Hassanen. The Muslim teenager was killed in Virginia last weekend after leaving an early morning, post-prayer breakfast with her friends.
Initial police reports suggest Hassanen's death stemmed from a road rage incident, not a hate crime, as many initially presumed. For the people gathered in Boston's Copley, the focus was on standing together against hate and making it safely through the remainder of Ramadan.
"We're trying to constantly tell our family and friends that it's OK for us to continue worship," Tahirah Dean said. The 25-year-old came to the vigil before breaking the day's fast with friends and said the recent violence has her and her friends worried and a bit distracted during the holiest of celebrations.
It's not just the murder of Hassanen that has people on alert.
The day after her death, in London, a van plowed into a group of Muslims who were leaving a mosque in the predawn hours. Police are investigating it as a possible act of terrorism.
And this week, locally, a North Reading man was arrested after allegedly yelling anti-Muslim slurs and hitting a woman wearing a headscarf while traveling on the Orange Line.
Dean says despite her own concerns, she won't stop attending prayers at her mosque.
"My parents are in Texas and they're telling me not to go, and I just want to tell them that it's OK, I'm going to be OK," she said. "We have a strong community here in Boston so I think, God willing, I'll be OK in continuing to finish Ramadan off strong."
At the vigil, there was talk of how to keep the Muslim community safe at a time when daily prayers bring people to mosque before dawn and well after sunset.
Nouran Shehata, of Allston, said she and her friends at the Islamic Society of Boston Cultural Center in Roxbury are taking precautions.
"Certain mobile phone apps that girls were talking about using. There were, like, talks of, like, pepper spray and how it's legal in Massachusetts, and just, you know, walking in groups," Shehata said. "People are just trying to really prepare themselves, right, for the worst."
John Robbins, executive director of the Massachusetts chapter of the Council on American Islamic Relations, says Ramadan is a time for socializing, and that gathering for predawn meals is common. But right now, he says the focus has shifted.
"During a time of holiness, during a time of increased community, during a time in which you're supposed to be feeling the most accepted, the most connected with your community, that precise moment becomes one of vulnerability," Robbins said.
As Muslims prepare for the festival of Eid, marking the end of Ramadan, Robbins says mosques across the country are also talking about offering self-defense courses.
"So, really the tone and tenor has changed certainly during this time," he said, "away from one of unguarded optimism during the end of this month and during this time approaching one of the holiest days of the year in Islam, to one of, in many cases, true fear."
This segment aired on June 22, 2017.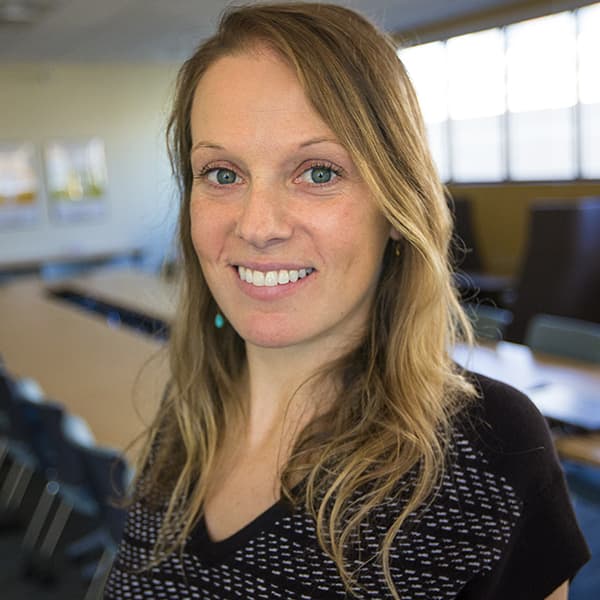 Shannon Dooling Investigative Reporter
Shannon Dooling is an investigative reporter at WBUR, focused on stories about immigration and criminal justice.