Dalai Lama Brings Message Of 'Warm-Heartedness' To Boston
Play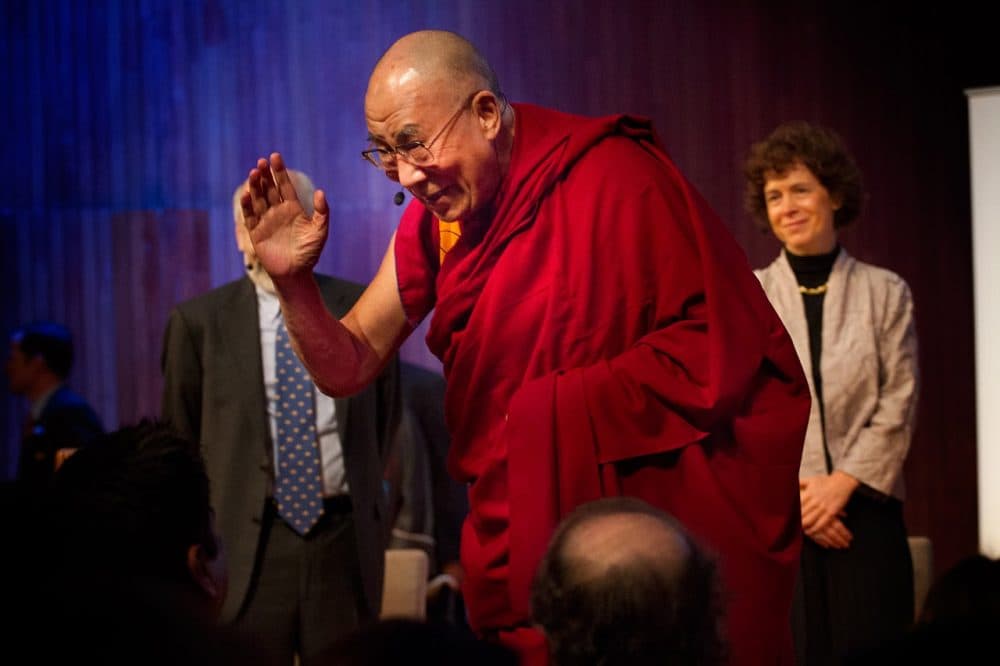 This article is more than 5 years old.
Tenzin Gyatso, the 14th Dalai Lama, brought his message of peace and compassion to Boston over the weekend.
The Tibetan Organization of Boston, which organized the event, said the Dalai Lama's visit was announced shortly before he came to the city, giving them just a few days to prepare for Sunday's event at the Sheraton Boston Hotel in the Back Bay.
The grand ballroom was filled with about 1,800 people — almost entirely Tibetans, many in their native dress. The 81-year-old monk sat beneath a painting of the Buddha, and spoke in his native language without translation.
Members of the Tibetan Association of Boston said the Dalai Lama talked about the need for Tibetans to uphold their culture.
"He spoke about how important it is for Tibetans here to always remember your identity as a Tibetan and always do more than catering to yourself," said Tenzin Tselha, a member of the group.
The Dalai Lama also talked about Tibetan Buddhist scriptures and led those present in a series of mantras with accompanying explanations.
"Whenever you see him, whenever you're near him, you kind of lose control over yourself," said Tashi Dhondup, who came from El Cerrito, California, to hear the spiritual and political leader speak. "Tears start streaming down your eyes. This is the feeling you get every time. You just kind of lose the sense of time."
After his talk, the Dalai Lama left the ballroom in the middle of a gaggle of bodyguards, photographers and devotees. A policeman fended off the crowd and closed the doors as he was rushed into a back room, where he signed a few autographs.
Asked what message he had for the people of Massachusetts, the Dalai Lama turned, focused his attention, and said the ultimate source of a peaceful mind is "warm-heartedness."
"Education [is] very important, but [we] must combine education, knowledge and warm-heartedness," he said. "Then, you get more inner strength. That brings self-confidence. That reduces fear. Then, peace of mind comes."
According to the Tibetan Association of Boston, the Dalai Lama is leaving Boston Monday, headed to his home in India.
This article was originally published on June 25, 2017.
This segment aired on June 26, 2017.