Popularity Of Potential Sales Tax Cut Measure Clouds 2018 Picture
Play
This article is more than 5 years old.
In just a month, filings are due for ballot questions for the 2018 election cycle in Massachusetts.
The so-called "millionaire's tax" would raise the state income tax on those making over $1 million. Barring a successful legal challenge from business groups, the measure appears set to go before voters in November 2018. And the latest WBUR poll (topline, crosstabs) shows the proposal in a very strong position, with 81 percent of voters in favor.
But there's another tax-related question that could also go to the ballot, and it pulls in the other direction.
The Retailers Association of Massachusetts has floated the idea of lowering the state sales tax, currently at 6.25 percent. The retailers say businesses are feeling the squeeze from internet sales and from neighboring, sales-tax-free New Hampshire. The retailers haven't said how low they want to set the tax. But the latest WBUR poll finds that 62 percent of voters would support lowering the sales tax to 4.5 percent -- more than twice as many as oppose the idea.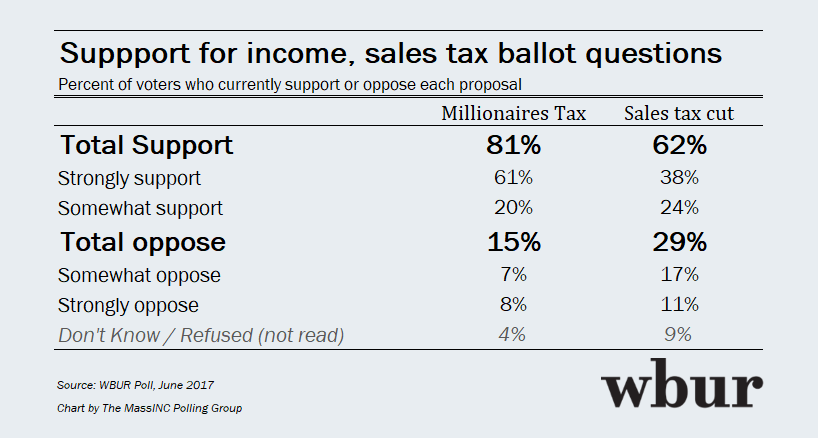 If the retailers do proceed, how far they propose to lower the tax could be key. In 2010, a ballot measure to cut the sales tax all the way down to 3 percent failed. But with just 57 percent voting against it, it's reasonable to ask whether a smaller cut might succeed.
Having both tax-related questions on the 2018 ballot could make life complicated for Democrats. If both pass, they would have the effect of making taxes more progressive, meaning the poor would pay less and the wealthier more. That's something Democrats often support. But cutting the sales tax could offset most or all of the new revenue from a millionaire's tax -- money that would be earmarked for education and transportation.
Gov. Charlie Baker has not taken a clear position on the millionaire's tax or the current sales tax proposal, but has previously supported lowering the sales tax to 5 percent.
The filing deadline for ballot questions is Aug. 2. The WBUR poll shows both tax measures starting from strong positions, but recent history shows opinion on ballot questions can shift quickly.
However they shake out, having possible tax questions, Baker and Sen. Elizabeth Warren all on the ballot should make for a busy 2018.
This segment aired on July 3, 2017.