For Many Would-Be Buyers, The Boston Area's Housing Market Is A Little Too Hot
Play
This article is more than 5 years old.
The heat of summer is felt by prospective homeowners in the housing market.
The average price of a single family home in the state has reached $410,000 -- up $30,000 from the same time last year.
For many would-be homebuyers, it's probably a little too hot.
"It's a little scary the way things fly off the market," says 34-year-old Katie McGee, a first grade teacher who lives in a small Somerville condo with her 2-year-old daughter and her fiancé, Charlie Linehan, a landscaper in Cambridge.
When we met McGee months ago, she was expecting child No. 2. The family had been actively looking for a larger home since early spring, going to open houses almost every weekend, reluctant to bid on what they saw.
"Even if I put in an offer," McGee says, "it's a little discouraging when you know there's going to be like 20 other offers and that yours probably won't even get a glance."
The Massachusetts Association of Realtors says the inventory of homes for sale across Greater Boston is the lowest it's been since it started keeping records 15 years ago.
"It used to be that once in a while, you would run into a multiple-offer situation," association President Paul Yorkis says. "When I talk to realtors across the commonwealth now, multiple-offer situations are becoming the norm, and the only way that's going to change is by having more inventory."
Yorkis says the competition is especially tough the closer you get to Boston, which has led many buyers to look farther afield.
"Realtors from Boston have clients who are looking in Metro West and realtors who have clients in Metro West are looking towards Worcester," he says.
Because of the prices, for months McGee was looking beyond Somerville, where she's lived for six years.
'Hang In There'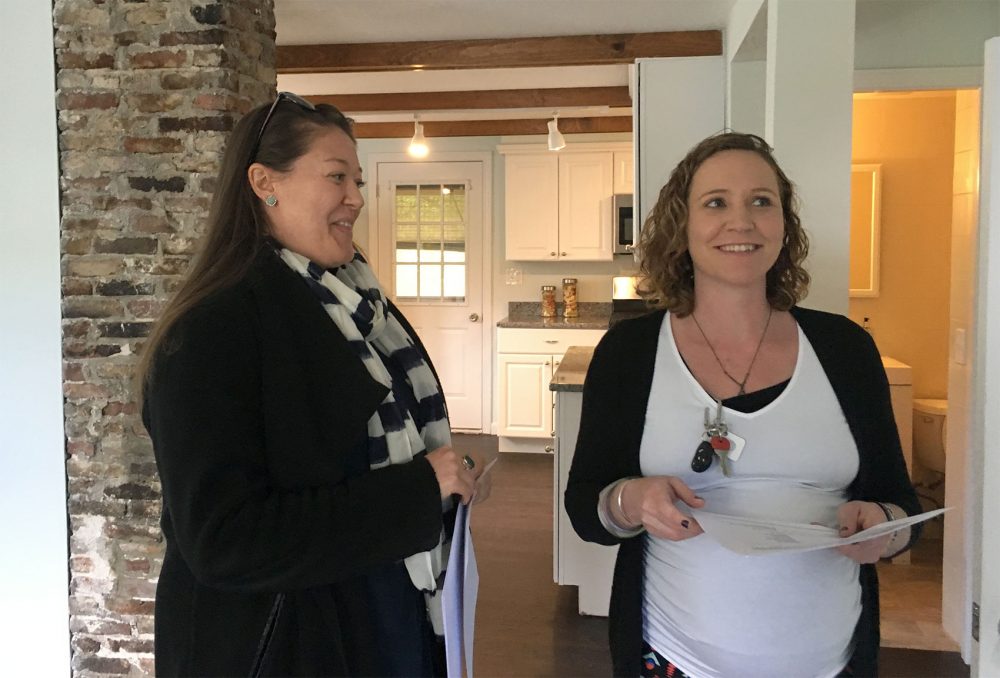 We tag along as McGee tours a newly renovated three-bedroom, two-bath home in Medford. At 1,400 square feet, it's about twice as large as her Somerville condo.
Her realtor, Sarah Glovsky of the Charles Realty Group in Boston, provides perspective about the home's asking price: $449,000.
"In Somerville, this would be upwards of $650,000 — you are getting a lot more space for your money," Glovsky says.
Glovsky tells McGee that Medford is a hot market, and Malden is gaining ground too. "It's kind of going Somerville, Medford, Malden, Everett," she says.
Glovsky says she likes to remind buyers about the positives.
"It's still a great time to buy," she says, "even though we're in the age of multiple offers, and bids going up and prices rising. Rates are still so historically low that there's still great opportunity. There's great tax incentives."
We ask Glovsky what she tells people who have been looking and are a little discouraged.
"All I can tell people is hang in there," she says. "Whether or not people realize it, the more you go through the process, the better buyer you become, and it becomes reflective in the offers they make."
McGee weighs her options as she tries to decide whether or not to make an offer on the Medford house.
"I kind of really like it," she says. "I'm still a little emotionally attached to Somerville but the space I can get out here is very tempting."
McGee and Linehan decided not to bid on the house as they focused on other big life changes. Just three days after talking to us, the couple gave birth to a healthy baby girl named Corey Rose.
After the anxiety about not finding a house in the city they call home, Somerville, they did. It's 400 square feet bigger than their current condo.
They couple didn't say exactly how much they paid for the three-bedroom, two-bath unit, but they did say it was pretty close to the $550,000 asking price. It even comes with two parking spaces.
So if all goes well in the closing, they will not need to transplant to another community — as so many other buyers in this real estate market have.
This article was originally published on July 11, 2017.
This segment aired on July 11, 2017.