With 15 New Murals In 10 Days, Lynn Wants To Show It's Moved Beyond Its Negative Reputation
Play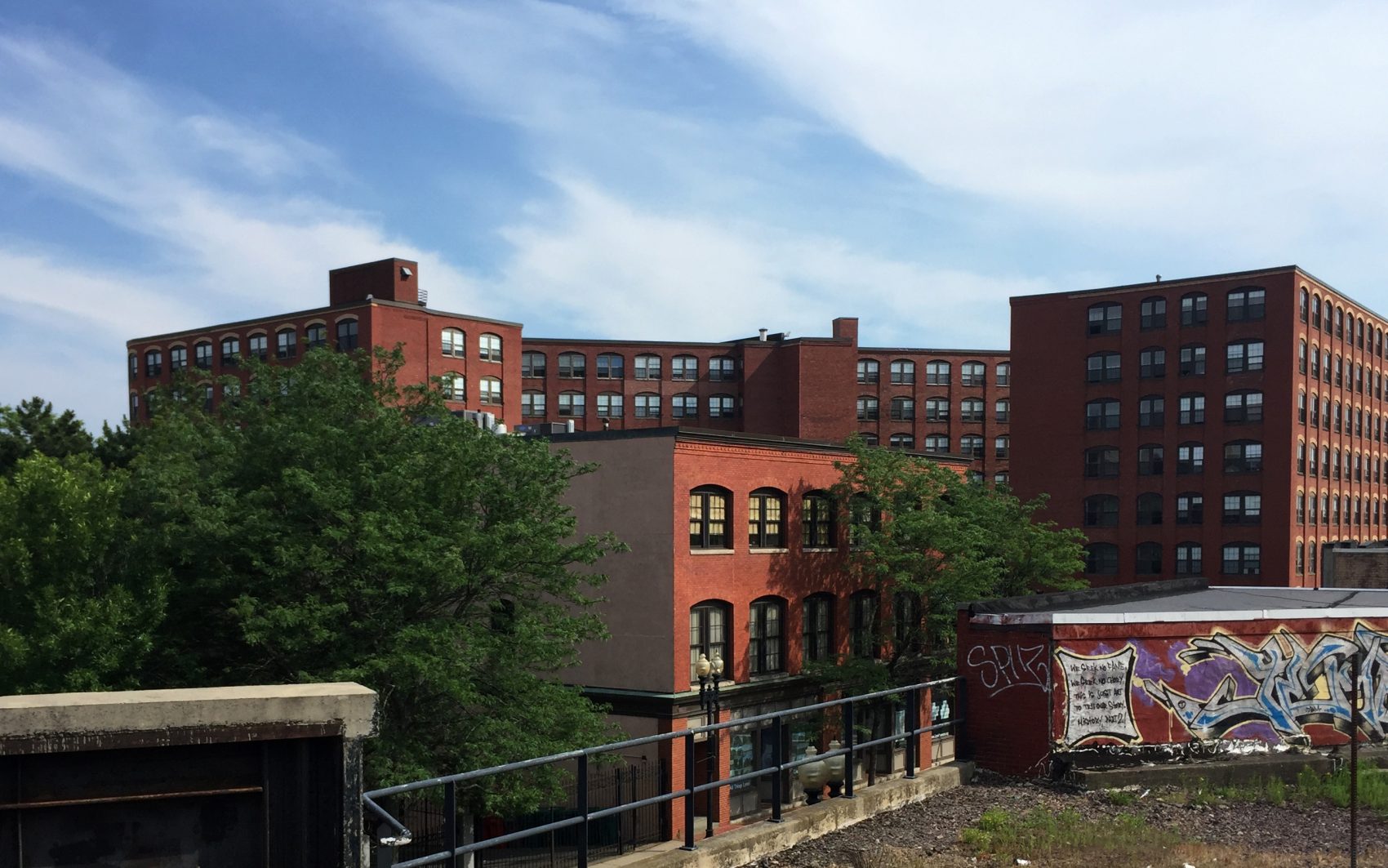 This article is more than 5 years old.
The gritty North Shore city of Lynn may not be known for large-scale murals like, say, Philadelphia. Not yet, anyway.
Starting Thursday, 19 international and local artists will converge on the city's downtown to turn 15 blank, brick walls into towering, outdoor works of public art during the Beyond Walls Mural Festival.
This outburst of sanctioned street art stands in stark contrast with the scene in Lynn that artist Eric Temple, who goes by Temp in graffiti circles, remembers from 30 years ago.
Temp got his start spraying his "breakdance" nickname around the city. In Temp's mind, graffiti writing wasn't vandalism, but real art.
"We'd get together on a Saturday afternoon and draw. And organize our cans and pick a nice wall out. Everybody had a suggestion, a nice spot to paint," Temp recalls. "There was like a little graffiti renaissance in downtown Lynn and we were the first generation to do that."
All these years later, the city is rolling out the red carpet to graffiti writers like Temp and recognizing the form as art. Temp will be working with another Lynn native, a second generation graffiti writer, who goes by Relm.
Cambridge artist and co-author of "The History of American Graffiti," Caleb Neelon, will both paint a mural and host a panel discussion.
Muralists will be flown in from as far off as Australia, the Dominican Republic and Puerto Rico. Cey Adams, who served as creative director for Def Jam Records, will be on hand. As will Marka27, who collaborated on a jazz mural in Boston. Georgia Hill, who has exhibited in Sydney and at mural festivals throughout Australia, will also be painting a wall.
The public could watch the artists work from start to finish. Here's where to find the walls:
They're scheduled to be completed by July 23. Future plans for the murals are up in the air, but the owners of the buildings they'll be attached to have signed an agreement to leave them up for at least one year.
The mural festival is just one phase of an all-volunteer public art initiative called Beyond Walls. Its aim is more foot traffic in downtown Lynn, increased public safety, and a boost to the struggling reputation of a city sometimes still dogged by its infamous nickname.
"You hear 'Lynn, Lynn, City of Sin' kind of thing and you don't really hear the good parts about Lynn," says Jobeth Williams. She grew up in Los Angeles, but has now lived in Lynn for 10 years. Williams manages the White Rose Coffee House and says few people know about the city's exciting global cuisine and homey taverns.
In the 1980s, waves of arson left a jumble of buildings downtown that now look like a mouthful of jagged teeth. The exposed walls are perfect for murals — but the streets are often empty, especially after dark.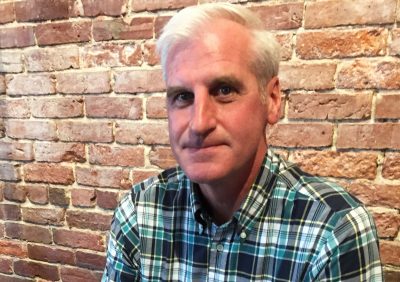 "When you try to change a place, it's not enough to physically alter it in its place. You have to get into the hearts and minds of people all over the world," says Joe Mulligan. He's charged with making Lynn a better place to live and visit as part of a fellowship with MassDevelopment. The state economic growth agency is helping to fund Beyond Walls.
To continue those efforts after the festival, Beyond Walls will install dynamic LED lights under the walkways of Lynn's commuter rail bridges. Mulligan says, "That will begin to enliven the underside of this kind of foreboding piece of public infrastructure ... which will enhance public safety down below at night, a concern in some of the crime mapping we've done."
Organizers hope the mural festival persuades people to give Lynn another look. Beyond Walls founder and executive director Al Wilson says that the city's elevated rails helped attract high-caliber artists.
"For street artists, having a raised rail — where your work can be seen not just by pedestrian and car traffic but by commuters on a train — that's the trifecta," Wilson says.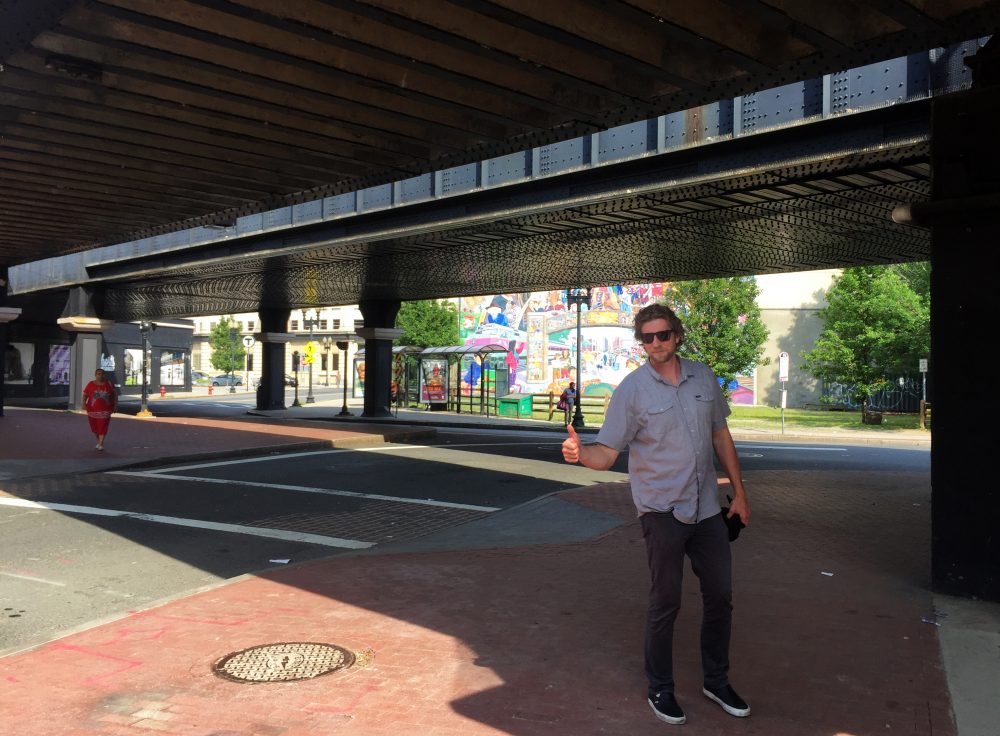 But he also acknowledges that finding 15 buildings for murals has been a challenge. Some owners pulled out after reviewing sketches of what the artists were planning. Chris Coulon, who uses the street name Tallboy, will be painting one of the murals, but not where he expected.
"Behind every wall there's an owner. And there's a lot of people inside that wall," he remarks. Earlier this year, Tallboy and painting partner Brian Denahy put up a mural in real-time during a Beyond Walls fundraiser. They'll pair up again on a wall for the festival.
As for Temp, he says he's seeing a childhood dream come true: "There was a time, when I was a kid, that I wanted to see colorful murals all over downtown. And here it is. So many talented artists coming from all over the world. I'm just thankful to be a part of it."
This segment aired on July 13, 2017.