An Opera And An Orchestra: You Don't Have To Leave Boston For Summer Music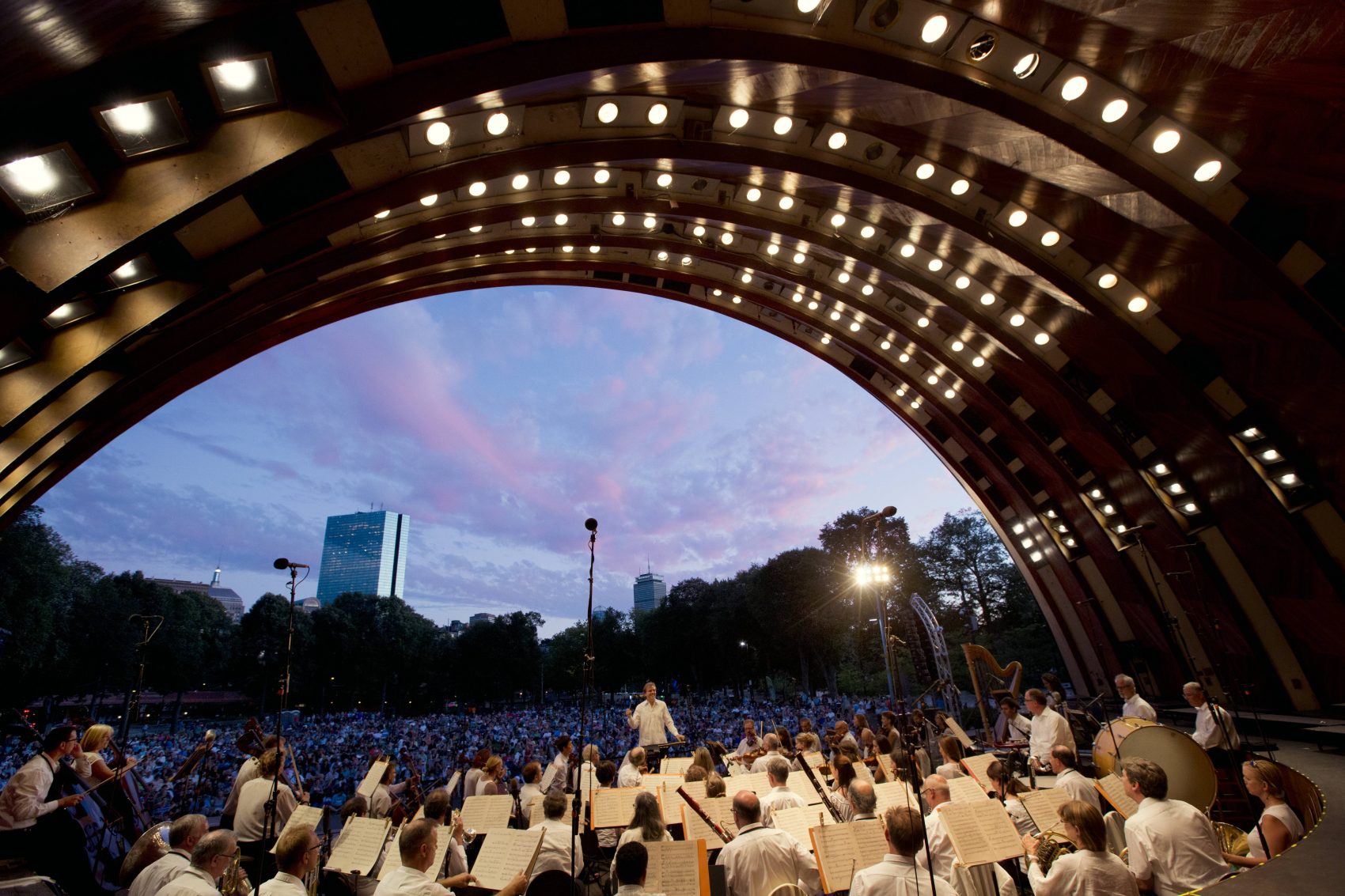 This article is more than 4 years old.
If you live in Boston and its close environs, there's actually some good music you don't have to travel very far to hear in the summer. Here are some events by two local groups that I think you might enjoy.
Boston Landmarks Orchestra At The Hatch Shell
I heard the late Charles Ansbacher conduct the first concert of his Boston Landmarks Orchestra on the Boston Common in July 2001. It was Ansbacher's dream to bring music to the people who were least likely to go out of their way to hear it, and he delivered the goods.
That concert had a winning program: Rossini's bristling "Barber of Seville" overture and Bizet's ravishing but not often performed Symphony in C surrounding Max Bruch's First Violin Concerto in a rhapsodic performance by guest violinist Lynn Chang. Nothing too challenging for a warm summer night, but nothing facile or cheap or condescending either. The next concert would be at a little park in the Fenway, and I was eager to hear it.
Ansbacher died in 2010, and his replacement, Christopher Wilkins, has continued to carry out the founder's vision of musical accessibility and quality. He'll lead the first Landmarks concert of the summer at the Hatch Shell on Wednesday, July 19. It's another good program. Samuel Barber's setting of James Agee's nostalgic prose poem: "Knoxville: Summer of 1915," with the versatile soprano Sonja DuToit Tengblad; atmospheric and charming English music by Vaughan Williams, Delius and Elgar; a rarely heard piece by Swampscott native Peggy Stuart Coolidge (1913-1981); and the Winter and Summer movements from Verdi's ballet "The Four Seasons" that he composed for his opera "I Vespri Siciliani" ("Sicilian Vespers").
Here's the great performance of "Knoxville: Summer of 1915" by the legendary Metropolitan Opera soprano Eleanor Steber, who commissioned it.
Landmarks Orchestra will return to the Hatch Shell on Aug. 2 for an all-Beethoven concert featuring the "Egmont" overture, the Violin Romance in F, and nothing less than the Ninth Symphony, with an admirable cast of vocal soloists including soprano Michelle Johnson, contralto Emily Marvosh, tenor William Hite and baritone Ron Williams, with the Back Bay Chorale. The orchestra will continue at the Hatch Shell with "Anthems of the World" (Aug. 9) and "Landmarks Dance Carnival" (Aug. 23), as well as several concerts in the Boston neighborhoods.
Fleshing out the summer season will also be concerts by Landmarks guests: Mercury Orchestra in a program of symphonic music from Wagner and Strauss operas (July 26), and the Longwood Symphony Orchestra's "A Night In Vienna" (Aug. 16).
In my review of that first Landmarks concert, I was charmed to see a little boy in the audience conducting along with Ansbacher. Wilkins has now created what he calls the "Maestro Zone," off to one side of the stage, where "young people and the young at heart can follow the lead of the orchestra's associate conductor in leading the orchestra. Participants are given a straw and can even look at the score which is placed in front of them. Long lines await their turn to see what it's like to give a downbeat."
Boston Midsummer Opera
Boston Midsummer Opera has been around since 2006, for the last decade under the musical direction of the profoundly "musical" conductor Susan Davenny Wyner. She has tended to choose charming, "summery" works that time has passed by, though they were once repertory staples: Nicolai's "The Merry Wives of Windsor," von Flotow's "Martha" (whose hit song was "The Last Rose of Summer"), Smetana's "The Bartered Bride," and, last summer, Mascagni's "L'amico Fritz," with its enchanting "Cherry Duet" and deeply touching lovers who happen to be Jewish. Like the Nicolai and Smetana operas, "Fritz" was smartly and sensitively staged by Colombian-born director Antonio Ocampo-Guzman. It was a revelation.
This summer, Davenny Wyner and Ocampo-Guzman are re-teaming with a far better known commodity: Donizetti's most popular comic opera, "L'elisir d'amore" ("The Love Potion"), with its memorable tenor aria (made even more memorable by Luciano Pavarotti), "Una Furtiva Lagrima" ("A Secret Tear").
The farcical plot revolves around a naïve country bumpkin, Nemorino, who is in love with the wealthy, sophisticated and literary Adina. To make Adina fall in love with him, Nemorino buys an elixir (actually cheap wine) from a quack traveling salesman. He thinks it's working when all the other girls in the village seem suddenly smitten with him, but that's because they've found out that he's come into an inheritance. When Adina spitefully agrees to marry an army sergeant, Nemorino enlists in the army to get money to buy more "elixir." Finally, Adina realizes that she really loves her bumpkin and buys him out of his commission.
The famous tenor aria comes when Nemorino notices a tiny teardrop on Adina's cheek, and he realizes — before Adina admits it to herself — that she really loves him.
"A single furtive tear sprang from her eyes: she seemed to be envious of those young girls. What more need I look for? What more need I look for? She loves me! Yes, she loves me, I see it. I see it. Just for an instant I felt the beating of her beautiful heart I felt! And my sighs became fleetingly joined with her sighs! Her heart beating, her heart beating to feel our sighs joined as one... Heavens! Yes I could, I could die! More I can't ask, I can't ask. Oh, heavens! Yes I could! Yes I could die! More I can't ask, I can't ask. Yes I could die, if I could die of love."
Over the years, Bostonians have been blessed with or suffered through numerous productions of "L'elisir." Back in 1964, Sarah Caldwell (in the same season as her astounding production of Berg's "Lulu"!) staged a version with Beverly Sills as the perfect Adina and an over-the-hill Italian tenor who couldn't hit the high notes of the aria (he was so embarrassed, Sills had to drag him onstage for his curtain call). The Boston Lyric Opera has done it a couple of times, and Boston Academy of Music did it once.
I asked Ocampo-Guzman what he had in mind for this work already so familiar to us. That familiarity, he told me, "is a good challenge for a director — and a scary one." He compares his job to looking into a kaleidoscope — "the pieces are always the same, but each twist gives you a new and different perspective."
For this new version, one of the new perspectives is the size of the theater. "Most of us have seen countless productions in big theaters," he admits. But in the intimate theater at the Mosesian Center for the Arts in Watertown, "things will be happening everywhere. The audience will witness the singers up close and personal. It's a thrill to be so close to these voices."
And looking so closely, Ocampo-Guzman sees "the angles of relationships change." We usually take Nemorino to be a kind of fool. "But close up we see his eternal hope. He's an optimist — he's always been in love with Adina. It's not a journey for him. It's actually Adina who is the one who falls in love. It's her journey. She protests too much. She's fickle. And she's not kind to Nemorino. Hers is the interesting journey. He becomes her elixir of love."
I asked Ocampo-Guzman about the famous aria. "It's an interesting hybrid," he said. "The music is sad, melancholic, but the text is triumphant. Nemorino has achieved what he wants to achieve. There's a paradox. He's signed a contract to join the army — he knows his chances of doing well at war are not likely. But he knows Adina loves him — he has what he wanted most. We want to see someone win. Nemorino might die tomorrow, but — and there's a big shift in the chord — she loves me!"
Ocampo-Guzman, who teaches at Northeastern University, has directed numerous operas and plays, but he's now excited about directing his first musical in December: "Man of La Mancha," for the New Rep Theatre, "in the same intimate space!"
Boston Midsummer Opera's production of Donizetti's "L'elisir d'amore," sung in Italian with English supertitles, take place July 26, 28 and 30. An hour before each performance, former Boston Globe classical music critic Richard Dyer will give — I promise you — an amusing and informative talk about the opera. His talks are in themselves worth the price of admission.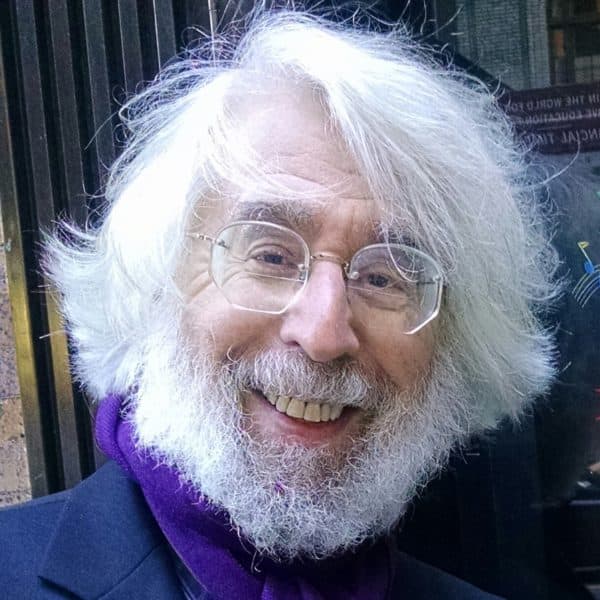 Lloyd Schwartz Arts Critic
Lloyd Schwartz is the classical music critic for NPR's Fresh Air and Somerville's Poet Laureate.