3 Charged In Slaying Of Beloved Boston Hardware Store Owner
Three men are charged with murder in connection with the fatal shooting of a beloved Boston hardware store owner.
Authorities say 58-year-old Andres Cruz, the owner of AC Hardware in the city's Mission Hill neighborhood, was shot during an apparent robbery at the store just after 4 p.m. Tuesday.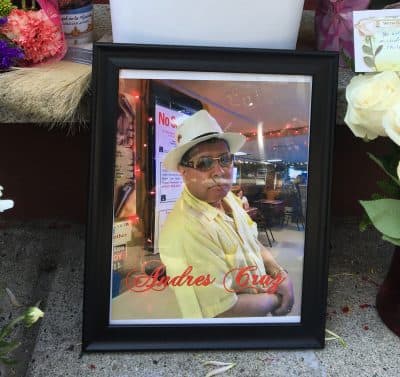 Twenty-one-year-old Christian Soto-Olivero and 38-year-old Jerome Hobson, both of Boston, and 26-year-old Shawn Redden, of Brockton, face murder charges.
"This was brazen daytime shooting of a good, well-respected man doing the right thing," Police Commissioner William Evans said in a statement. "Thanks to a quick response by my officers, we believe we have the three cowards responsible for this homicide in custody."
The Suffolk County district attorney's office detailed in a statement:
[A] witness familiar with the neighborhood observed the front door of Cruz's shop closed in the middle of the afternoon yesterday, which she found unusual, and then observed three men leaving the area.
After their van was stopped by police, Hobson and Redden attempted to flee on foot. The three suspects were apprehended and arrested.
Cruz's hardware store, at 1562 Tremont St., had just been named 2017 Mission Hill Business of the Year.
"A lot of people [are] shocked by this," Mayor Marty Walsh told WBUR early Wednesday. "Saddened, angered and rightfully so. I think that the Mission Hill community is strong and resilient and will rally around each other."
Hobson and Redden were ordered held without bail at their arraignment in West Roxbury Municipal Court Wednesday.
Soto-Olivero was held without bail following his bedside arraignment at Boston Medical Center, where he was being treated for "serious laceration injuries" the DA's office said were sustained during the fatal encounter.
Prosecutors said Redden also was injured in the incident.
The three suspects are due back in court Sept. 13.
With reporting by The Associated Press and the WBUR Newsroom
This article was originally published on July 19, 2017.