5 Things To Do This Weekend From A Local Music Mashup To Sand Sculptures
This article is more than 5 years old.
I checked, and if you play your cards right I think you can do all five of these activities in one weekend. Show me proof and you win bragging rights forever!
STL GLD/Sidewalk Driver | Friday, July 21 | The Sinclair, Cambridge 

When the Boston hip-hop duo STL GLD and local glam-rock band Sidewalk Driver decided to share a headlining bill, their goal was simple: to bring together Boston's rap and rock scenes. But the project took on new urgency for the artists in May when STL GLD's Moe Pope publicly criticized the New England Music Awards for the elimination of its hip-hop category — evidence, he argued, of a bias against artists of color and illustrative of a wider pattern of discrimination against hip-hop in Boston. Pope sees the upcoming concert — which also features rapper Dutch ReBelle and post-punk artist Carissa Johnson — as a small step toward creating a more inclusive music scene. "I think there is plenty in this world to separate us right now," Pope says. "There's these little things that we can try to bring people together, because together is just way more awesome."
---
Skeleton Architecture's "The Future of Our Worlds" | Sunday, July 23 | Institute of Contemporary Art, Boston

On Sunday, the dance collective Skeleton Architecture will debut a new work that is still being written. Titled "The Future of Our Worlds," the piece will come to fruition in the wake of a week-long collaboration among 24 of Boston and New York's preeminent black performers. (Read our feature on the new dance collective here.)
---
Shakespeare on the Common, "Romeo and Juliet" | Through Aug. 6 | Boston Common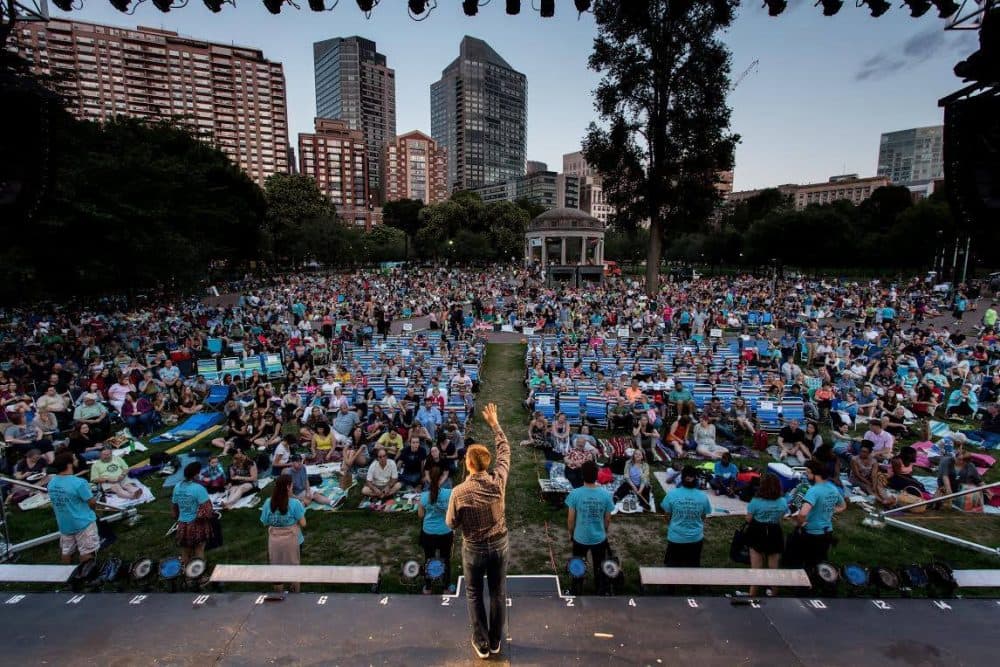 To my mind, nothing captures the spirit of the original Globe Theatre as well as Shakespeare on the Common. Back in the day, the Bard's plays were not some rarefied form of elite entertainment but a popular amusement among citizens of all stripes. Commonwealth Shakespeare Company's annual public presentation of Shakespeare's plays — on the Common, for free — makes the lofty material feel accessible and inclusive again. This year it's "Romeo and Juliet." Get there early to stake out a spot! (If you're on the fence about bringing your kids, my colleague Louise Kennedy has a few reasons why this is the perfect opportunity to introduce Shakespeare to your little ones.)
---
"The B-Side" | Through July 27 | Kendall Square Cinema, Cambridge

Famed documentary film director Errol Morris turns his incisive gaze on his longtime friend Elsa Dorfman, a Cambridge portrait photographer with a wry wit and a joyful demeanor. Coming up in the '60s, Dorfman ran in literary circles, rubbing shoulders with the likes of Allen Ginsberg and Anne Sexton. She developed a passion for photography — and specifically the Polaroid 20x24 format, which is no longer in circulation — after a brief career in teaching. Morris' film is a love letter as much to her artistry as to her life, inflected by the intimacy and affection of a decades-old friendship. (Hear more about the documentary from The ARTery's Tom Meek.)
---
International Sand Sculpting Festival | Friday, July 21 - Sunday, July 23 | Revere Beach

I could wax poetic about the beauty of sand sculpture — the precariousness of its apparent solidity, its bittersweet ephemerality — but the truth is that sand sculptures are just really cool. Also, you can enjoy them whilst sunning yourself on the beach. The Revere Beach International Sand Sculpting Festival is one of the largest in the country, and it's worth checking out for its physics-defying sand creations as well as free live music and, you know, the ocean. (Check out the scope of it in these pictures from 2015.)