Boston Rock Band Releases New Album On A Beer Can
Music and beer. The two art forms have enjoyed a long, fruitful, even symbiotic relationship for what seems like an eternity. But a collaboration between a local band named The Lights Out and the Aeronaut Brewing Company in Somerville is taking the classic pairing in a novel direction.
The Lights Out is releasing its new album, "T.R.I.P.," on cans of a limited edition Aeronaut beer — and guitarist Adam Ritchie says it makes perfect sense.
As Ritchie explained in an interview, the music-on-a-beer-can concept is an alternative to just putting out an album online. It's also something of a snub to the ways we discover and consume new tunes these days.
---
Andrea Shea: What compelled you to release an album on a can of beer?
Adam Ritchie: "By releasing this album on a beer we're trying to accomplish a handful of things. Number one is to bring back the tactile element to new music discovery that vanished in the digital age. Number two, we're trying to create this multi-sensory experience that pairs sound with flavor and create a memory of experiencing them both together at the same time. And number three, we're trying to figure out how to get people to listen to and buy new music from an unsigned independent band."
How did the project get started?
"In the beginning we took a rough cut of this album to Aeronaut in Somerville [which was founded by scientists from Cornell and MIT], and we said, 'This is an album about parallel universes. And every decision you make branching off into a whole separate reality.' And they said, 'Oh you mean like the multiverse?' And we said, 'Exactly, that's why we came here!'
"So they took this rough cut of the album and they listened to it while they were prototyping this beer. And the themes and the sounds and the textures of the record is what inform the way this beer tastes, down to some of the ingredients, including this hop from Australia called Galaxy."
How does this album release actually work?
"So when you get this beer, you're going to see a special hashtag printed on the can ... Tweet this hashtag. Once you do that it automatically triggers a response from the band, and we tell you what you're doing right now in a parallel universe, and we give you a link to the album.
"We're trying to bring back something that's been lost. Shopping for music used to be a physical experience for people and it's largely a digital one now. I compare getting a new album to dragging and dropping a gallon of milk onto your online grocery order. It's there. You've got it, and there's no excitement, no thrill, no discovery. But going to the beer store you still have to put on a pair of shoes, and show an ID to someone, and it feels like a quest."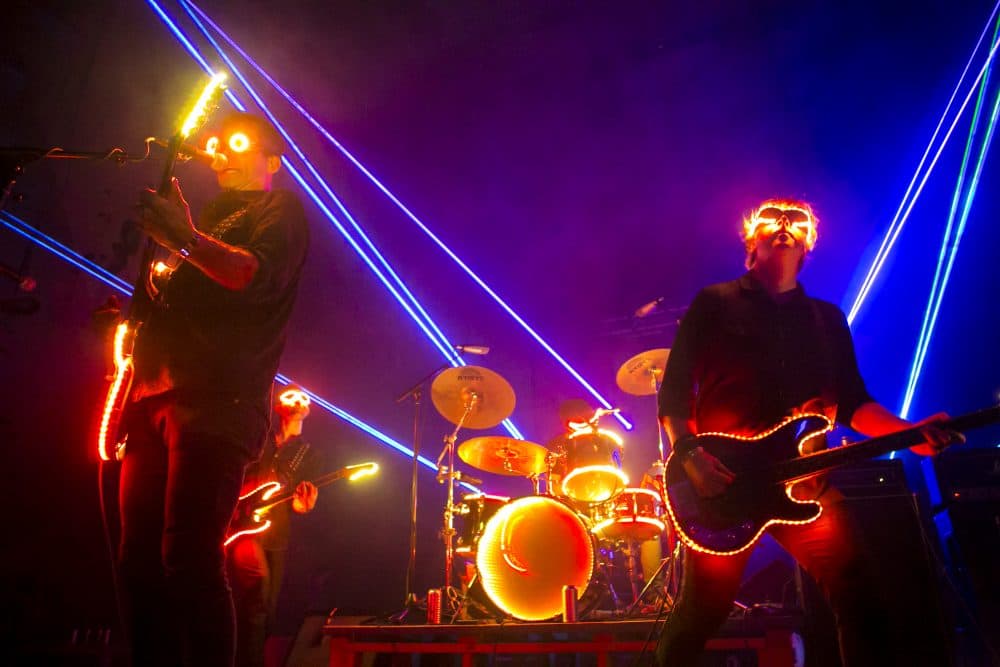 How do you describe the new beer?
"It's an imperial session IPA, which is a style that shouldn't exist." (He says this because imperials are typically higher in alcohol while session beers are low.) "But if you believe in the multiverse and infinite possibility, then all of that exists somewhere out there. So they brewed this paradox in a can that is very smooth drinking, has a great hop character, has a nice citrus flavor and is 6.5 percent alcohol."
Would you do this again? What's next?
I think every album we release at this point should have some kind of flavor component — something that you could eat or drink or even smoke with the record. We joked that the next one is going to be on a bag of legal marijuana and we're just going to follow prohibition through the ages. As far as what's next, we submitted this album for a Grammy [in the recording package category] and a Guinness World Record. And in a parallel reality, we've already won both."
---
Starting this week, people can access recordings when they buy cans of the new imperial session IPA, "T.R.I.P." at select liquor stores like Downtown Wine & Spirits in Davis Square and the Urban Grape in Boston's South End.
This article was originally published on July 31, 2017.