To Stop Violence, A Boston Program Pays Some Participants To Quit Gangs And Go To College
Play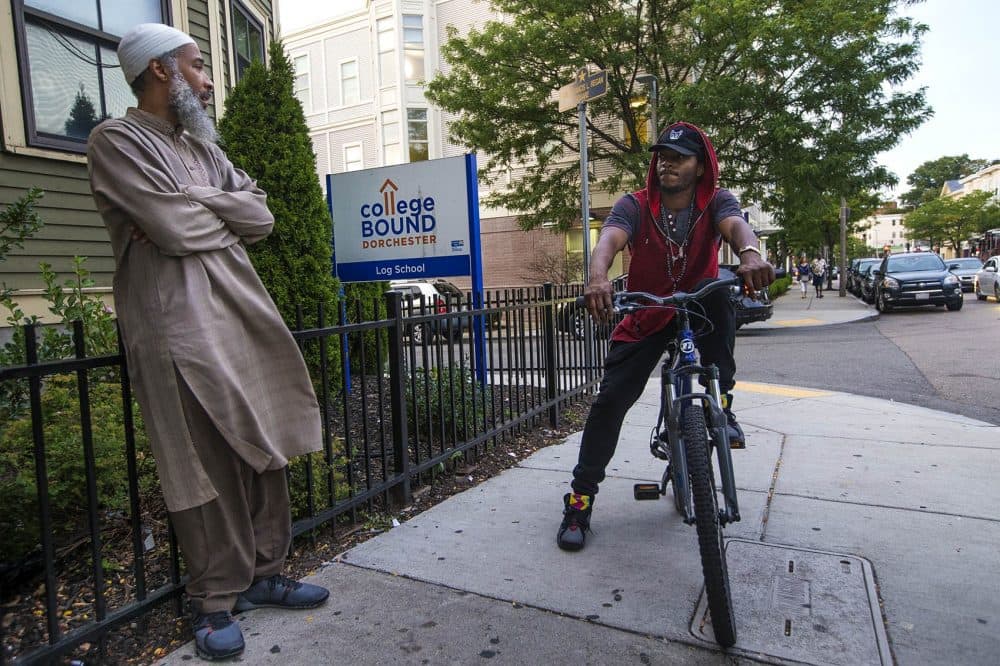 This article is more than 5 years old.
Mark Culliton has some big ambitions. He would like to end gang-related violence in the United States. For now, his mission has kicked off in Boston, or more specifically, Boston's most-populous neighborhood: Dorchester.
There, Culliton targets gang members he says are disrupting life in inner-city neighborhoods — and he does so by reaching out to them.
"[By] engaging them and moving them from the corner to college," he explains. "So really, this idea [is] that what makes a bad neighborhood is really a small group of highly disengaged, highly disruptive young people usually involved in gangs, but that want to do something positive."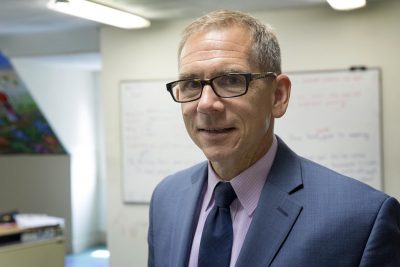 Culliton founded College Bound Dorchester. The organization hires mentors with similar experiences to young people in gangs to help those who leave gangs get GEDs and then into community colleges.
"We're the only program in the country focused on gang-involved youth that has college as a baseline expectation," Culliton says.
The program's leadership says it is the first in the nation to also pay some of its participants to go to college. Thirty-six students receive a stipend of $400 per week. Twenty of those students are enrolled in community college, and another 10 students are expected to join them next month.
Overall, College Bound Dorchester is working with 150 people, most of whom are gang members. The program says it hopes to one day secure enough funding to pay all of its students.
'See That There's Something Else'
Matt Jackson is one of the students being paid to go to college. He decided to get out of gang life after his daughter's mother was killed.
"A gang shooting," Jackson says. "Basically, she was an innocent bystander. And the only thing I was trying to figure out was how could I provide for my daughter."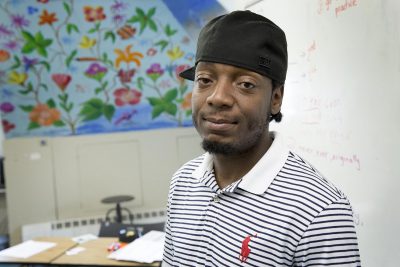 Jackson, who grew up in the projects of Boston's South End and was imprisoned at age 17, says he realized he could not go back to jail. The stipend provided by the program enables him to focus on his studies without worrying about supporting himself and his daughter. The 34-year-old recently finished his first semester at Bunker Hill Community College in the city.
"Growing up, basically, in my neighborhood, what we did was sell drugs," Jackson says. "We didn't look at it as a gang, because we're neighbors. We played on the same basketball teams, football teams, went to the same school. Those are my friends, for real. People I've really known since first, second, third grade. Drugs were a norm to us. A lot of our parents used or sold them."
He says that College Bound Dorchester showed him another way.
"As long as people can be reached and see that there's something else, gang members won't partake in the things that they do," Jackson says.
'They Want To Belong To Something'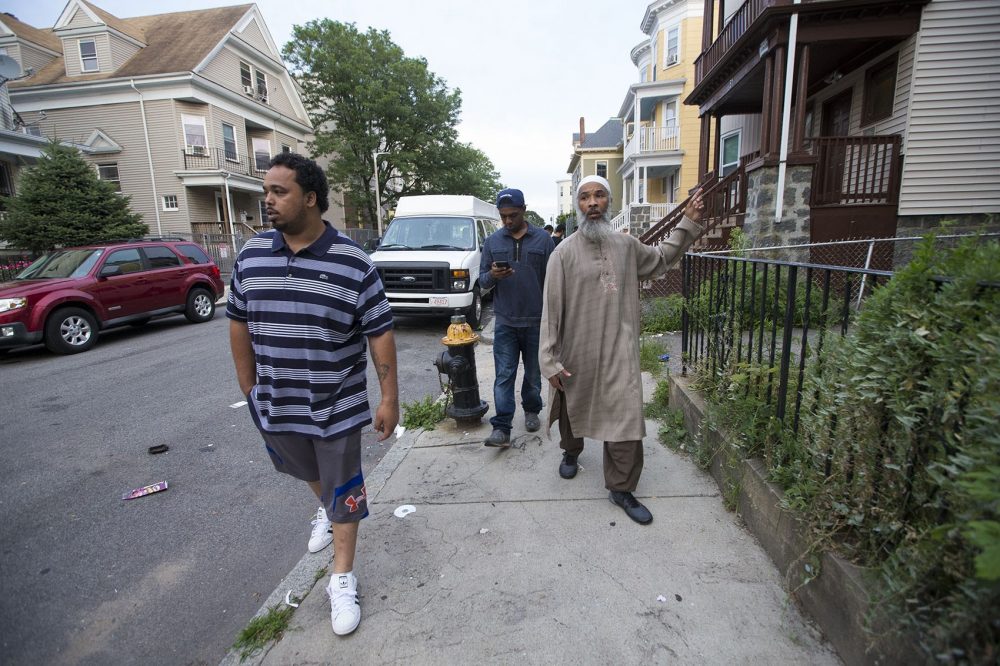 On a recent drive with Culliton, College Bound Dorchester program coordinator Ismail Abdurrashid rattles off the geography of Boston's gangs as we pass through their territories: "Southern Ave., 700, Buckshot, Wainwright ... ."
Abdurrashid will name dozens of groups over the course of two evenings. He says most have several members that College Bound Dorchester has served over the last 18 months. The violence is concentrated at street corners, Culliton adds.
"There's gaps and nothing really happening, and then you'll get to a certain area and there's six, seven, eight small crews within five or six blocks," he says. "And it makes for a pretty volatile situation."
"As long as people can be reached and see that there's something else, gang members won't partake in the things that they do."

Matt Jackson
We come up on Westville Street toward Fields Corner when Abdurrashid notices one of his students who has not shown up in awhile.
"Mike! What's up with you, man?" Abdurrashid asks through his car window.
"What's up?" he replies.
"Come on, come on, man!" Abdurrashid chides. "What's up with you? Take my number, man." Mike agrees, but Abdurrashid continues to ask him when he's coming back.
"Soon as I can get up in there," Mike says. Abdurrashid then insists Mike return two days from then.
"Alright, 'cause I ain't going to lie," Mike says. "I believe in you."
"Monday," Abdurrashid reminds him. "All right, be good, now."
"See?" Abdurrashid asks as we drive off. "That's the work. We always bump into our students. Now, he's recently been released, so now, we have to reengage him, get him reconnected.
"Very bright young man. Has everything he needs academically to be able to transition and be successful on a college campus," he continues. "It's just attitudinal stuff, the soft skills that we have to engage him around, the efficacy and the self-discipline."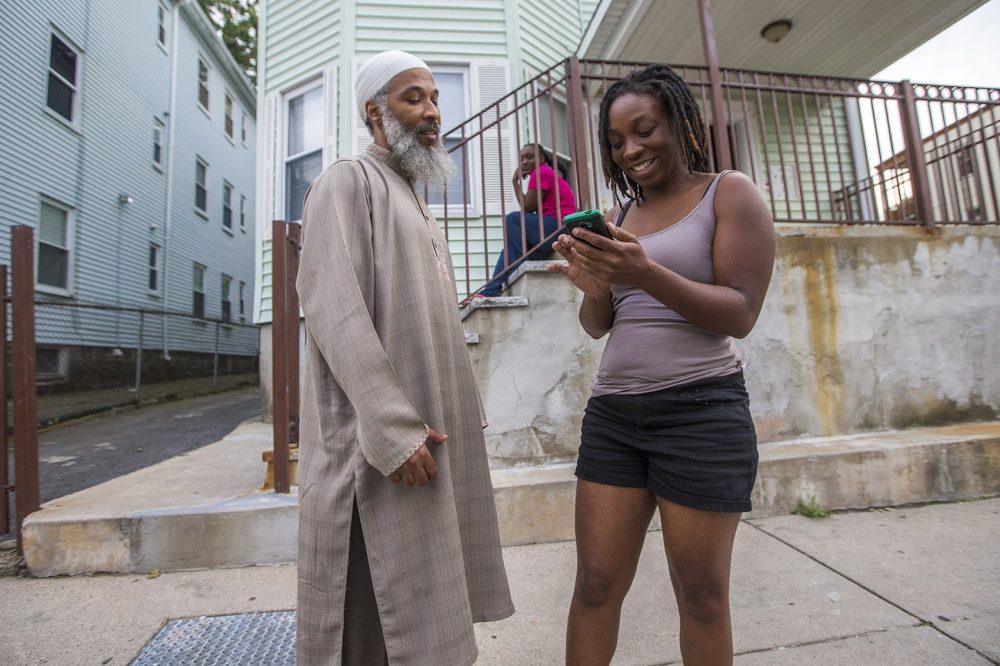 Abdurrashid says sometimes when he can't sleep, he gets in his car and goes looking for kids on the streets.
College Bound Dorchester is working with Northeastern University and MIT's Abdul Latif Jameel Poverty Action Lab (J-PAL) to evaluate the program's impact.
"We have a lot of exciting research that shows it is possible to make a difference in the lives of older youth and even adults who might be at risk of committing crime and violence," says Ben Struhl, who manages J-PAL's criminal justice programs.
Cognitive behavioral therapy has been shown to reduce gang violence in Chicago, and summer jobs have proved to cut down on violent crime in Chicago and New York — even after summer ends.
On another night driving the streets of Dorchester, Abdurrashid explains why he believes the same yearning that gets these young people into gangs can be used to save them from gangs.
"They want to belong to something, a sense of belonging," he says.
Abdurrashid adds that the criminal activities of the vast majority of these crews are not organized crime efforts.
"So, Boston is at a very critical moment in time right now," he says.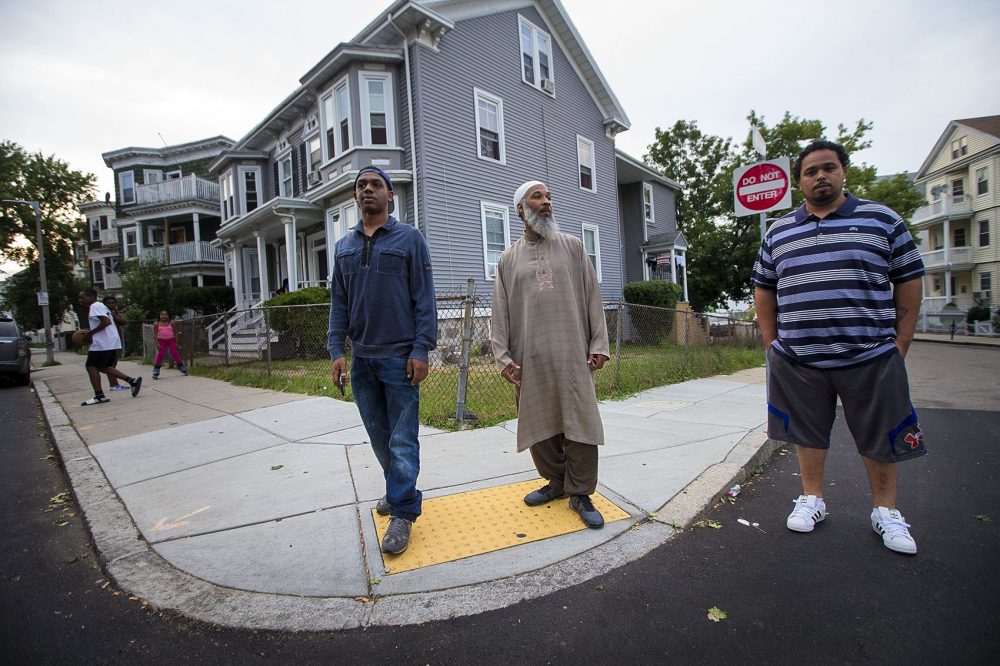 If this intervention works, Culliton hopes others can replicate it in other cities.
"This is a group that has the potential to end generational poverty in urban America," he says.
College Bound Dorchester is trying to raise money to reach more of Boston's estimated 2,600 gang members, a group blamed for half of the homicides in the city.
This article was originally published on August 22, 2017.
This segment aired on August 22, 2017.