Mass. Becomes 1st State To Have Half Its Labor Force Hold Bachelor's Degrees
A new report finds that half of all workers in Massachusetts held a bachelor's degree or higher in 2016, marking the first time any U.S. state has reached that threshold.
The same analysis by the independent Massachusetts Budget and Policy Center shows that college-educated workers on average earn 99 percent — basically double — the wages of those in the labor force with only a high school education.
That's a big increase from a few decades ago. In 1979, MassBudget says, the median wage for a Massachusetts worker with a bachelor's degree was about 50 percent higher than the earnings of someone who hadn't attended college.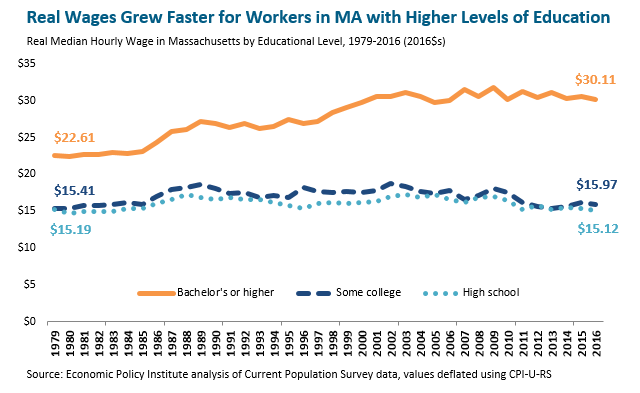 The report released Wednesday cites data from the U.S. Census Bureau's Current Population Survey.
In Massachusetts, 50.2 percent of individuals participating in the state's labor force — meaning they're working or actively searching for work — had attained bachelor's degrees or higher in 2016.
That's up from 20 percent of the state labor force in 1979.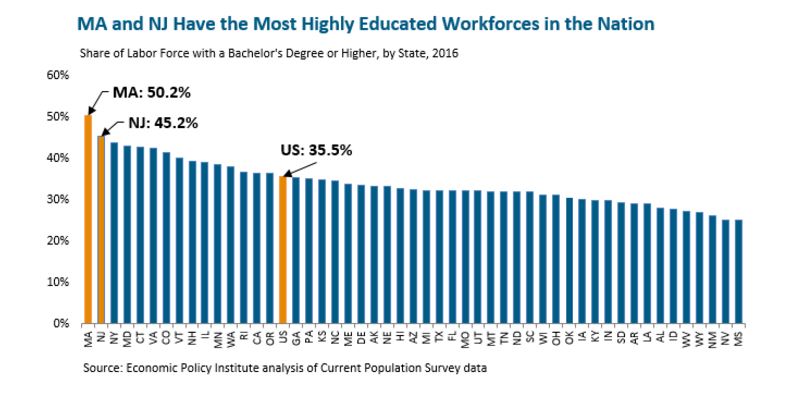 The next highest state was New Jersey at 45.2 percent, followed by New York, Maryland and Connecticut.
New Jersey and Massachusetts have the highest median wages in the nation, at $21.35 and $21.22 an hour, respectively.
With reporting by The Associated Press and WBUR's Benjamin Swasey
This article was originally published on August 23, 2017.