N.H. White Nationalist In Charlottesville Documentary And Facing Felony Charges Turns Himself In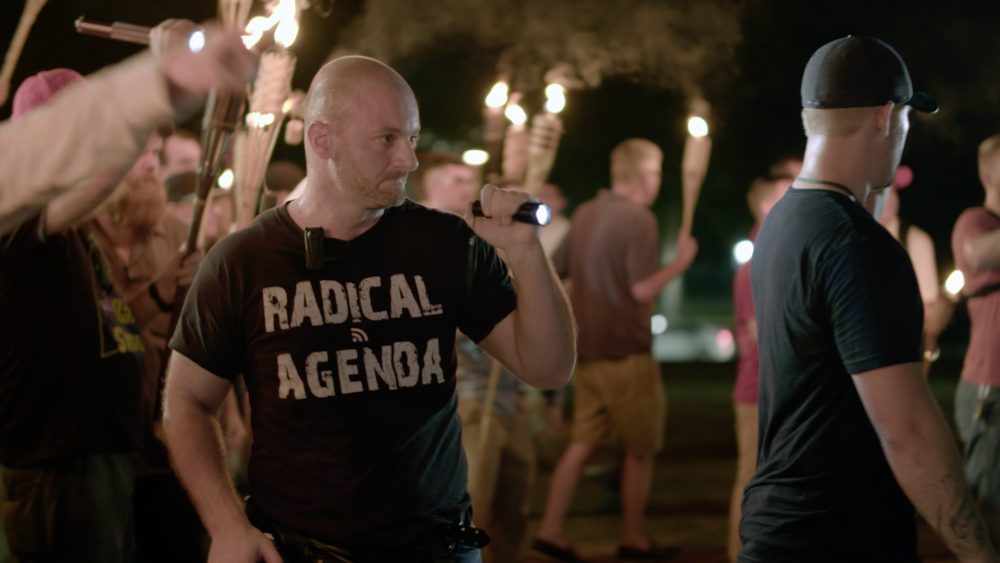 This article is more than 3 years old.
A white nationalist who says he pepper-sprayed a demonstrator in self-defense on the campus of the University of Virginia has made a first court appearance.
Christopher Cantwell, of Keene, New Hampshire, reportedly appeared before an Albemarle County General District Court judge in Virginia on Thursday after turning himself in to authorities late the night before.
The Daily Progress reports that the judge didn't set a bond, but said Cantwell's attorney can ask for a bond hearing later. Cantwell told the judge he plans to hire his own lawyer.
Cantwell turned himself in late Wednesday after authorities announced he was wanted on three felony charges: two counts of the illegal use of tear gas or other gases and one count of malicious bodily injury with a "caustic substance," explosive or fire.
Cantwell has been listed as an extremist by the Southern Poverty Law Center, an advocacy group that researches hate crimes and domestic extremism.
Contacted Tuesday by The Associated Press, Cantwell acknowledged he had pepper-sprayed a counter-demonstrator during an Aug. 11 protest, a day before a deadly demonstration in Charlottesville.
Cantwell was featured in a viral Vice News documentary about the rally and its aftermath. A YouTube video in which he tearfully confesses his frustrations with law enforcement after learning a warrant for his arrest had been issued also made rounds on the internet.
He insisted to AP reporters Tuesday that he was defending himself during the incident he faces charges for, saying he pepper-sprayed the protester "because my only other option was knocking out his teeth."
He said he looked forward to his day in court.
With additional reporting from WBUR's Lisa Creamer
This article was originally published on August 24, 2017.