Western Mass. Hospital Worker Wins Record Powerball Jackpot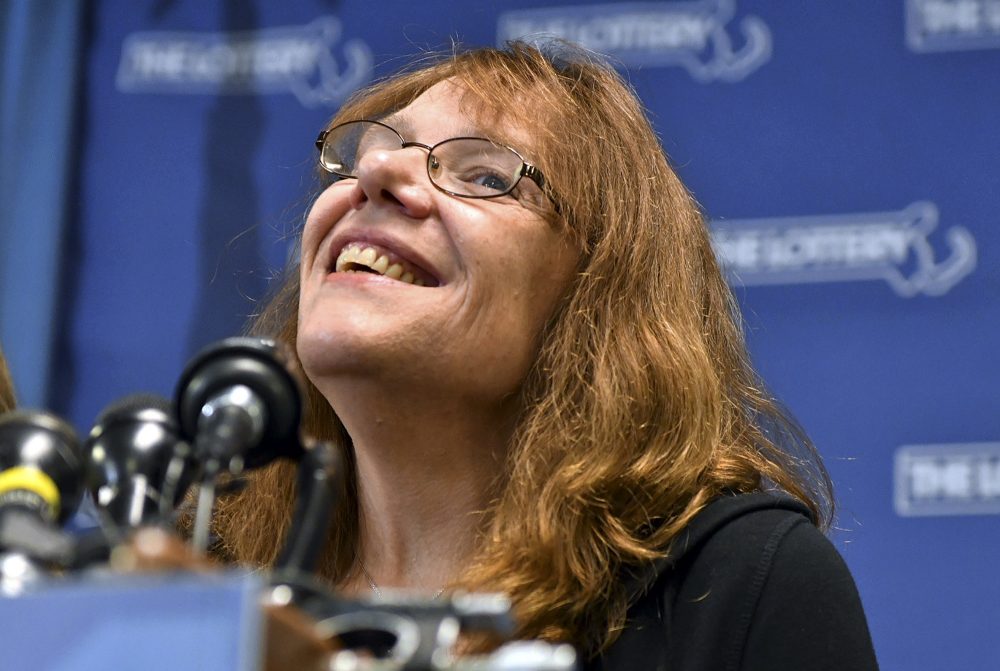 This article is more than 3 years old.
The largest single-ticket Powerball prize in U.S. history was claimed Thursday by a Massachusetts hospital worker who promptly quit her job only hours after learning she had won the $758.7 million prize.
Mavis Wanczyk, of Chicopee, was introduced in a press conference on Thursday. She said the first thing she wants to do is sit back and relax.
Lottery officials say she chose to take a lump sum payment of $480 million, or $336 million after taxes.
Wanczyk, who's 53, said she already told her employer of 32 years, Mercy Medical Center, that she won't be returning. She has two adult children.
The previous evening, she recalled, she was leaving work with a friend and said, "It's never going to be me. It's just a pipe dream that I've always had."
The lottery had announced Thursday morning that the ticket had been sold at the Pride Station & Store in Chicopee.
That was a change. Around 2:30 a.m. Thursday, the lottery had said that Handy Variety, a convenience store in Watertown, had sold the winning ticket.
But officials corrected themselves just before 8 a.m., saying they had made a mistake. Handy Variety had sold a $1 million winning ticket, not the jackpot.
"When manually recording the names of the retailers that sold the jackpot winning ticket and the $1 million winning tickets, the information was transcribed incorrectly," Michael Sweeney, the lottery's executive director, said in a statement. "We apologize for the confusion this created and remain thrilled that a jackpot winning ticket and two $1 million winning tickets were sold here in Massachusetts."
The other $1 million winning ticket was sold at Sandy's Variety, in Boston's Dorchester neighborhood.
The Pride store in Chicopee gets a $50,000 prize for its sale of the jackpot winner.
Bob Bolduc, who owns the Pride store chain, said he's donating the $50,000 prize to several local charities.
"The phone started ringing at 8 o'clock," Bolduc said. "We were as surprised as everybody else. We're happy for our customer and we're happy for the charities."
For a few hours, owner Sonny Singh at Handy Variety in Watertown thought he'd sold the winning ticket — and gotten the $50,000 prize. The store gets $10,000 instead.
"What am I going to say?" Singh told WBUR. "I was so excited when I left the house but as soon as I walked in they told me, 'Oh you guys don't have the big winner, some other place.' "
The Powerball winner overcame incredible odds of one in 292.2 million to win the jackpot.
To put those odds in perspective: Cornelius Nelan, a mathematics professor at Quinnipiac University, notes that the odds are about the same as flipping a coin and getting heads 28 times in a row.
With reporting by The Associated Press and the WBUR Newsroom
This article was originally published on August 24, 2017.