Remains Of Local Sailor On USS McCain Recovered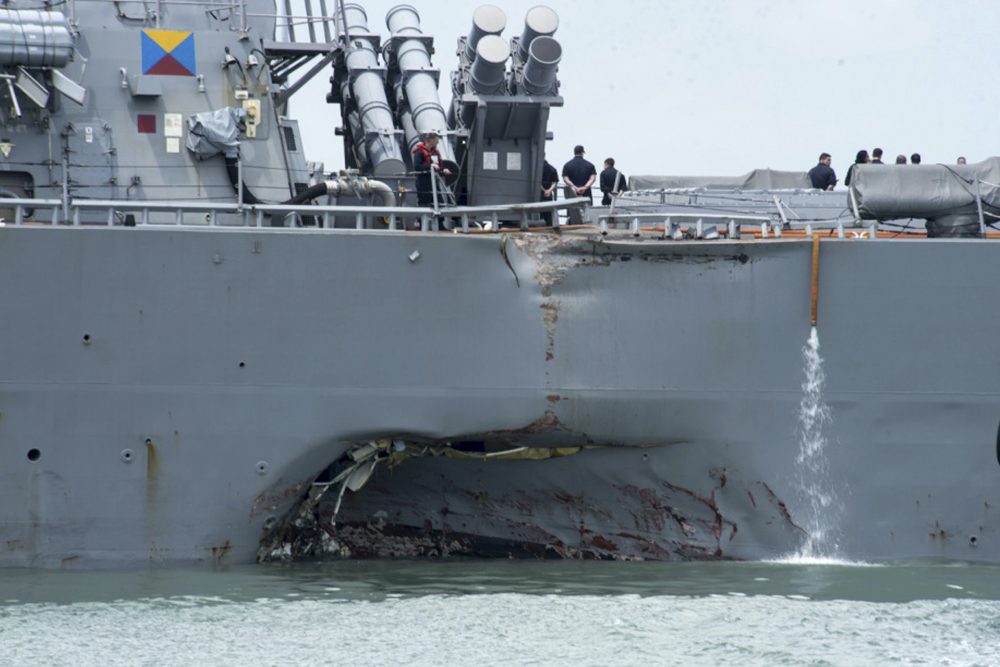 This article is more than 3 years old.
Military divers recovered the body of a 26-year-old Connecticut man with Bay State ties who was among those missing after the destroyer USS John McCain collided with a merchant vessel off the coast of Malaysia this week.
Dustin Louis Doyon, 26, was a U.S. Navy electronics technician and a graduate of Cathedral High School in Springfield. Doyon was from Suffield, Connecticut, on the Massachusetts border.
The collision Monday was the second deadly crash of a warship in the Pacific area in the past three months, and on Wednesday the commander of the Pacific Fleet fired Vice Admiral Joseph Aucoin, who commanded the Seventh Fleet, the largest of the Navy's forward-deployed fleets.
In June, the destroyer USS Fitzgerald collided with a merchant vessel off the coast of Japan, killing seven sailors and injuring three others. Vice Admiral Phil Sawyer, a submariner, has taken over command of the Seventh Fleet.
Divers from the Navy and the U.S. Marine Corps recovered and identified Doyon's remains, the Navy announced Friday. Another electronics technician from New Jersey was killed in the crash and eight other sailors remain missing, according to the Navy.
Doyon's alma mater, Cathedral High School, was destroyed by a tornado in 2011 after Doyon had graduated.
"It's always a trying time for all families, whose members proudly and bravely serve in our armed forces to protect the rights of freedom," Springfield Mayor Domenic Sarno said in a statement. "Now to have this situation occur – again, my thoughts, prayers, and encouragement go out to the family of sailor Dustin Doyon, a 2009 Cathedral High School graduate and all affected families of the USS McCain."